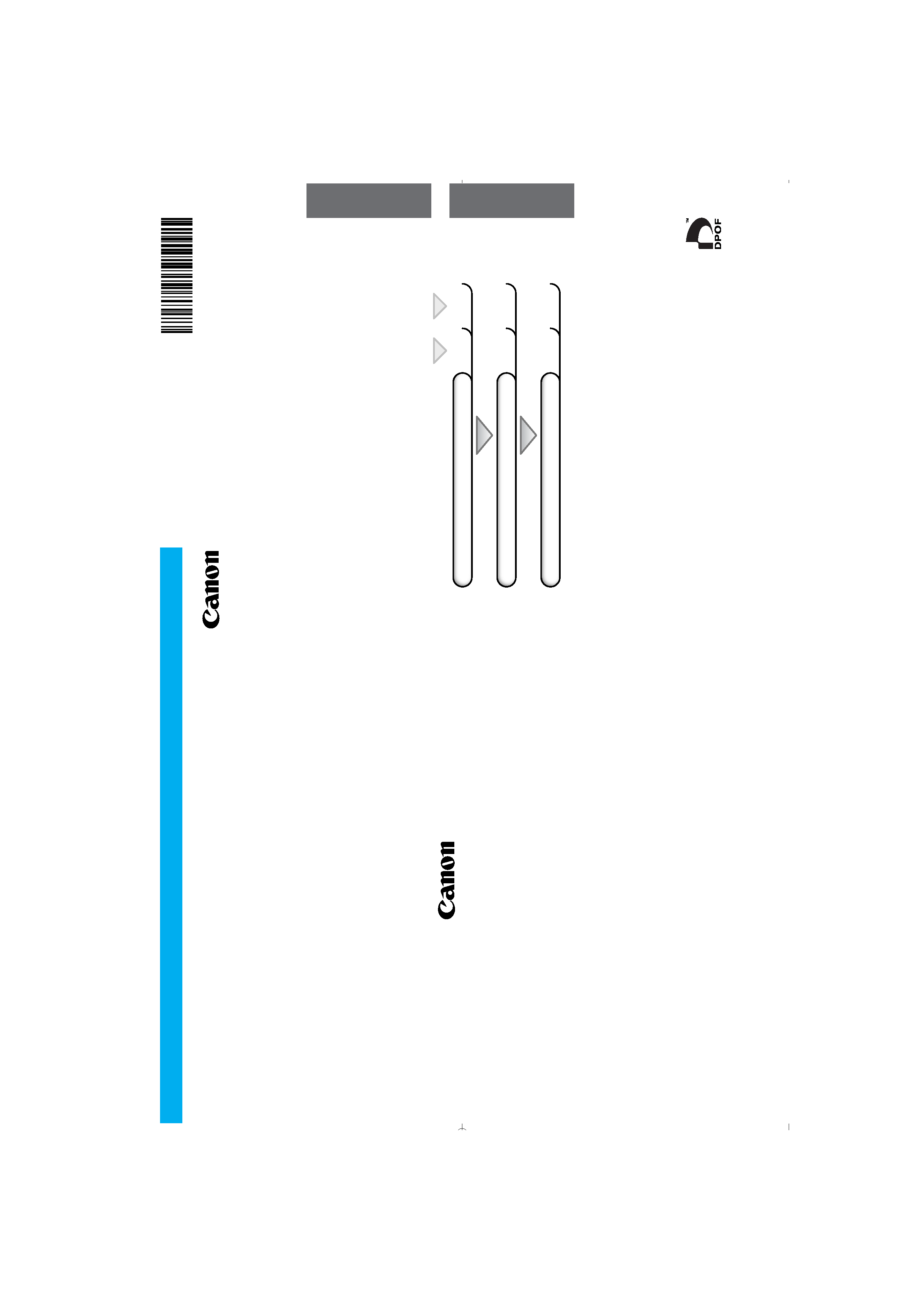 PowerShot S330 DIGITAL ELPH / DIGITAL IXUS 330
PowerShot S200 DIGITAL ELPH / DIGITAL IXUS v
2
· This guide explains how to install the software programs and briefly
introduces their functions and operating procedures. For more detailed
explanations, see the Help menu for each program.
· Please read the software license agreement in this guide before using the
software. By using the software, you agree to be bound by the terms of
To Download Images to a Computer
Connect the Camera to a Computer
Start the Software and Download Images
---

· While every effort has been made to ensure that the information contained in this guide is
accurate and complete, no liability can be accepted for any errors or omissions. Canon
reserves the right to change the specifications of the hardware and software described
herein at any time without prior notice.
· No part of this guide may be reproduced, transmitted, transcribed, stored in a retrieval
system, or translated into any language in any form, by any means, without the prior written
· Canon makes no warranties for damages resulting from corrupted or lost data due to a
mistaken operation or malfunction of the camera, the software, the CompactFlashTM cards
(CF cards), personal computers, peripheral devices, or use of non-Canon CF cards.
Trademark Acknowledgments
· Canon and PowerShot are trademarks of Canon Inc.
· ArcSoft, the ArcSoft logo, ArcSoft PhotoImpression and ArcSoft VideoImpression are
trademarks or registered trademarks of ArcSoft, Inc.
· Adobe is a trademark of Adobe Systems Incorporated.
· CompactFlash is a trademark of SanDisk Corporation.
· iBook and iMac are trademarks of Apple Computer, Inc.
· Macintosh, PowerBook, Power Macintosh and QuickTime are trademarks of Apple Computer
Inc., registered in the United States and other countries.
· Microsoft, Windows and Windows logo are either registered trademarks or trademarks of
Microsoft Corporation in the United States and / or other countries.
· Netscape and Netscape Navigator are trademarks or registered trademarks of Netscape
Communications Corporation in the United States and other countries. Netscape
Communicator is a trademark of Netscape Communications Corporation.
· Other names and products not mentioned above may be registered trademarks or trademarks
of their respective companies.
Copyright © 2002 Canon Inc. All rights reserved.
The precautions noted within this guide are intended to instruct you in the safe and
correct use of the products and to prevent injuries or damage to yourself, other
persons and property. Please read and ensure that you understand them before
proceeding to other sections of the guide.
Warnings
This symbol indicates topics that could lead to death or serious
injury if ignored or handled incorrectly.
· Do not play the supplied CD-ROM(s) in any CD player that does not support data
CD-ROMs. Playing the CD-ROM(s) in an audio CD player (music player) could
damage the speakers. It is also possible to suffer from hearing loss from listening
with headphones to the loud sounds of a CD-ROM played on a music CD player.
---

READ CAREFULLY BEFORE USING
Canon Software License Agreement
IMPORTANT - READ THIS AGREEMENT BEFORE USING THE SOFTWARE ON THE CD-ROM IN THIS
BOX. BY USING THE SOFTWARE, YOU AGREE TO BE BOUND BY THE TERMS OF THIS AGREEMENT.
This is a license agreement (the "Agreement") between you and Canon Inc. ("Canon").
IF YOU DO NOT AGREE TO THE TERMS AND CONDITIONS OF THIS AGREEMENT, DO NOT USE THE
SOFTWARE PROGRAM ON THE CD-ROM (INCLUDING ALL SOUND AND IMAGE DATA) AND THE USER
MANUAL IN THIS BOX (COLLECTIVELY, THE "SOFTWARE") AND PROMPTLY RETURN THE SOFTWARE
TO YOUR POINT OF PURCHASE FOR A REFUND.
In consideration of the right to use the SOFTWARE, you agree to abide by the terms and conditions
1. LICENSE: Canon grants you the personal, non-exclusive right to use the SOFTWARE only on a single
computer. You may physically transfer the SOFTWARE from one computer to another provided that the
SOFTWARE is used on only one computer at a time. You shall not install or use the SOFTWARE on a
network, multiple CPU, multiple site arrangement, or any other hardware configuration where the
SOFTWARE is accessible to more than one CPU or to more than one user.
With respect to the sound and image data ("Data") contained in the Software, which are to be
downloaded to the applicable Canon digital camera product, Canon grants you a personal, non-exclusive
license to use the Data on a single Canon digital camera product only.
YOU SHALL NOT ASSIGN, SUBLICENSE, RENT, LEASE, LOAN, CONVEY OR OTHERWISE USE,
TRANSFER, COPY, TRANSLATE, CONVERT TO ANOTHER PROGRAMMING LANGUAGE, ALTER,
MODIFY, DECOMPILE OR DISASSEMBLE THE SOFTWARE, IN WHOLE OR IN PART, EXCEPT AS
EXPRESSLY PROVIDED IN THIS AGREEMENT.
2. BACK-UP COPY: You may make one copy of the SOFTWARE solely for back-up purposes, or copy the
SOFTWARE onto the permanent storage device (e.g. a hard disk) of your computer and retain the original
for back-up purposes. Any other copying of the SOFTWARE is a violation of this Agreement. You must
reproduce and include the copyright notice on the back-up copy.
3. SUPPORT AND UPDATES: Neither Canon, nor its subsidiaries, dealers or distributors will be responsible
for providing maintenance or support for use of the SOFTWARE. No updates, fixes or support will be
made available for the SOFTWARE.
4. LIMITED WARRANTY AND LIMITATION OF LIABILITY: It is your responsibility to choose, maintain and
match the hardware and software components of your computer system. Thus Canon does not
guarantee uninterrupted service or correction of errors or that the functions or performance of the
SOFTWARE will meet your requirements. THE SOFTWARE IS LICENSED ON AN "AS IS" BASIS AND
WITHOUT WARRANTY OR CONDITION OF ANY KIND. The CD-ROM storing the SOFTWARE is warranted
only against defective material under normal use for a period of ninety (90) days after purchase from an
authorized Canon dealer as evidenced by your sales receipt. Your sole remedy for a defective CD-ROM
shall be replacement of the same without charge when returned by you at your expense to your point of
purchase and proven to be defective upon inspection. The Replacement CD-ROM will be warranted for
the remainder of the original ninety (90) day warranty period of the defective CD-ROM. The limited
warranty does not apply if the failure of the CD-ROM resulted from accident, abuse or misapplication of
the SOFTWARE and shall not extend to anyone other than the original user of the SOFTWARE.
EXCEPT AS SPECIFICALLY SET FORTH IN THIS PARAGRAPH 4, CANON, CANON'S SUBSIDIARIES,
DISTRIBUTORS AND DEALERS DISCLAIM ALL WARRANTIES, OR CONDITIONS, EXPRESS OR
IMPLIED, INCLUDING ANY WARRANTY OR CONDITION OF MERCHANTABILITY OR FITNESS FOR A
PARTICULAR PURPOSE, WITH RESPECT TO THE SOFTWARE.
NEITHER CANON NOR ANY OF CANON'S SUBSIDIARIES, DISTRIBUTORS OR DEALERS IS LIABLE
FOR ANY DAMAGES HOWSOEVER CAUSED, INCLUDING WITHOUT LIMITATION, DIRECT,
CONSEQUENTIAL OR INCIDENTAL LOSS OR DAMAGE INCLUDING LOSS OF PROFITS, EXPENSE OR
INCONVENIENCE HOWSOEVER CAUSED OR ARISING OUT OF THE SOFTWARE OR THE USE
---

NEITHER CANON, NOR ANY OF CANON'S SUBSIDIARIES, DISTRIBUTORS OR DEALERS SHALL
HAVE ANY OBLIGATION TO INDEMNIFY YOU AGAINST ANY CLAIM OR SUIT BROUGHT BY A
THIRD PARTY ALLEGING THAT THE SOFTWARE OR THE USE THEREOF INFRINGES ANY
INTELLECTUAL PROPERTY OF SUCH THIRD PARTY.
SOME STATES, PROVINCES OR LEGAL JURISDICTIONS DO NOT ALLOW THE EXCLUSION OF
IMPLIED WARRANTIES, OR THE LIMITATION OR EXCLUSION OF LIABILITY FOR INCIDENTAL OR
CONSEQUENTIAL DAMAGES, OR PERSONAL INJURY OR DEATH RESULTING FROM NEGLIGENCE
ON THE PART OF THE SELLER, SO THE ABOVE DISCLAIMERS AND EXCLUSIONS MAY NOT APPLY
5. TERM: This Agreement is effective upon your using the SOFTWARE and remains in effect until expiration
of all copyright interests in the SOFTWARE unless earlier terminated. You may terminate this Agreement
by destroying the SOFTWARE. This Agreement will also terminate without notice to you if you fail to
comply with any of the terms of this Agreement and you must then promptly return the SOFTWARE. In
addition, Canon may enforce its other legal rights.
6. U.S. GOVERNMENT RESTRICTED RIGHTS NOTICE:
The SOFTWARE is a "commercial item," as that term is defined at 48 C.F.R. 2.101 (Oct 1995), consisting
of "commercial computer software" and "commercial computer software documentation," as such
terms are used in 48 C.F.R. 12.212 (Sept 1995). Consistent with 48 C.F.R. 12.212 and 48 C.F.R.
227.7202-1 through 227.72024 (June 1995), all U.S. Government End Users shall acquire the SOFTWARE
with only those rights set forth herein. Manufacturer is Canon Inc./30-2, Shimomaruko 3-chome, Ohta-
ku, Tokyo 146-8501, Japan.
7. EXPORT RESTRICTIONS: You agree to comply with all export laws and restrictions and regulations of
the country involved, and not to export or re-export, directly or indirectly, the SOFTWARE in violation of
any such laws and restrictions and regulations, or without all necessary approvals.
In the event that any provision of this Agreement is declared or found to be illegal by any court or tribunal
of competent jurisdiction, such provision shall be null and void with respect to the jurisdiction of that
court or tribunal and all the remaining provisions of this Agreement shall remain in full force and effect.
9. CONTROLLING LAW: The terms of this Agreement as it relates to purchases of the Software in the
United States of America shall be governed and construed in all respects in accordance with the laws and
regulations of the State of New York, without reference to choice of law principles. The terms of this
Agreement as it relates to purchases of the Software in Canada shall be governed by the laws of the
10. OWNERSHIP: All rights, including but not limited to copyrights and trade secret rights, to the
SOFTWARE belong to Canon, its affiliated corporations and third party licensors. Your use of the
SOFTWARE is subject to the laws of the United States, and Canada, and other applicable copyright and
trademark laws, and nothing in this Agreement constitutes a waiver of the rights of Canon, its affiliated
corporations and third party licensors under such laws. You only own the CD-ROM media in which the
Software is stored. Except as expressly provided herein, no license or right, express or implied, is hereby
conveyed or granted by Canon to you for any intellectual property of Canon. Nothing contained in
Paragraph 1 shall be construed to give Canon any ownership rights in any images, graphics or textual
material that you save in connection with the Software.
You may not modify, remove or delete any or all copyright notices (i) which are contained in the Software,
including any copy thereof, and (ii) which are on the original CD-ROM and on the medium of a back-up
copy made pursuant to Section 2 above.
11. ACKNOWLEDGEMENT: BY USING THE SOFTWARE, YOU ACKNOWLEDGE THAT YOU HAVE READ
THIS AGREEMENT, UNDERSTOOD IT, AND AGREE TO BE BOUND BY ITS TERMS AND
CONDITIONS. YOU ALSO AGREE THAT THIS AGREEMENT IS THE COMPLETE AND EXCLUSIVE
STATEMENT OF AGREEMENT BETWEEN YOU AND CANON CONCERNING THE SUBJECT MATTER
HEREOF AND SUPERSEDES ALL PROPOSALS OR PRIOR AGREEMENTS, VERBAL OR WRITTEN, AND
ANY OTHER COMMUNICATIONS BETWEEN THE PARTIES RELATING TO THE SUBJECT MATTER
HEREOF. NO AMENDMENT TO THIS AGREEMENT SHALL BE EFFECTIVE UNLESS SIGNED BY A
DULY AUTHORIZED OFFICER OF CANON.
---

A Guide to the Manuals ..................................................... 2
What Can Be Accomplished with the Software ................ 6
Canon Digital Camera Solution Disk ..................................... 6
Arcsoft Camera Suite CD-ROM ........................................... 11
Camera and Software Compatibility ................................... 12
System Requirements ...................................................... 13
Windows .......................................................................... 13
Macintosh ......................................................................... 14
Connecting the Camera to a Computer ........................... 15
Selecting a Downloading Method ....................................... 15
Connecting to a USB Port .................................................. 16
Connecting to a CF Card Reader or PC Card Reader ............ 17
---