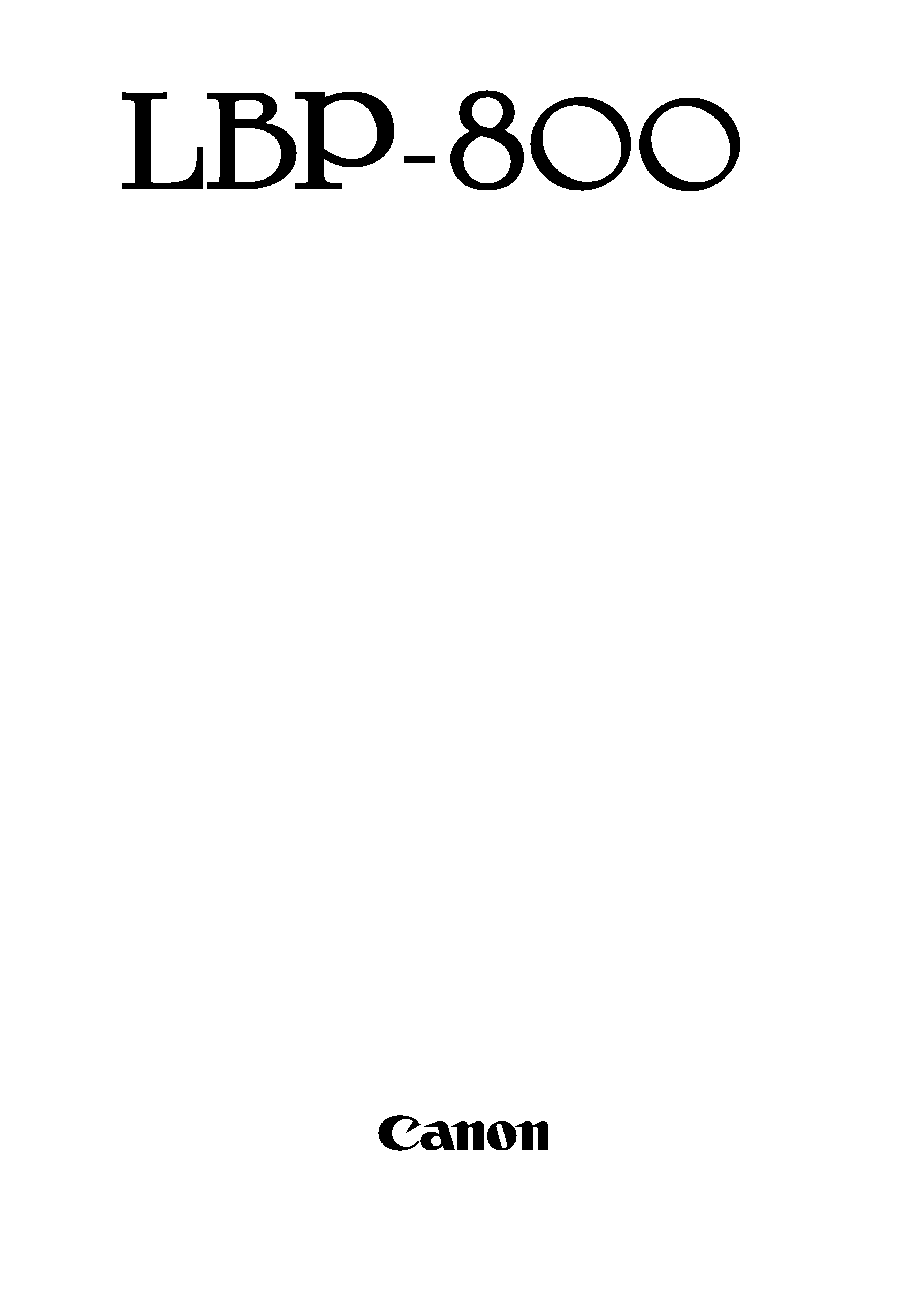 CANON LBP-800 REV.0 AUG. 1999 PRINTED IN JAPAN (IMPRIME AU JAPON)
---

COPYRIGHT © 1999 CANON INC
PERIPHERAL PRODUCTS QUALITY PLANNING DIV.
PERIPHERAL PRODUCTS TECHNICAL DOCUMENTATION DEPT.
5-1, Hakusan 7-chome, Toride-City, Ibaraki-Pref. 302-8501, Japan
Use of this manual should
be strictly supervised to
avoid disclosure of confi-
---

This Service Manual contains basic information required for after-sales service of the laser beam
printer LBP-800 (hereinafter referred to as the "printer"). This information is vital to the service
technician in maintaining the high print quality and performance of the printer.
This manual consists of the following chapters:
Chapter 1: Product information
Features, specifications, operation, and installation
Chapter 2: Operation and Timing
A description of the operating principles and timing sequences of the electrical and
Chapter 3: The Mechanical System
Explanation of mechanical operation, disassembly, reassembly and adjustment
Chapter 4: Troubleshooting
Troubleshooting procedures, reference values and adjustments, maintenance and
General timing chart, general circuit diagram, etc.
Information in this manual is subject to change as the product is improved or redesigned. All
relevant information in such cases will be supplied in the Service Information Bulletins.
A thorough understanding of this printer, based on information in this Manual and Service
Information bulletins, is required for maintaining its performance and for locating and repairing
the causes of malfunctions.
---

This manual was produced on an Apple PowerMacintosh 9500/200 personal computer and output by an
Apple LaserWriter 16/600 PS laser beam printer; final pages were printed on AGFA Selectset avantra 25.
All graphics were produced with Macromedia FreeHand (J), and all documents and page layouts were
created with QuarkXPress (E).
The video images were captured with SONY degital video camcorder and Radius PhotoDV capture board
system, and modified with Adobe Photoshop
---

CHAPTER 1 PRODUCT INFORMATION
FEATURES................................ 1-1
SPECIFICATIONS ...................... 1-2
A. Printer ................................. 1-2
SAFETY INFORMATION........ 1-4
A. Handling the Laser/Scanner
Unit ..................................... 1-4
B. Toner Caution...................... 1-4
C. Ozone Safety ....................... 1-4
PARTS OF THE PRINTER .......... 1-5
A. External View ...................... 1-5
B. Cross Section....................... 1-6
INSTALLATION ......................... 1-7
A. Precautions.......................... 1-7
B. Storage and Handling of EP-22
Cartridge ............................. 1-8
BY THE CUSTOMER ................. 1-10
VII. OPERATION .............................. 1-11
A. Canon Advanced Printing
Technology (CAPT) ............... 1-11
B. Microsoft Windows NT4.0 .... 1-12
C. Microsoft Windows 95/98 .... 1-49
D. Printing Environment Setting
and Test Printing ................. 1-61
BASIC OPERATION ................... 2-1
A. Functions ............................ 2-1
B. Basic Operation Sequence.... 2-2
C. Power-ON Sequence ............. 2-3
ENGINE CONTROL SYSTEM ...... 2-4
A. Engine Controller PCB ......... 2-4
B. Fixing Control Circuit.......... 2-8
C. High-voltage Power Supply
Circuit ................................. 2-10
D. Low-voltage Power Supply
Circuit ................................. 2-12
E. Video Interface .................... 2-14
III. LASER/SCANNER SYSTEM ....... 2-16
A. Outline ................................ 2-16
B. Laser Control Circuit ........... 2-17
C. Scanner System ................... 2-20
IMAGE FORMATION SYSTEM.... 2-22
A. Outline ................................ 2-22
B. Print Process ....................... 2-23
PICK-UP/FEED SYSTEM ........... 2-30
A. Outline ................................ 2-30
B. Jam Detection ..................... 2-32
VI. VIDEO CONTROL SYSTEM ........ 2-33
A. Interface Controller PCB...... 2-33
PREFACE.................................. 3-1
EXTERNALS ............................. 3-2
A. Locations............................. 3-2
B. External Covers ................... 3-2
III. MAIN UNITS ............................. 3-5
A. Laser/Scanner Unit.............. 3-5
B. Drive Unit............................ 3-6
C. Feed Unit............................. 3-7
D. Delivery Unit ....................... 3-8
E. Fixing Film Unit .................. 3-8
MAIN PARTS ............................. 3-10
A. Locations............................. 3-10
B. Pick-up Roller ...................... 3-11
C. Separation Pad .................... 3-11
D. Transfer Charging Roller...... 3-13
D. Pressure Roller .................... 3-13
SWITCHES/SENSORS/LEDS ..... 3-15
A. Locations............................. 3-15
CHAPTER 2 OPERATION AND TIMING
CHAPTER 3 THE MECHANICAL SYSTEM
---