COPYRIGHT © 1997 CANON INC.
CANON LBP-2460 REV.1 DEC. 1997 PRINTED IN JAPAN (IMPRIME AU JAPON)
---

PERIPHERAL PRODUCTS QUALITY ADVANCEMENT DIV.
PERIPHERAL PRODUCTS TECHNICAL DOCUMENTATION DEPT.
5-1, Hakusan 7-chome, Toride-City, Ibaraki-Pref. 302, Japan
COPYRIGHT © 1997 CANON INC.
Use of this manual should be
strictly supervised to avoid
disclosure of confidential
---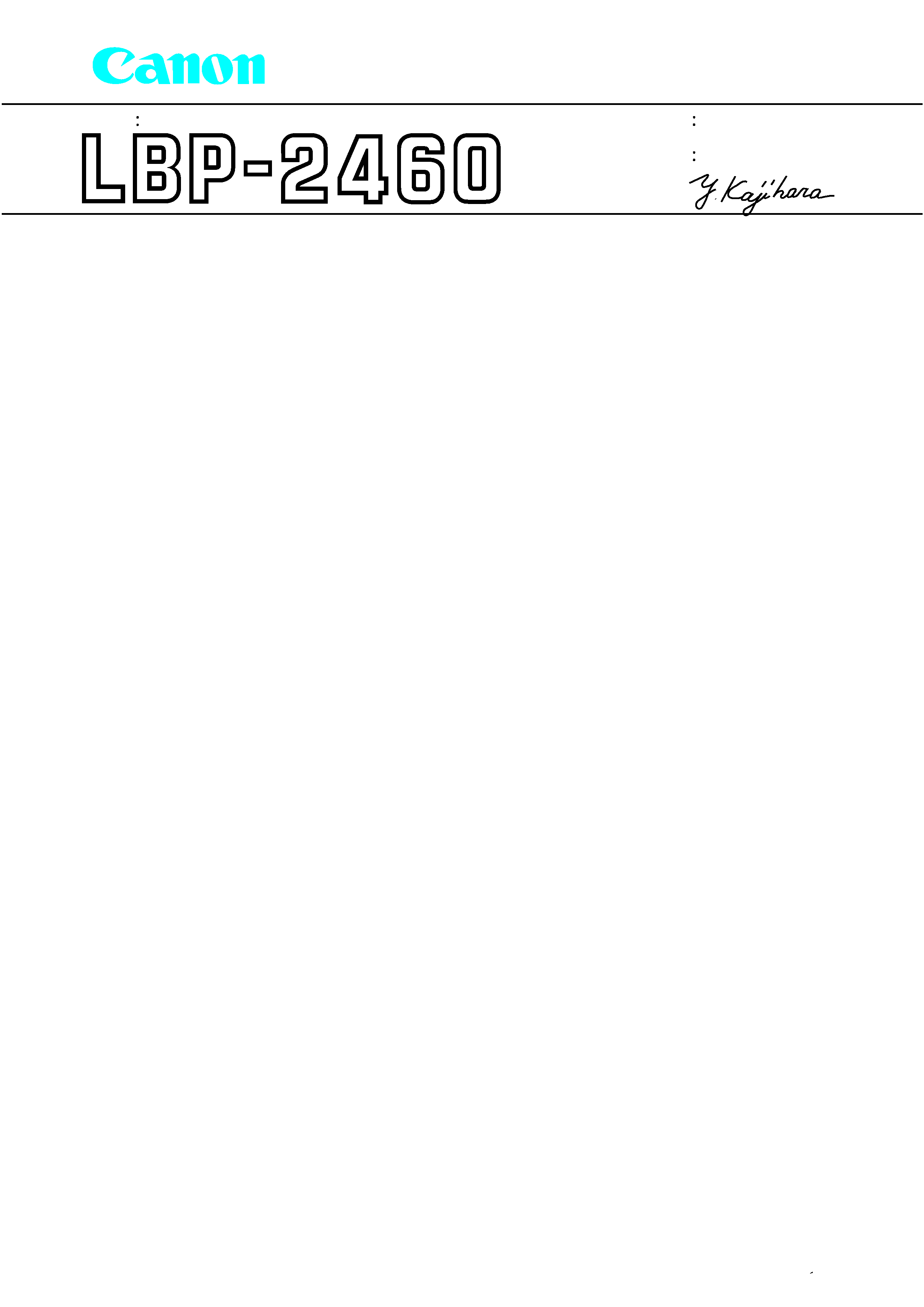 Issued by Peripheral Products Quality Assurance Center, Canon Inc.
Canon has published a revised version of LBP-2460 Service Manual (RY8-1383-000).
Revision 1 (RY8-1383-010) includes supplementary materials as well as corrections,
so please use it in place of the original.
Revision of Service Manual
---

---

This Service Manual contains basic information required for after-sales service of the LBP-2460
laser beam printer (hereinafter referred to as the "printer"). This information is vital to the
service technician in maintaining the high print quality and performance of the printer.
The 2,000-sheet paper deck, option controller, envelope feeder, and duplexing unit, which are
prepared for the printer as options, are also described in this manual.
In this manual, the optional 2,000-sheet paper deck is simply called the paper deck.
This manual consists of the following chapters:
Chapter 1: Product information
Features, specifications, operation, and installation
Chapter 2: Operation and Timing
A description of the operating principles and timing sequences of the electrical and
Chapter 3: The Mechanical System
Explanation of mechanical operation, disassembly, reassembly, and adjustment
Chapter 4: Troubleshooting
Maintenance and servicing, reference values and adjustments, troubleshooting
procedures, lubricants, and solvents
Appendix: General timing chart, general circuit diagram, etc.
Information in this manual is subject to change as the product is improved or redesigned.
All relevant information in such cases will be supplied in Service Information Bulletins.
A thorough understanding of this printer, based on information in this Manual and Service
Information Bulletins, is required for maintaining its performance and for locating and repairing
the causes of malfunctions.
---