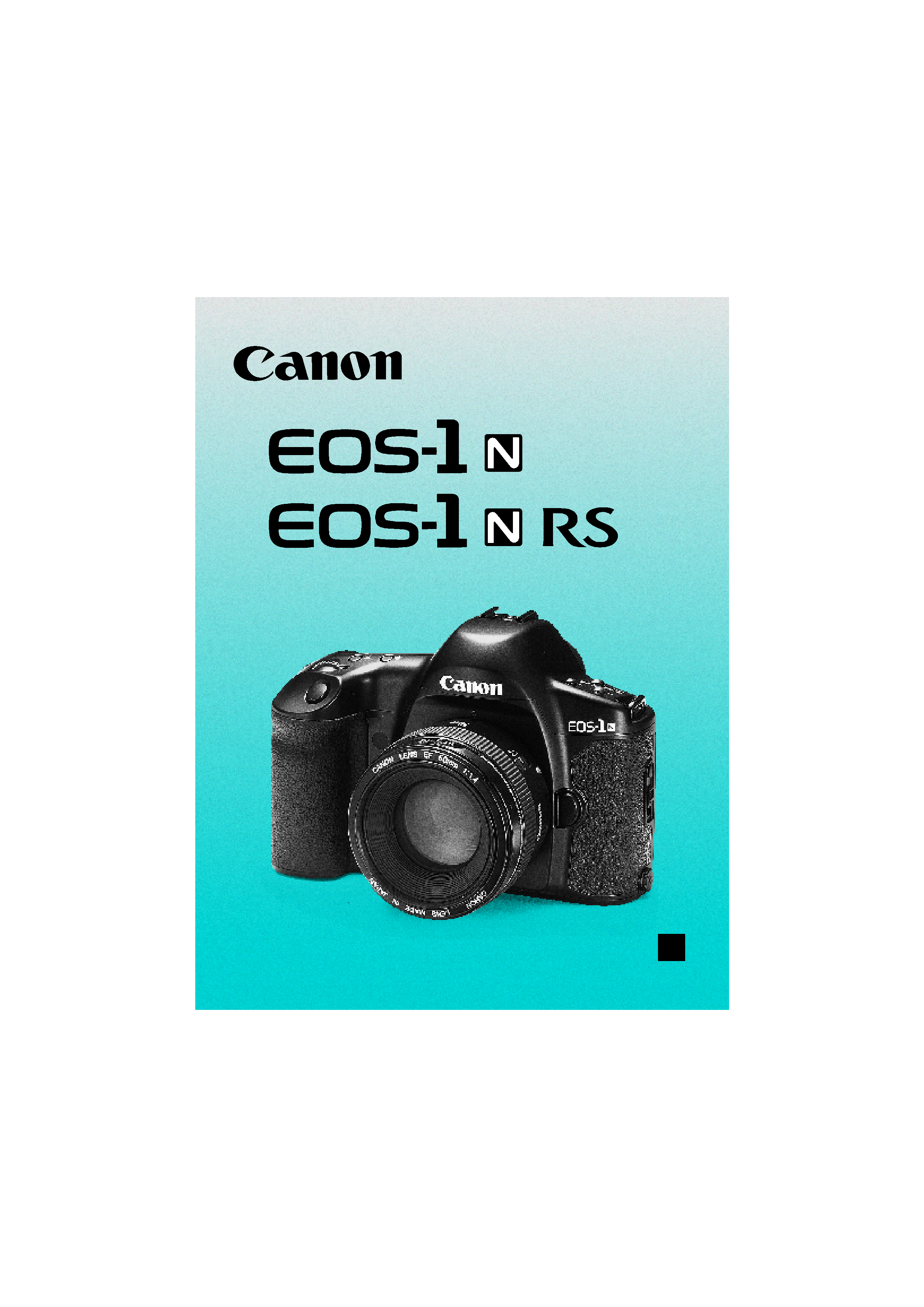 00. Part.0 RS (E) (P.01~12) 27-01-2003 11:51 Page 1
---

Welcome to the World of the EOS-1 N, The Flagship Camera of the EOS Series
Thank you for selecting a Canon EOS camera.
Thousands of professional photographers throughout the world are devot-
ed users of the EOS-1 -- a flexible, high-precision tool responsible for
recording on film countless decisive moments and masterpieces of photo-
graphic art. The EOS-1 N continues the EOS-1 tradition and extends the
state of the art even further by combining all of the superb features of the
EOS-1 with several new functions and mechanisms requested by EOS-1
users to create the ultimate professional photographic tool.
1. Advanced Multi-BASIS AF (autofocus) sensor with five selectable
focusing points for wide-area coverage.
2. Improved focus prediction and object tracking performance.
3. Improved shooting speed (up to 6 frames/sec. with Power Drive
4. Choice of five metering patterns, including 16-zone evaluative, cen-
ter-weighted average, 9% partial, 3.5% spot metering linked to
each focusing point, and 2.3% fine spot metering.
5. Enhanced multiple-zone TTL flash sensor plus built-in flash expo-
sure compensation control up to
±3 steps in 1/3-step increments.
6. Silent drive mechanism for super-quiet film rewinding.
7. Improved and expanded custom functions for greatly enhanced
operational flexibility, letting you customize many facets of the cam-
era's operation to match your shooting style. New custom functions
· Choice of silent or high-speed rewind
· Flash output reduction control
· Ability to set shutter speeds and aperture values in 1-step, 1/2-step or
· Ability to select individual focusing points with quick control dial
· Ability to change AEB exposure order and prevent cancellation
8. Built-in eyepiece shutter.
00. Part.0 RS (E) (P.01~12) 27-01-2003 11:51 Page 2
---

The EOS-1 N family consists of the following three models in addition to
This model combines the BP-E1* AA-size battery pack with the
EOS-1 N, allowing the user to switch between the standard
2CR5 lithium battery or AA-size batteries depending on the
shooting situation. (Refer to page 93.)
This model combines the Power Drive Booster E1* with the
EOS-1 N, providing high-speed continuous shooting and
increased shooting capacity. (Refer to page 96.)
· EOS-1 N RS**: This model features a non-moving, hard-coated new pellicle mirror
which provides non-interrupted viewing through the viewfinder and
rapid-fire continuous shooting at 10 frames/sec. Moreover, the
camera's release time lag (the time between when the shutter but-
ton is pressed and when the exposure occurs) is reduced to a
mere 0.006 sec. (Refer to page 100.)
* BP-E1 and Power Drive Booster E1 must be purchased separately in North America.
**The EOS-1 N RS is scheduled for availability in Spring 1995.
Before an important event such as a trip or wedding, be sure to test the camera to make
sure it is operating correctly.
The EOS-1 N will give optimum performance together with exclusively designed Canon
EF lenses, flash and other Canon brand accessories. It is possible that the use of incom-
patible lenses or other accessories may result in unsatisfactory performance or damage to
your EOS-1 N. We therefore suggest the use of Canon EF lenses and accessories.
Damage to your Canon camera as a result of malfunction or improper connections caused
by the use of incompatible products may void its warranty.
Throughout this manual special precautions relating to the various camera
operations are enclosed in boxes marked with the following symbols.
: Cautionary measures to ensure proper camera use and prevent undesired
: Reference information for helping you gain maximum functionality from your
: Helpful hints for using your camera productively and with maximum efficiency.
To keep your camera in top working condition, be sure to read the Camera Care
and Precautions section on page 6.
After reading this manual, store it in a convenient place that is quick and easy to
00. Part.0 RS (E) (P.01~12) 27-01-2003 11:51 Page 3
---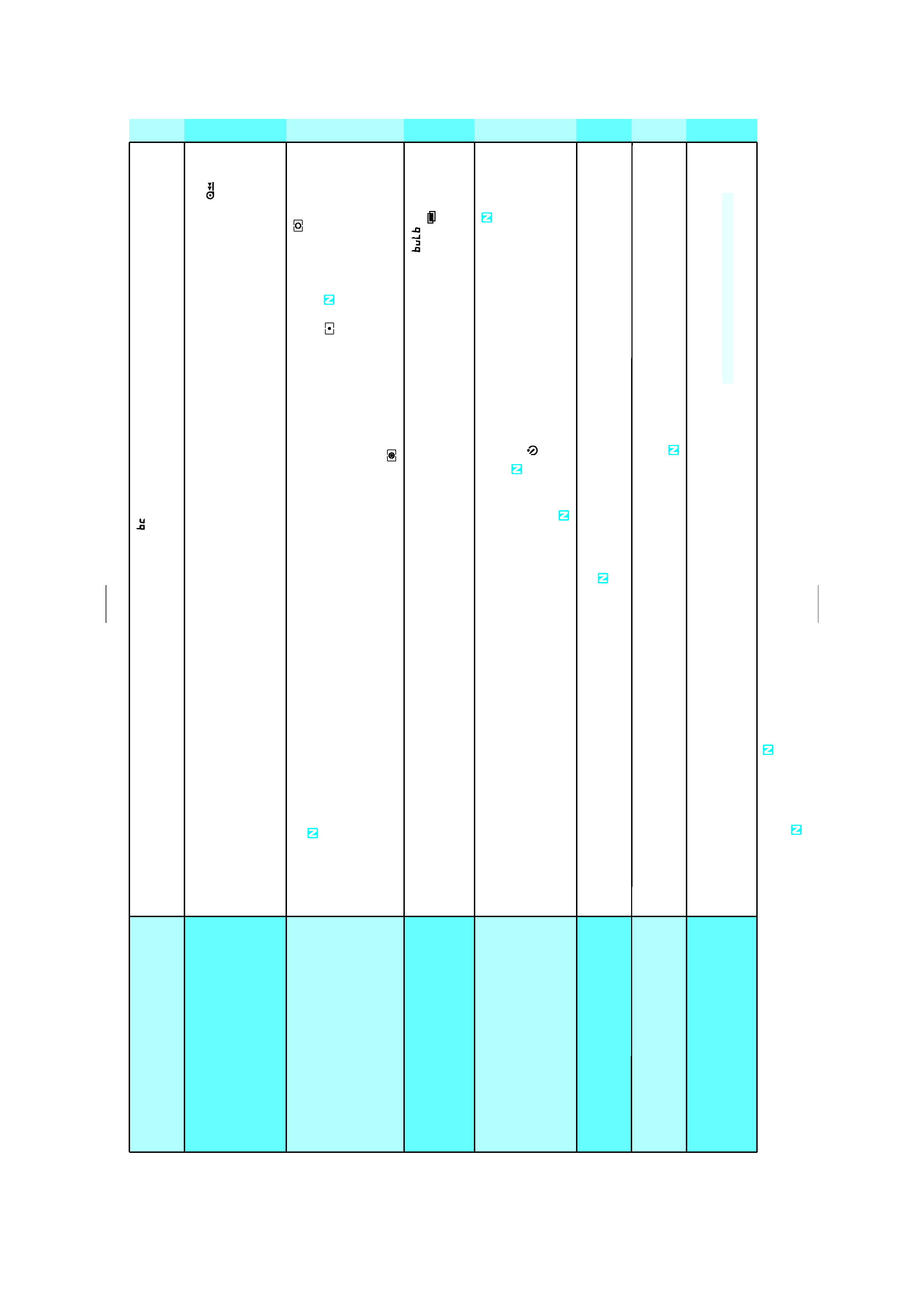 1. Setting and Resetting Custom
Functions...............................82
Setting a Custom Function.....82
Additional Information for the
EOS-1 N DP Model ........................93
Additional Information for the
EOS-1 N HS Model ........................96
1. Selecting the Five Focusing
) ............................29
Point ..................................29
Focus Lock ........................31
2. Selecting the AF Mode ..........32
One-Shot Autofocus ..........32
Attaching the Strap ............13
1. Loading the Battery ...............14
2. Checking the Battery Level
(Film Shooting Capacity) .......15
3. Operating the Main Switch ....16
4. Setting and Adjusting Basic Functions .17
Camera Care and Precautions ..........6
1. Handling, Cleaning and Storage .......6
2. Liquid Crystal Display Information........7
1. Shutter-priority AE [Tv]..........49
2. Aperture-priority AE [Av] .......52
3. Depth-of-Field AE [DEP] .......55
1. Manually Setting the Film Speed .....66
2. Changing the Film Winding Mode....67
Film Winding Automatic Gear
Switching Function................68
Maximum Continuous Shooting
Speed in Different AF Modes
1. Using EOS Dedicated Speedlites ....77
Reduction Control ..............77
III Selecting the Shooting
· New functions appearing on the EOS-1 N for the first time are indicated by an (
are already familiar with the operation of the EOS-1, you can quickly familiarize yourself with
the EOS-1 N by just reading the text sections indicated by an (
00. Part.0 RS (E) (P.01~12) 27-01-2003 11:51 Page 4
Exposure Compensation .......79
3. Using Non-dedicated Flash
Equipment .............................80
Functions F-5 and F-11 .....92
Program Line Characteristics ........108
Specifications............................109
Quick Guide to EOS-1 N Functions...115
Removing Film...................25
Removing Film in Mid-Roll (
9. Custom Functions .................25
10. Program AE mode [P] ...........26
Program Shift Function ......27
Remaining Frame Counter.....27
5. Lens Attachment .....................18
Removing the Lens............18
6. Dioptric Adjustment ...............19
7. Shutter Button Operation
and Autofocus .......................20
8. Film Loading..........................22
" Display ..............7
4. Battery Information ..................8
()().............................39
6. AE Lock .................................40
7. Exposure Compensation .......42
8. Auto Exposure Bracketing
[AEB].....................................45
5. Locking the Mirror Up ()........72
6. Infrared Photography ............73
7. Checking the Depth of Field ......74
8. Illuminating the LCD Panel ........74
9. Resetting the Camera to Its
Initial Settings ........................75
AI Servo Autofocus ............33
3. Difficult Subjects for Autofocus ..34
4. Manual Focusing ...................36
Full-time Manual Focusing
with USM Lenses ...............36
5. Selecting the Metering Mode .....37
Evaluative Metering () ........38
Point Selection Mode .........55
Point Selection Mode ..........57
4. Manual Exposure [M] ............59
(frames/sec.) ........................68
4. Using the Self-Timer () .......70
) .......................71
2. Flash Exposure Compensation
() .......................................78
Speedlites Capable of Flash
Function .............................83
2. Custom Function Chart ().......84
Attaching the Standard Grip ............99
Additional Information for the
EOS-1 N RS Model...................100
Troubleshooting ........................106
5. Camera Operation with a Low
Battery ....................................8
Nomenclature ...............................9
---

---