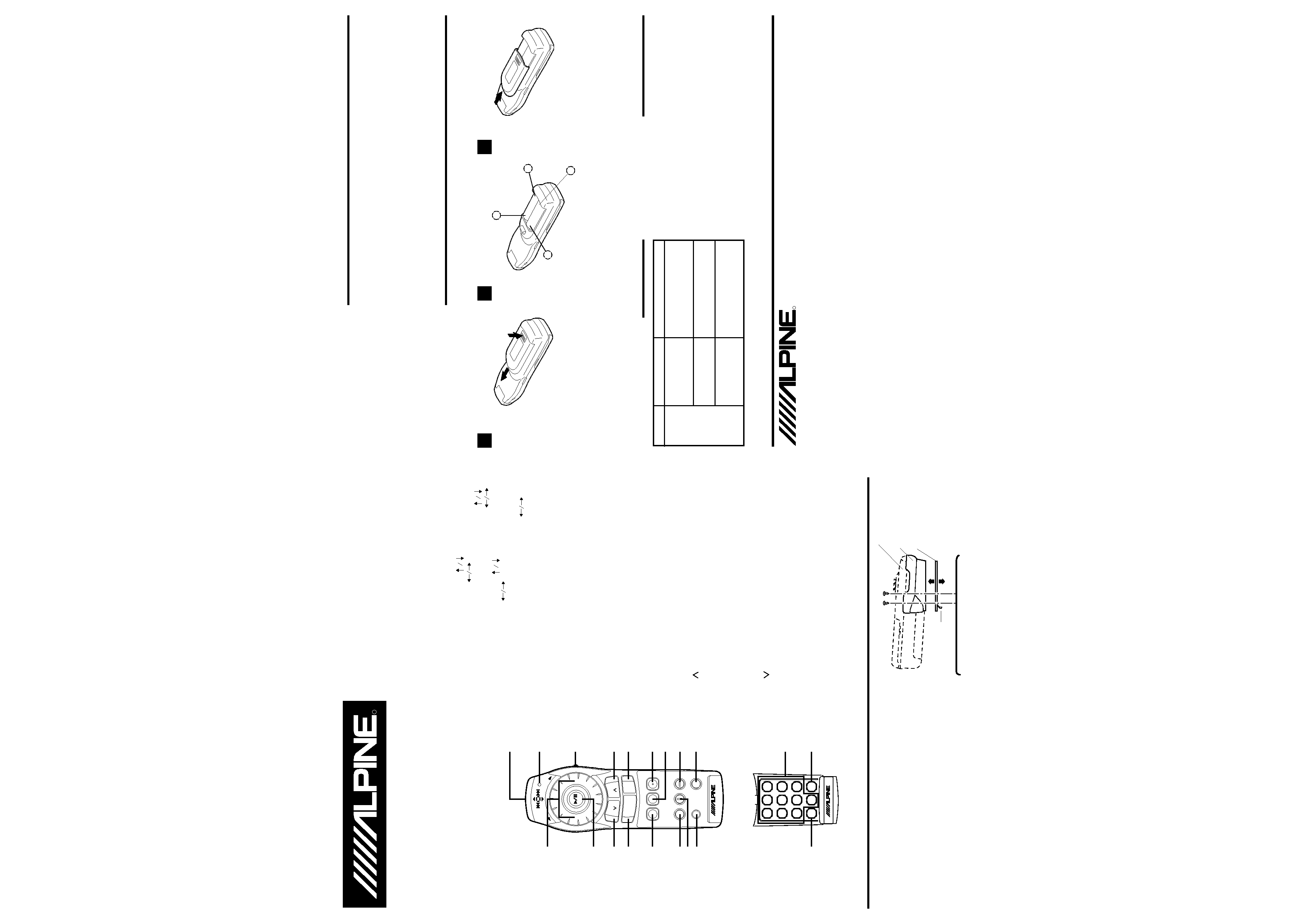 1 Remote Control Signal Transmitter
2 Signal Transmitter Indicator
9 V.SEL (Video Selector) Button
Radio mode: Preset Selection (
CD/MD Player/CD Changer mode: Disc Selection (
Tape mode: Program Sensor (
Equalizer/Surround mode: After calling Equalizer/Surround
mode with the A.PROC button, tilt the Joystick (
% A.PROC (Audio Processor) Button
Note: Depending on the head unit, some operations
cannot be performed. For details, see the Owner's
Manual for the head unit.
1 Remote Control Signal Transmitter
2 Signal Transmitter Indicator
6 MP/RG (Map/Route Guidance) Button
" Joystick/ENT (Enter) Button
Note: Depending on the navigation system, some operations
are inoperative. For details, consult your Alpine dealer.
Installation of Remote Control Holder
· If direct sunlight reaches the remote control mounted
on the holder, remove the remote control from the
holder and put it in the glove compartment.
· If double-sided adhesive tape cannot install the holder
Note: Attach the blue protective paper side of double-sided
tape onto the console box, etc.
Do not drop or apply shock to the unit. It may get permanently
Keep the unit away from water and moisture, direct sun and
heat, and excessive dust.
Never use scouring pads, steel wool, abrasive powders or
harsh chemical agents, such as lye solution, for cleaning.
Opening the battery cover.
Push on the cover and slide it as
indicated by the arrows then the cover
Remove the old batteries. Insert new
ones matching the (+) and (­)
polarities as shown in the diagram
inside the remote control.
Push the cover in the arrow direction
Battery Type ......................................... AA size batteries
Battery Quantity ............................................................ 2
× H × D) .................... 45 × 45 × 135 mm
Weight (without battery) ............................. 70 gr (2.5 oz)
Applicable battery: Use two "AA" sized dry batteries or equivalent.
Tokyo office: 1-1-8 Nishi Gotanda,
Shinagawa-ku, Tokyo 141-8501, Japan
ALPINE ELECTRONICS OF AMERICA, INC.
19145 Gramercy Place, Torrance,
Tel.: 1-800-ALPINE-1 (1-800-257-4631)
ALPINE ELECTRONICS OF CANADA, INC.
Suite 203, 7300 Warden Ave. Markham,
Tel.: 1-800-ALPINE-1 (1-800-257-4631)
ALPINE ELECTRONICS OF AUSTRALIA PTY. LTD.
6-8 Fiveways Boulevarde Keysborough,
Kreuzerkamp 7-11 40878 Ratingen, Germany
Via C. Colombo 8, 20090 Trezzano Sul
ALPINE ELECTRONICS FRANCE S.A.R.L.
(RCS PONTOISE B 338 101 280)
98, Rue De La Belle Etoile, Z.I. Paris Nord Il
B.P. 50016 F-95945, Roissy,
Charles De Gaulle Cedex, France
ALPINE ELECTRONICS OF U.K., LTD.
13 Tanners Drive, Blakelands,
Milton Keynes MK14 5BU, U.K.
ALPINE ELECTRONICS DE ESPAÑA, S.A.
Portal De Gamarra 36, Pabellón 32
01013 Vitoria (Alava)-Apdo. 133, Spain
Place the battery correctly
Replace the battery with a
directly toward your head
Clean with a soft, lint-free cloth or cotton swab slightly
dampened with a mild solution of detergent and water.
Do not operate this unit in a manner that could distract you
(When the flip cover is open)
---