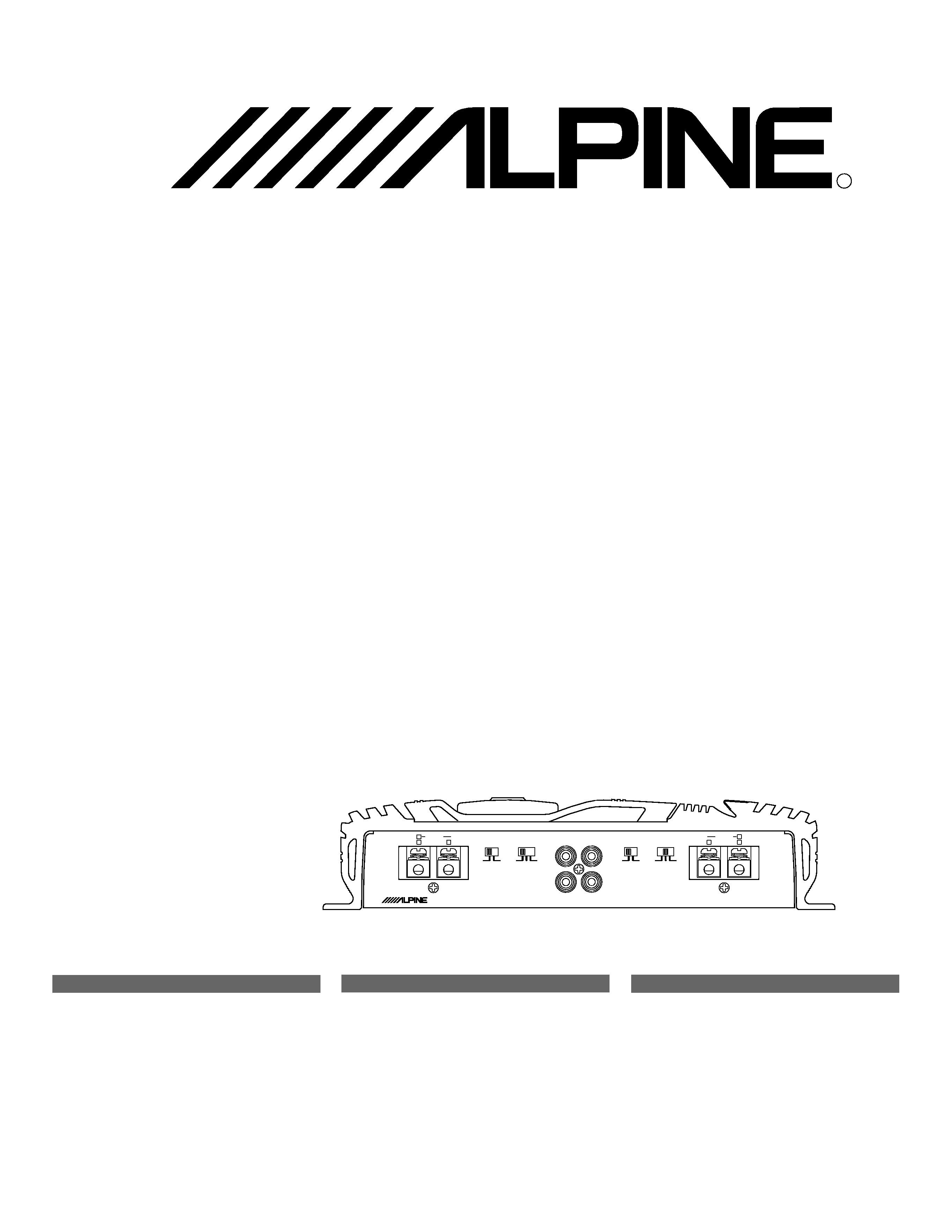 Please read this manual to maximize your enjoyment of the outstanding
performance and feature capabilities of the equipment, then retain the
manual for future reference.
Veuillez lire ce mode d'emploi pour tirer pleinement profit des
excellentes performances et fonctions de cet appareil, et conservez-le
pour toute référence future.
Lea este manual, por favor, para disfrutar al máximo de las
excepcionales prestaciones y posibilidades funcionales que ofrece el
equipo, luego guarde el manual para usarlo como referencia en el futuro.
2/1 CHANNEL POWER AMPLIFIER
2/1 Channel Power Amplifier
4/3/2 Channel Power Amplifier
TECHNICAL DESIGN FEATURES ................................ 4
INSTALLATION .......................................................... 6
CONNECTIONS .......................................................... 6
SWITCH SETTINGS ................................................. 10
RECOMMENDED SPEAKER CONNECTION .............. 15
SYSTEM DIAGRAMS ............................................... 16
SPECIFICATIONS ..................................................... 22
ACCESSORIES ......................................................... 23
CARACTERISTIQUES DE CONCEPTION TECHNIQUE ...... 4
INSTALLATION .......................................................... 6
CONNEXIONS ............................................................ 6
REGLAGES DE COMMUTATEUR .............................. 10
CONNEXION RECOMMANDEE DE HAUT-PARLEUR ...... 15
DIAGRAMMES DU SYSTEME .................................. 16
SPECIFICATIONS ..................................................... 22
ACCESSOIRES ......................................................... 23
CARACTERISTICAS TECNICAS DEL DISEÑO ............. 4
INSTALACION ............................................................ 6
CONEXIONES ............................................................ 6
AJUSTES DEL INTERRUPTOR ................................. 10
CONEXION RECOMENDADA DE ALTAVOCES .......... 15
DIAGRAMAS DEL SISTEMA .................................... 16
ESPECIFICACIONES ................................................ 22
ACCESORIOS .......................................................... 23
---

Please read this OWNER'S MANUAL thoroughly to fa-
miliarize yourself with each control and function. We at
ALPINE hope that your new MRV-1507/MRV-T757/
MRV-F407 will give you many years of listening enjoy-
In case of problems when installing your MRV-1507/
MRV-T757/MRV-F407, please contact your authorized
CAUTION: These controls are for tuning your system.
Please consult your authorized Dealer for adjustment.
DO NOT DISASSEMBLE OR ALTER. Doing so may lead
to accident, fire or electric shock.
KEEP SMALL ARTICLES OUT OF THE REACH OF CHIL-
DREN. If swallowed, consult a physician immediately.
USE THE CORRECT AMPERE RATING WHEN REPLAC-
ING FUSES. Failure to do so may result in fire or elec-
USE ONLY VEHICLES WITH A 12 VOLT NEGATIVE (­)
GROUND. Check with your dealer if you are not sure.
Failure to do so may result in fire or electric shock.
BEFORE WIRING, DISCONNECT THE CABLE FROM THE
NEGATIVE (­) BATTERY TERMINAL. Failure to do so
may result in electric shock or injury due to electrical
DO NOT CUT AWAY THE WIRE SHEATH AND USE
POWER FOR OTHER EQUIPMENT. Doing so may ex-
ceed the current carrying capacity of the wire and result
in fire or electric shock.
DO NOT INSTALL IN LOCATIONS WHICH MIGHT
HINDER VEHICLE OPERATION OR CREATE HAZARDS
FOR VEHICLE OCCUPANTS. Doing so may obstruct for-
ward vision or hamper movement.
DO NOT CONTACT, DAMAGE OR OBSTRUCT PIPES,
FLUID LINES OR WIRING WHEN DRILLING HOLES.
Failure to take such precautions may result in fire or
cause an accident or injuries.
DO NOT USE NUTS OR BOLTS IN THE BRAKE SYSTEM
WHEN MAKING INSTALLATION OR GROUND CONNEC-
TIONS. Never use safety-related parts such as bolts or
nuts in the steering or brake systems or tanks to make
wiring installations or ground connections. Using such
parts could disable control of the vehicle and cause brake
failure, other accident or injury.
Prière de lire attentivement ce MODE D'EMPLOI pour
se familiariser avec chaque commande et fonction. Chez
Alpine, nous espérons que le nouveau MRV-1507/MRV-
T757/MRV-F407 donnera de nombreuses années de plai-
En cas de problèmes lors de l'installation du MRV-1507/
MRV-T757/MRV-F407, prière de contacter le revendeur
PRECAUTION: Ces commandes sont utilisées pour la
syntonisation du système. Prière de contacter le re-
vendeur agréé pour le réglage.
NE PAS DEMONTER NI MODIFIER. Il y a risque d'acci-
dent ou de choc électrique.
NE PAS LAISSER DE PETITES PIECES A PORTEE DES
ENFANTS. En cas d'ingestion, consultez immédiatement
UTILISEZ DES FUSIBLES DE L'AMPERAGE APPROPRIE.
Il y a risque d'incendie ou de choc électrique.
UTILISEZ LE SYSTEME UNIQUEMENT DANS DES VOI-
TURES AYANT UNE MASSE NEGATIVE (­) DE 12 VOLTS.
Vérifiez avec votre revendeur en cas de doute. Le non-
respect de cette précaution risque de provoquer un in-
cendie ou un choc électrique.
AVANT LE CABLAGE, DEBRANCHER LE CABLE DE LA
BORNE NEGATIVE (­) DE LA BATTERIE. Le non-res-
pect de cette précaution risque de provoquer un choc
électrique ou des blessures dues à des courts-circuits
NE PAS COUPER LA GAINE DES CABLES POUR ALI-
MENTER D'AUTRES EQUIPEMENTS. L'intensité nomi-
nale du câble sera dépassée et un incendie ou un choc
électrique risque de se produire.
NE PAS INSTALLER DANS DES ENDROITS RISQUANT
DE GENER LA CONDUITE DU VEHICULE OU
POTENTIELLEMENT DANGEREUX POUR LES OCCU-
PANTS DU VEHICULE. La vue avant pourrait être obs-
truée ou les mouvements gênés.
NE PAS TOUCHER, ENDOMMAGER OU BOUCHER LES
TUYAUX, CONDUITES OU CABLES LORSQUE VOUS
PERCEZ DES TROUS. Il y a risque d'incendie, d'acci-
NE PAS UTILISER DES ECROUS OU DES BOULONS
DANS LE SYSTEME DE FREINAGE PENDANT L'INSTAL-
LATION OU LES CONNEXIONS DE MASSE. Ne jamais
utiliser des pièces liées à la sécurité, telles que les bou-
lons ou écrous de la direction, des systèmes de frei-
nage ou des réservoirs, pour faire des installations de
câblage ou de connexion de masse. L'utilisation de ce
genre de pièces pourrait désactiver les systèmes de con-
trôle du véhicule, endommager les freins et causer un
accident ou des blessures.
A fin de familiarizarse con los controles y funciones de
la unidad, lea detenidamente este MANUAL DE OPERA-
CION. Nosotros en ALPINE esperamos que su nuevo
MRV-1507/MRV-T757/MRV-F407 le brinde muchos
En caso de presentarse algún problema durante la ins-
talación del MRV-1507/MRV-T757/MRV-F407, tome
PRECAUCION: Estos controles sirven para la sintoni-
zación de su sistema. Contacte por favor a su distri-
buidor autorizado para el ajuste.
NO DESMONTE O ALTERE. Si lo hace, podrá ocasionar
un accidente, incendio o descarga eléctrica.
MANTENGA LOS OBJETOS PEQUEÑOS FUERA DEL
ALCANCE DE LOS NIÑOS. Si tragasen algo, consulte a
un médico inmediatamente.
UTILICE EL AMPERAJE CORRECTO CUANDO CAMBIE
FUSIBLES. De lo contrario, podrá ocasionar un incen-
dio o descarga eléctrica.
UTILICE EL SISTEMA SOLAMENTE EN VEHICULOS QUE
TENGAN UNA PUESTA A TIERRA NEGATIVA (­) DE 12
VOLTIOS. Verifique con su distribuidor en caso de duda.
De lo contrario, podrá ocasionar un incendio o descar-
ANTES DE EFECTUAR EL CABLEADO, DESCONECTE EL
CABLE DEL TERMINAL NEGATIVO (­) DE LA BATERIA.
De no hacerlo así, podría ocasionar una descarga eléc-
trica o heridas debido a cortocircuitos eléctricos.
NO CORTE EL RECUBRIMIENTO DE CABLES PARA
EMPALMAR Y ALIMENTAR OTROS EQUIPOS. Si lo hace,
podrá sobrecargar la capacidad de los cables y ocasio-
nar un incendio o descarga eléctrica.
NO INSTALE EL APARATO EN LUGARES QUE PUEDAN
INTERFERIR CON LA OPERACION DEL VEHICULO O
CREAR PELIGROS PARA LOS OCUPANTES DEL VEHI-
CULO. Si lo hace, podrá obstruir la visión delantera o
NO TOQUE, DAÑE NI OBSTRUYA LAS TUBERIAS, CON-
DUCTOS DE FLUIDO O CABLEADO CUANDO TALADRE
AGUJEROS. Si no toma estas precauciones, podrá oca-
sionar un incendio o causar un accidente o heridas.
NO UTILICE TUERCAS O PERNOS EN EL SISTEMA DE
FRENOS PARA LA INSTALACION O LAS CONEXIONES
A TIERRA. No utilice nunca piezas relacionadas con la
seguridad como los pernos o tuercas en los sistemas
de dirección o de frenos o depósitos para hacer instala-
ciones de cableado o conexión a tierra. Si utiliza tales
partes podrá incapacitar el control del vehículo y oca-
sionar un fallo en los frenos, otro accidente o heridas.
---

HALT USE IMMEDIATELY IF A PROBLEM APPEARS.
When problems occur such as a lack of sound or video,
foreign objects inside the unit, smoke coming out, or
noxious odors, stop use immediately and contact the
dealer where you bought the equipment. Failure to do
so may result in an accident or injury.
DO NOT OPERATE THE EQUIPMENT OR LOOK AT THE
SCREEN WHILE DRIVING THE VEHICLE. Operating the
equipment may distract the driver from looking ahead
of the vehicle and cause accident. Always stop the vehi-
cle in a safe location before operating this equipment.
MAKE THE CORRECT CONNECTIONS. Failure to do so
may cause fire or accident to occur.
ARRANGE THE WIRING SO IT IS NOT CRIMPED OR
PINCHED. Route the cables and wiring so as not to be
crimped by moving parts or make contact with sharp or
pointed spots which might damage the wiring. Failure
to do so may cause failure of unit or vehicle.
DO NOT RAISE THE VOLUME EXCESSIVELY. Keep the
volume at a level where you can still hear outside noises
while driving. Driving while unable to hear outside noises
could be the cause of accident.
DO NOT USE THIS EQUIPMENT FOR PURPOSES OTHER
THAN STATED FOR THE VEHICLE. Failure to do so may
result in electric shock or injury.
HAVE THE WIRING AND INSTALLATION DONE BY EX-
PERTS. The wiring and installation of this unit requires
special technical skill and experience. To ensure safety,
always contact the dealer where you purchased this unit
DO NOT BLOCK VENTS OR RADIATOR PANELS. Block-
ing them may cause heat to build up inside and may
USE SPECIFIED ACCESSORY PARTS AND INSTALL
THEM SECURELY. Use of other than designated parts
may damage this unit internally or may not securely in-
stall the unit in place as parts that come loose may cre-
DO NOT INSTALL IN LOCATIONS WITH HIGH MOIS-
TURE OR DUST. A high incidence of moisture or dust
that penetrates into this unit may cause smoke or fire.
ARRETEZ-VOUS IMMEDIATEMENT EN CAS DE PRO-
BLEME. Si un problème se présente, absence du son ou
de l'image, objets tombés dans l'appareil, dégagement
de fumée ou d'odeurs nocives, arrêtez immédiatement
l'appareil et contactez le revendeur où vous l'avez acheté
l'appareil. Il y a risque d'accident et de blessure.
NE PAS FAIRE DE REGLAGES OU REGARDER L'ECRAN
PENDANT LA CONDUITE. Votre attention sera détour-
née de la route et vous risquez un accident. Avant de
faire fonctionner l'appareil, arrêtez-vous et garez-vous
EFFECTUEZ CORRECTEMENT LES CONNEXIONS.Sinon
il y a risque d'incendie ou d'accident.
DISPOSEZ LE CABLAGE DE SORTE QU'IL NE SOIT PAS
VRILLE OU PLIE.Acheminez les câbles et les fils de sorte
qu'ils ne soient pas vrillés par des pièces mobiles ou
qu'ils n'entrent pas en contact avec des points tranchants
ou pointus qui risquent d'endommager le câblage. Si-
non l'appareil ou le véhicule risquent de ne pas fonc-
NE PAS TROP AUGMENTER LE VOLUME. Réglez le vo-
lume de manière à pouvoir entendre les bruits extérieurs
pendant la conduite. Si vous ne pouvez pas entendre les
bruits extérieurs quand vous conduisez, vous risquez
NE PAS UTILISER L'APPAREIL DANS D'AUTRES BUTS
QUE CEUX ENONCES. Il y a risque de choc électrique
CONFIEZ LE CABLAGE ET L'INSTALLATION A DES PRO-
FESSIONNELS. Le câblage et l'installation de cet appa-
reil nécessitent une compétence et expérience techni-
que confirmée. Afin de garantir la sécurité, contactez
toujours le revendeur auprès duquel vous avez l'appa-
reil pour lui confier les travaux à faire.
NE PAS OBSTRUER LES SORTIES D'AIR NI LES PAN-
NEAUX DU RADIATEUR. Une surchauffe interne peut se
produire et provoquer un incendie.
UTILISER LES ACCESSOIRES SPECIFIES ET LES INS-
TALLER CORRECTEMENT. L'utilisation d'autres pièces
non désignées risque de provoquer des dommages à
l'intérieur de l'appareil ou son installation risque de ne
pas être faite correctement, et les pièces desserrées
peuvent provoquer des dangers.
NE PAS INSTALLER DANS DES ENDROITS TRES HU-
MIDES OU POUSSIEREUX. Une humidité ou poussière
importante pénétrant dans l'appareil peut être à l'ori-
gine d'un dégagement de fumée ou d'un incendie.
DEJE DE USARLO INMEDIATAMENTE SI APARECE AL-
GUN PROBLEMA. Cuando ocurran problemas tales
como falta de sonido o video, caiga algún objeto dentro
de la unidad, el aparato despida humo u olores nocivos,
deje de usarlo inmediatamente y póngase en contacto
con el distribuidor al que haya comprado el equipo. En
caso contrario podrá ocasionar un accidente o heridas.
NO OPERE EL EQUIPO NI MIRE A LA PANTALLA MIEN-
TRAS ESTE CONDUCIENDO EL VEHICULO. La opera-
ción del equipo podrá distraer al conductor de su aten-
ción en la carretera y ocasionar un accidente. Pare siem-
pre el vehículo en un lugar seguro antes de operar el
EFECTUE LAS CONEXIONES CORRECTAMENTE.En caso
contrario, podrá ocurrir un incendio o accidente.
DISPONGA EL CABLEADO DE MANERA QUE NO SEA
AGUJEREADO O DOBLADO. Encamine los cables y los
hilos de manera que no sean agujereados por piezas
móviles ni entren en contacto con puntos cortantes o
afilados que pueden dañar el cableado. En caso contra-
rio, podrá ocasionar un fallo en la unidad o en el vehícu-
NO SUBA EL VOLUMEN EXCESIVAMENTE. Mantenga
el volumen a un nivel que no le impida escuchar los
sonidos del exterior mientras conduce. El conducir sin
poder escuchar los ruidos del exterior puede ocasionar
NO UTILICE ESTE EQUIPO CON OTROS FINES A LOS
INDICADOS PARA EL VEHICULO. De lo contrario, po-
drá ocasionar una descarga eléctrica o heridas.
CONFIE EL CABLEADO Y LA INSTALACION A PROFE-
SIONALES. El cableado y la instalación de este aparato
necesitan una competencia y experiencia técnica con-
firmada. Para garantizar la seguridad, contacte siempre
al distribuidor al que ha comprado el aparato para con-
fiarle los trabajos a realizar.
NO BLOQUEE LOS ORIFICIOS DE VENTILACION O LOS
PANELES DEL RADIADOR. Si los bloquea el calor se
acumulará en el interior y podría producirse un incen-
UTILICE LOS ACCESORIOS ESPECIFICADOS E INSTA-
LELOS CORRECTAMENTE. La utilización de otras pie-
zas no designadas puede provocar daños en el interior
del aparato o puede hacer que la instalación no se efec-
túe correctamente, ya que las piezas flojas pueden ser
NO INSTALE EN LUGARES MUY HUMEDOS O LLENOS
DE POLVO. Un alto grado de humedad o polvo dentro
del aparato podrá ocasionar la aparición de humo o un
---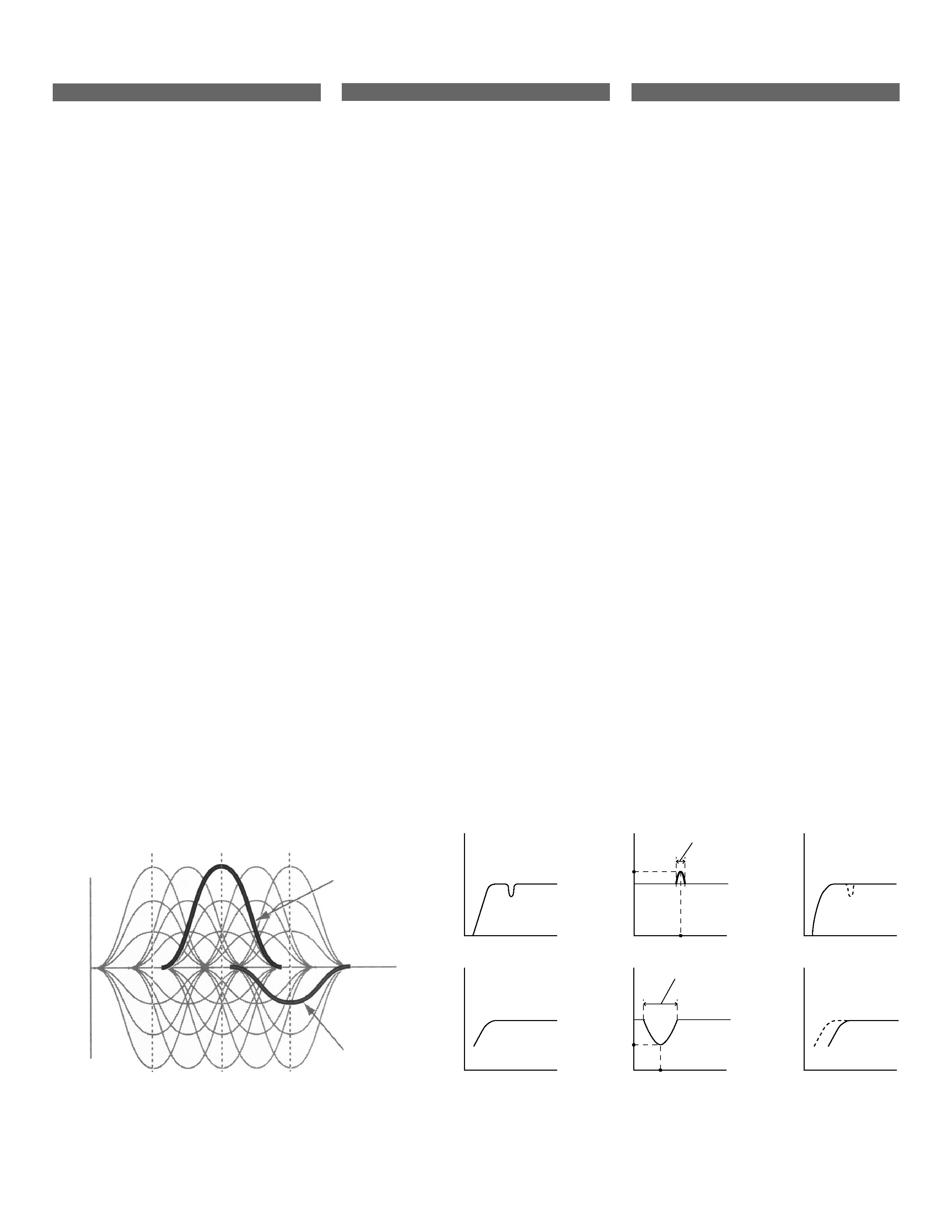 In any multi amp, or multi speaker audio system, there
will need to be a divider established between sets of
speakers to separate them from one another, this is the
function of a crossover. Crossovers are used to take out
the high frequencies on subwoofers (Low Pass), or re-
move the bass from mid-high speakers (High-Pass). In
a system that consists of a subwoofer and some mid/
high speakers, there will be overlapping frequencies that
both sets of speakers will be playing together. By using
a crossover to remove these overlapping frequencies
from each speaker, the amplifier becomes more efficient,
the entire system becomes more linear and there is less
strain on smaller speakers.
The bass control on a head unit is usually more than
adequate for most people to tailor the sound of their
subwoofer system. But what if there was a peak or dip
at a frequency not accessible by the bass or treble con-
trols, how would it be corrected?.
The MRV-1507/MRV-T757 have a single band paramet-
ric equalizer built in. This one band parametric can in-
crease or decrease one frequency between 30Hz and
200Hz by 12dB. There is also an adjustable Q, which
increases or decreases the effect of equalization on ad-
joining frequencies, giving a wide range of adjustment
capabilities. This parametric EQ can be used to filter out
overpowering frequencies in the vehicle, add a boost
where it might be needed, or smooth an RTA response
By having this single band available on The MRV-1507/
MRV-T757, tailoring the sound of the subwoofer can be
accomplished without any external components.
Dans tout système audio à plusieurs amplificateurs ou
enceintes, il doit y avoir un diviseur installé entre les
jeux d'enceintes pour les séparer l'une de l'autre, c'est
la fonction d'un séparateur. Les séparateurs sont utili-
sés pour prendre les hautes fréquences des subwoofers
(passe-bas) ou éliminer les basses des enceintes moyen-
nes-hautes fréquences (passe-haut). Dans un système
comprenant un subwoofer et quelques enceintes moyen-
nes-hautes fréquences, il y aura des fréquences de
chevauchement que joueront ensemble les deux jeux
d'enceintes. En utilisant un séparateur pour éliminer ces
fréquences de chevauchement de chaque enceinte, l'am-
plificateur devient plus efficace, tout le système plus li-
néaire, et il y a moins de contrainte sur les enceintes
La commande de graves de l'unité de tête est d'habi-
tude plus qu'appropriée pour la plupart des gens à per-
sonnaliser le son de leur système de subwoofers. Mais
que se passe-t-il s'il y a eu une crête ou une baisse au
niveau d'une fréquence pas accessible par les comman-
des de graves ou d'aiguës, comment serait-elle corri-
Le MRV-1507/MRV-T757 comprend un égalisateur
paramétrique à bande unique incorporé. Ce paramétrique
à bande unique peut augmenter ou réduire de 12 dB
une fréquence comprise entre 30 Hz et 200 Hz. C'est
également un Q réglable, qui augmente ou réduit l'effet
d'égalisation sur les fréquences voisines, donnant une
large gamme de possibilités de réglage. Cet égalisateur
paramétrique peut être utilise pour filtrer des fréquen-
ces toutes-puissantes dans le véhicule, ajouter une ac-
centuation là ou elle peut être nécessaire ou adoucir une
courbe de réponse RTA pour avoir plus de compétence.
En ayant cette bande unique disponible sur le MRV-1507/
MRV-T757, personnaliser le son du subwoofer peut être
obtenu sans aucun composant externe.
Divisor de frecuencias incorporado
En cualquier amplificador múltiple, o sistema de audio
con altavoces múltiples, existe la necesidad de dispo-
ner de un divisor colocado entre los juegos de altavo-
ces para separar unos de otros, esta es la función del
divisor de frecuencias. Estos divisores se utilizan para
extraer las frecuencias altas de los altavoces de
subgraves (Paso bajo), o para extraer el contenido de
frecuencias graves de los altavoces de medios y agu-
dos (Paso alto). En un sistema compuesto por un alta-
voz de subgraves y unos altavoces de medios/agudos,
existirá una superposición de ciertas frecuencias que
los dos juegos de altavoces estarán reproduciendo con-
juntamente. Al utilizar un divisor de frecuencias para
extraer estas frecuencias superpuestas de cada altavoz,
el amplificador resultará más eficiente, todo el sistema
será más lineal y habrá menos presión en los altavoces
ECUALIZACION PARAMETRICA "EQ"
El control de bajos en una unidad principal es normal-
mente más que adecuado para la mayoría de la gente
para ajustar a gusto el sonido del sistema subwoofer.
Pero ¿qué ocurre si existe un incremento o una dismi-
nución en una frecuencia inaccesible para los controles
de bajos y agudos?, ¿cómo se podría corregir?.
El MRV-1507/MRV-T757 posee una ecualización
paramétrica de banda única incorporada. Este
paramétrico de banda única puede incrementar o dis-
minuir una frecuencia entre 30 Hz y 200 Hz a 12 dB.
También existe una "Q" ajustable, la cual incrementa o
disminuye el efecto de ecualización de frecuencias con-
tiguas, ofreciendo así una amplia gama de ajustes posi-
bles. Esta ecualización paramétrica EQ puede ser utili-
zada para filtrar las frecuencias sobrecargadas en el ve-
hículo, añadir una intensificación de refuerzo donde
pueda ser necesario, o suavizar la curva de respuesta
RTA por lo que sea conveniente.
Teniendo esta banda única disponible en el MRV-1507/
MRV-T757, el ajuste del sonido del subwoofer puede
ser efectuado sin ningún tipo de componentes exter-
The MRV-1507/MRV-T757 has a single band parametric EQ to adjust frequency, boost/cut, and EQ.
Le MRV-1507/MRV-T757 comprend un égalisateur paramétrique a bande unique pour ajuster la fréquence, accentuer/couper et égaliser.
El MRV-1507/MRV-T757 posee una ecualización paramétrica EQ de banda única para ajustar la frecuencia, la intensificación/corte y la ecualización.
Narrow Q/Q étroit/Q angosta
---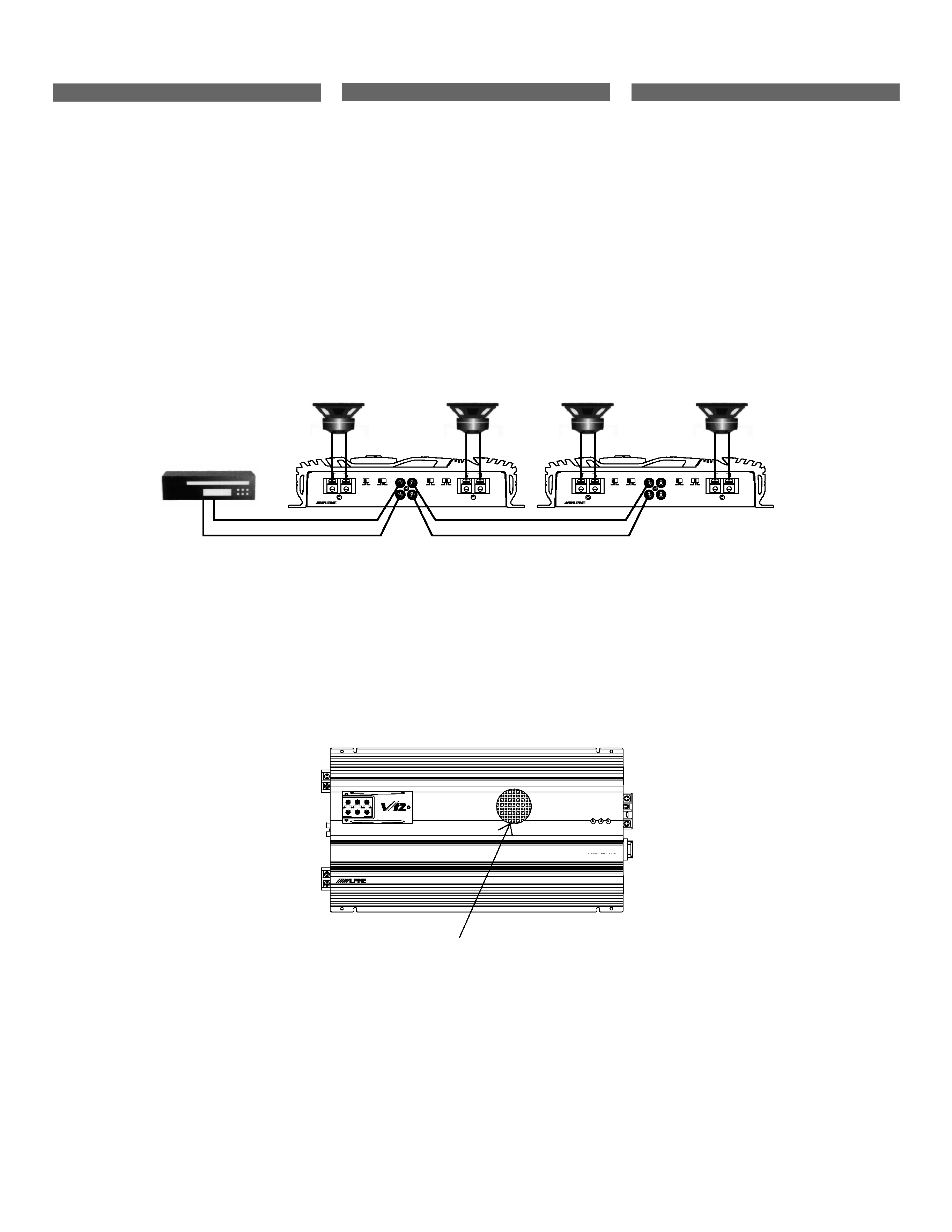 2 / 1 CHANNEL POWER AMPLIFIER
· This allows a direct connection of the amplifier inter-
nal circuit to the battery by bypassing the fuse and
line choke inside the amplifier, thereby improving the
· Some vehicles entering for a contest may be equipped
with a fuse and line choke in addition to ones in the
amplifier. In a case where the fuse and choke are not
necessary, this terminal can bypass them.
Buffer Pre-Out Jack (MRV-1507/MRV-T757)
As the input signal is output without any attenuation, all
amplifiers will develop the same tonal quality if several
amplifiers are connected to the same output.
Temperature Control with a Powerful Fan
In the MRV-1507 and MRV-T757, heat radiation is car-
ried out forcibly with a powerful fan to prevent deterio-
The fan rotates in connection with the Remote Turn-On
Moreover, the fan in MRV-1507 will rotate faster as the
ambient temperature exceeds about 60°C, thus increas-
ing the heat dissipation.
Do not close the air ventilation hole. If closed, heat is
accumulated inside and it may cause fire hazard.
Borne directe de batterie
· Cette borne permet une connexion directe du circuit
interne de l'amplificateur à la batterie en conturnant
le fusible et l'inducteur de ligne à l'intérieur de l'am-
· Certains types de véhicules participant à une course,
peuvent être équipés d'un fusible et d'un inducteur
de ligne en plus de ceux de l'amplificateur. Dans ce
cas, le fusible et l'inducteur ne sont pas nécessaires,
et ils seront contournés en utilisant cette borne.
Prise de sortie de préamplification de zone tampon
Le signal d'entrée étant sorti sans atténuation, tous les
amplificateurs développent la même qualité tonale si
plusieurs amplificateurs sont connectés à la même sor-
Contrôle de la température avec un ventilateur puis-
A l'intérieur du MRV-1507 et du MRV-T757, la radiation
thermique est expulsé de force avec un ventilateur puis-
sant afin d'empêcher la détérioration sonore.
Ce ventilateur tourne en connexion avec le conducteur
de mise en tension télécommandée.
De plus, le ventilateur dans le MRV-1507 augmente la
vitesse de rotation si la température ambiante est de
plus de 60°C, augmentant ainsi la radiation de chaleur.
Ne pas fermer l'orifice de ventilation. Si vous le fermez,
la chaleur s'accumulera à l'intérieur et un incendie ris-
Terminal directo a la batería
· Este terminal permite una conexión directa del cir-
cuito interno del amplificador a la batería evitando el
fusible y la inductancia en línea dentro del amplifica-
· Algunos tipos de vehículos, participando en un con-
curso, están equipados de un fusible y una inductancia
en línea además de los del amplificador. En tales ca-
sos, los fusibles y la inductancia en línea dentro del
producto no son necesarios, por lo que serán evita-
Conector de pre-salida del separador (MRV-1507/
Como la señal de entrada es emitida sin ninguna ate-
nuación, todos los amplificadores desarrollarán la mis-
ma calidad tonal si se conectan varios amplificadores a
Control de la temperatura con un ventilador potente
En el MRV-1507 y MRV-T757, la radiación térmica es
expulsada a la fuerza con un ventilador potente para
impedir la deterioración de la calidad del sonido.
Este ventilador gira en conexión con el conductor de
Además, el ventilador en el MRV-1507 girará más rápi-
damente cuando la temperatura ambiente sea superior
a 60°C, aumentando de este modo la disipación de ca-
No cierre el orificio de ventilación. Si lo hiciera, el calor
se acumularía en el interior y podría ocasionar un in-
2/1 CHANNEL POWER AMPLIFIER
2/1 CHANNEL POWER AMPLIFIER
---