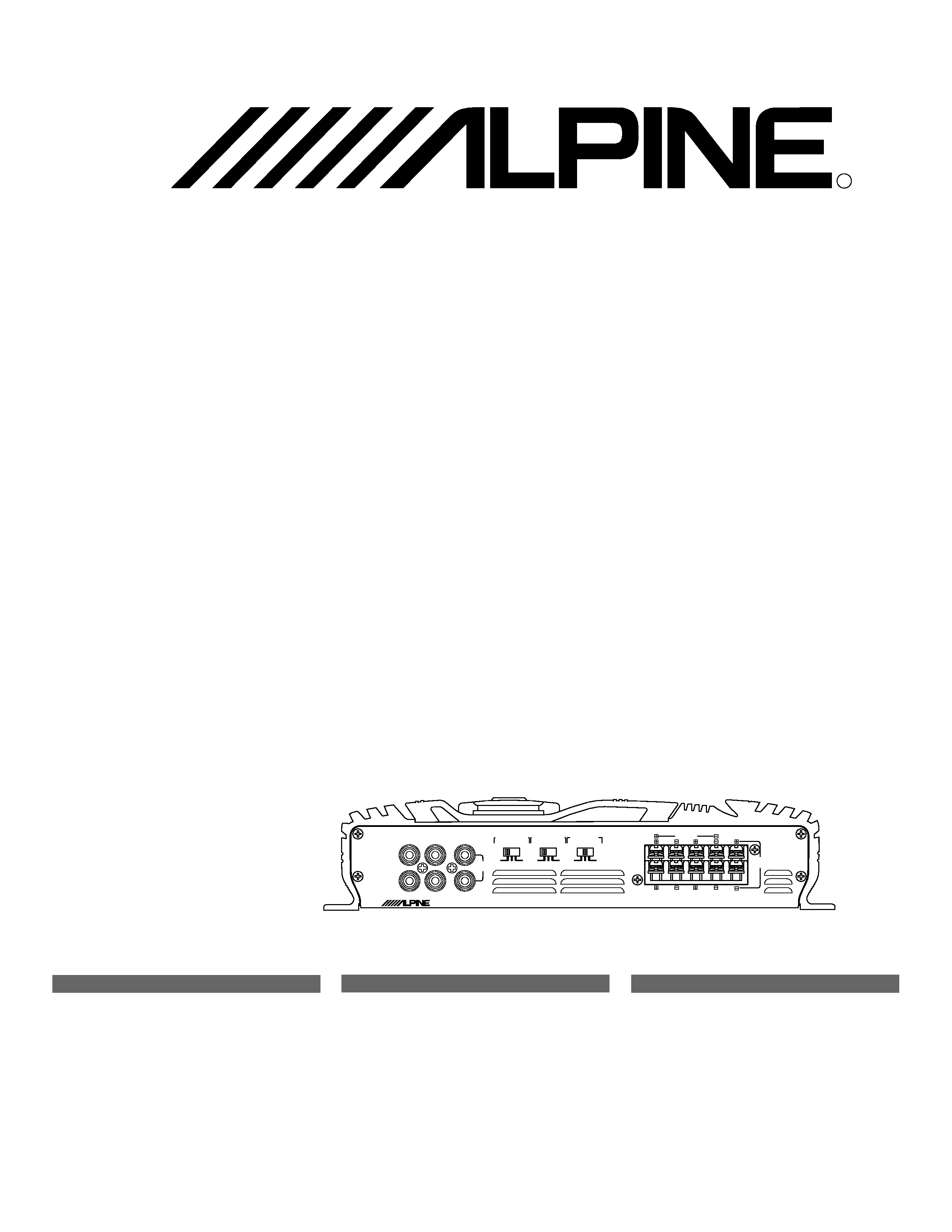 Please read this manual to maximize your enjoyment of the outstanding
performance and feature capabilities of the equipment, then retain the
manual for future reference.
Veuillez lire ce mode d'emploi pour tirer pleinement profit des
excellentes performances et fonctions de cet appareil, et conservez-le
pour toute référence future.
Lea este manual, por favor, para disfrutar al máximo de las
excepcionales prestaciones y posibilidades funcionales que ofrece el
equipo, luego guarde el manual para usarlo como referencia en el futuro.
5/4/3 CHANNEL COMBINANT DIGITAL AMPLIFIER
4/3/2 Channel + Subwoofer Drive Power Amplifier
TECHNICAL DESIGN FEATURES ................................ 4
INSTALLATION .......................................................... 5
CONNECTIONS .......................................................... 5
SWITCH SETTINGS ................................................... 9
RECOMMENDED SPEAKER CONNECTION .............. 11
SYSTEM DIAGRAMS ............................................... 12
SPECIFICATIONS ..................................................... 14
ACCESSORIES ......................................................... 15
CARACTERISTIQUES DE CONCEPTION TECHNIQUE ...... 4
INSTALLATION .......................................................... 5
CONNEXIONS ............................................................ 5
REGLAGES DE COMMUTATEUR ................................ 9
CONNEXION RECOMMANDEE DE HAUT-PARLEUR ...... 11
DIAGRAMMES DU SYSTEME .................................. 12
SPECIFICATIONS ..................................................... 14
ACCESSOIRES ......................................................... 15
CARACTERISTICAS TECNICAS DEL DISEÑO ............. 4
INSTALACION ............................................................ 5
CONEXIONES ............................................................ 5
AJUSTES DEL INTERRUPTOR ................................... 9
CONEXION RECOMENDADA DE ALTAVOCES .......... 11
DIAGRAMAS DEL SISTEMA .................................... 12
ESPECIFICACIONES ................................................ 14
ACCESORIOS .......................................................... 15
---

Please read this OWNER'S MANUAL thoroughly to fa-
miliarize yourself with each control and function. We at
ALPINE hope that your new MRD-F752 will give you
many years of listening enjoyment.
In case of problems when installing your MRD-F752,
please contact your authorized ALPINE dealer.
CAUTION: These controls are for tuning your system.
Please consult your authorized Dealer for adjustment.
DO NOT DISASSEMBLE OR ALTER. Doing so may lead
to accident, fire or electric shock.
KEEP SMALL ARTICLES OUT OF THE REACH OF CHIL-
DREN. If swallowed, consult a physician immediately.
USE THE CORRECT AMPERE RATING WHEN REPLAC-
ING FUSES. Failure to do so may result in fire or elec-
USE ONLY VEHICLES WITH A 12 VOLT NEGATIVE (­)
GROUND. Check with your dealer if you are not sure.
Failure to do so may result in fire or electric shock.
BEFORE WIRING, DISCONNECT THE CABLE FROM THE
NEGATIVE (­) BATTERY TERMINAL. Failure to do so
may result in electric shock or injury due to electrical
DO NOT CUT AWAY THE WIRE SHEATH AND USE
POWER FOR OTHER EQUIPMENT. Doing so may ex-
ceed the current carrying capacity of the wire and result
in fire or electric shock.
DO NOT INSTALL IN LOCATIONS WHICH MIGHT
HINDER VEHICLE OPERATION OR CREATE HAZARDS
FOR VEHICLE OCCUPANTS. Doing so may obstruct for-
ward vision or hamper movement.
DO NOT CONTACT, DAMAGE OR OBSTRUCT PIPES,
FLUID LINES OR WIRING WHEN DRILLING HOLES.
Failure to take such precautions may result in fire or
cause an accident or injuries.
DO NOT USE NUTS OR BOLTS IN THE BRAKE SYSTEM
WHEN MAKING INSTALLATION OR GROUND CONNEC-
TIONS. Never use safety-related parts such as bolts or
nuts in the steering or brake systems or tanks to make
wiring installations or ground connections. Using such
parts could disable control of the vehicle and cause brake
failure, other accident or injury.
Prière de lire attentivement ce MODE D'EMPLOI pour
se familiariser avec chaque commande et fonction. Chez
Alpine, nous espérons que le nouveau MRD-F752 don-
nera de nombreuses années de plaisir d'écoute.
En cas de problèmes lors de l'installation du MRD-F752,
prière de contacter le revendeur agréé d'ALPINE.
PRECAUTION: Ces commandes sont utilisées pour la
syntonisation du système. Prière de contacter le re-
vendeur agréé pour le réglage.
NE PAS DEMONTER NI MODIFIER. Il y a risque d'acci-
dent ou de choc électrique.
NE PAS LAISSER DE PETITES PIECES A PORTEE DES
ENFANTS. En cas d'ingestion, consultez immédiatement
UTILISEZ DES FUSIBLES DE L'AMPERAGE APPROPRIE.
Il y a risque d'incendie ou de choc électrique.
UTILISEZ LE SYSTEME UNIQUEMENT DANS DES VOI-
TURES AYANT UNE MASSE NEGATIVE (­) DE 12 VOLTS.
Vérifiez avec votre revendeur en cas de doute. Le non-
respect de cette précaution risque de provoquer un in-
cendie ou un choc électrique.
AVANT LE CABLAGE, DEBRANCHER LE CABLE DE LA
BORNE NEGATIVE (­) DE LA BATTERIE. Le non-res-
pect de cette précaution risque de provoquer un choc
électrique ou des blessures dues à des courts-circuits
NE PAS COUPER LA GAINE DES CABLES POUR ALI-
MENTER D'AUTRES EQUIPEMENTS. L'intensité nomi-
nale du câble sera dépassée et un incendie ou un choc
électrique risque de se produire.
NE PAS INSTALLER DANS DES ENDROITS RISQUANT
DE GENER LA CONDUITE DU VEHICULE OU
POTENTIELLEMENT DANGEREUX POUR LES OCCU-
PANTS DU VEHICULE. La vue avant pourrait être obs-
truée ou les mouvements gênés.
NE PAS TOUCHER, ENDOMMAGER OU BOUCHER LES
TUYAUX, CONDUITES OU CABLES LORSQUE VOUS
PERCEZ DES TROUS. Il y a risque d'incendie, d'acci-
NE PAS UTILISER DES ECROUS OU DES BOULONS
DANS LE SYSTEME DE FREINAGE PENDANT L'INSTAL-
LATION OU LES CONNEXIONS DE MASSE. Ne jamais
utiliser des pièces liées à la sécurité, telles que les bou-
lons ou écrous de la direction, des systèmes de frei-
nage ou des réservoirs, pour faire des installations de
câblage ou de connexion de masse. L'utilisation de ce
genre de pièces pourrait désactiver les systèmes de con-
trôle du véhicule, endommager les freins et causer un
accident ou des blessures.
A fin de familiarizarse con los controles y funciones de
la unidad, lea detenidamente este MANUAL DE OPERA-
CION. Nosotros en ALPINE esperamos que su nuevo
MRD-F752 le brinde muchos años de placer auditivo.
En caso de presentarse algún problema durante la ins-
talación del MRD-F752, tome contacto con su distribui-
PRECAUCION: Estos controles sirven para la sintoni-
zación de su sistema. Contacte por favor a su distri-
buidor autorizado para el ajuste.
NO DESMONTE O ALTERE. Si lo hace, podrá ocasionar
un accidente, incendio o descarga eléctrica.
MANTENGA LOS OBJETOS PEQUEÑOS FUERA DEL
ALCANCE DE LOS NIÑOS. Si tragasen algo, consulte a
un médico inmediatamente.
UTILICE EL AMPERAJE CORRECTO CUANDO CAMBIE
FUSIBLES. De lo contrario, podrá ocasionar un incen-
dio o descarga eléctrica.
UTILICE EL SISTEMA SOLAMENTE EN VEHICULOS QUE
TENGAN UNA PUESTA A TIERRA NEGATIVA (­) DE 12
VOLTIOS. Verifique con su distribuidor en caso de duda.
De lo contrario, podrá ocasionar un incendio o descar-
ANTES DE EFECTUAR EL CABLEADO, DESCONECTE EL
CABLE DEL TERMINAL NEGATIVO (­) DE LA BATERIA.
De no hacerlo así, podría ocasionar una descarga eléc-
trica o heridas debido a cortocircuitos eléctricos.
NO CORTE EL RECUBRIMIENTO DE CABLES PARA
EMPALMAR Y ALIMENTAR OTROS EQUIPOS. Si lo hace,
podrá sobrecargar la capacidad de los cables y ocasio-
nar un incendio o descarga eléctrica.
NO INSTALE EL APARATO EN LUGARES QUE PUEDAN
INTERFERIR CON LA OPERACION DEL VEHICULO O
CREAR PELIGROS PARA LOS OCUPANTES DEL VEHI-
CULO. Si lo hace, podrá obstruir la visión delantera o
NO TOQUE, DAÑE NI OBSTRUYA LAS TUBERIAS, CON-
DUCTOS DE FLUIDO O CABLEADO CUANDO TALADRE
AGUJEROS. Si no toma estas precauciones, podrá oca-
sionar un incendio o causar un accidente o heridas.
NO UTILICE TUERCAS O PERNOS EN EL SISTEMA DE
FRENOS PARA LA INSTALACION O LAS CONEXIONES
A TIERRA. No utilice nunca piezas relacionadas con la
seguridad como los pernos o tuercas en los sistemas
de dirección o de frenos o depósitos para hacer instala-
ciones de cableado o conexión a tierra. Si utiliza tales
partes podrá incapacitar el control del vehículo y oca-
sionar un fallo en los frenos, otro accidente o heridas.
---

HALT USE IMMEDIATELY IF A PROBLEM APPEARS.
When problems occur such as a lack of sound or video,
foreign objects inside the unit, smoke coming out, or
noxious odors, stop use immediately and contact the
dealer where you bought the equipment. Failure to do
so may result in an accident or injury.
DO NOT OPERATE THE EQUIPMENT OR LOOK AT THE
SCREEN WHILE DRIVING THE VEHICLE. Operating the
equipment may distract the driver from looking ahead
of the vehicle and cause accident. Always stop the vehi-
cle in a safe location before operating this equipment.
MAKE THE CORRECT CONNECTIONS. Failure to do so
may cause fire or accident to occur.
ARRANGE THE WIRING SO IT IS NOT CRIMPED OR
PINCHED. Route the cables and wiring so as not to be
crimped by moving parts or make contact with sharp or
pointed spots which might damage the wiring. Failure
to do so may cause failure of unit or vehicle.
DO NOT RAISE THE VOLUME EXCESSIVELY. Keep the
volume at a level where you can still hear outside noises
while driving. Driving while unable to hear outside noises
could be the cause of accident.
DO NOT USE THIS EQUIPMENT FOR PURPOSES OTHER
THAN STATED FOR THE VEHICLE. Failure to do so may
result in electric shock or injury.
HAVE THE WIRING AND INSTALLATION DONE BY EX-
PERTS. The wiring and installation of this unit requires
special technical skill and experience. To ensure safety,
always contact the dealer where you purchased this unit
DO NOT BLOCK VENTS OR RADIATOR PANELS. Block-
ing them may cause heat to build up inside and may
USE SPECIFIED ACCESSORY PARTS AND INSTALL
THEM SECURELY. Use of other than designated parts
may damage this unit internally or may not securely in-
stall the unit in place as parts that come loose may cre-
DO NOT INSTALL IN LOCATIONS WITH HIGH MOIS-
TURE OR DUST. A high incidence of moisture or dust
that penetrates into this unit may cause smoke or fire.
ARRETEZ-VOUS IMMEDIATEMENT EN CAS DE PRO-
BLEME. Si un problème se présente, absence du son ou
de l'image, objets tombés dans l'appareil, dégagement
de fumée ou d'odeurs nocives, arrêtez immédiatement
l'appareil et contactez le revendeur où vous l'avez acheté
l'appareil. Il y a risque d'accident et de blessure.
NE PAS FAIRE DE REGLAGES OU REGARDER L'ECRAN
PENDANT LA CONDUITE. Votre attention sera détour-
née de la route et vous risquez un accident. Avant de
faire fonctionner l'appareil, arrêtez-vous et garez-vous
EFFECTUEZ CORRECTEMENT LES CONNEXIONS.Sinon
il y a risque d'incendie ou d'accident.
DISPOSEZ LE CABLAGE DE SORTE QU'IL NE SOIT PAS
VRILLE OU PLIE.Acheminez les câbles et les fils de sorte
qu'ils ne soient pas vrillés par des pièces mobiles ou
qu'ils n'entrent pas en contact avec des points tranchants
ou pointus qui risquent d'endommager le câblage. Si-
non l'appareil ou le véhicule risquent de ne pas fonc-
NE PAS TROP AUGMENTER LE VOLUME. Réglez le vo-
lume de manière à pouvoir entendre les bruits extérieurs
pendant la conduite. Si vous ne pouvez pas entendre les
bruits extérieurs quand vous conduisez, vous risquez
NE PAS UTILISER L'APPAREIL DANS D'AUTRES BUTS
QUE CEUX ENONCES. Il y a risque de choc électrique
CONFIEZ LE CABLAGE ET L'INSTALLATION A DES PRO-
FESSIONNELS. Le câblage et l'installation de cet appa-
reil nécessitent une compétence et expérience techni-
que confirmée. Afin de garantir la sécurité, contactez
toujours le revendeur auprès duquel vous avez l'appa-
reil pour lui confier les travaux à faire.
NE PAS OBSTRUER LES SORTIES D'AIR NI LES PAN-
NEAUX DU RADIATEUR. Une surchauffe interne peut se
produire et provoquer un incendie.
UTILISER LES ACCESSOIRES SPECIFIES ET LES INS-
TALLER CORRECTEMENT. L'utilisation d'autres pièces
non désignées risque de provoquer des dommages à
l'intérieur de l'appareil ou son installation risque de ne
pas être faite correctement, et les pièces desserrées
peuvent provoquer des dangers.
NE PAS INSTALLER DANS DES ENDROITS TRES HU-
MIDES OU POUSSIEREUX. Une humidité ou poussière
importante pénétrant dans l'appareil peut être à l'ori-
gine d'un dégagement de fumée ou d'un incendie.
DEJE DE USARLO INMEDIATAMENTE SI APARECE AL-
GUN PROBLEMA. Cuando ocurran problemas tales
como falta de sonido o video, caiga algún objeto dentro
de la unidad, el aparato despida humo u olores nocivos,
deje de usarlo inmediatamente y póngase en contacto
con el distribuidor al que haya comprado el equipo. En
caso contrario podrá ocasionar un accidente o heridas.
NO OPERE EL EQUIPO NI MIRE A LA PANTALLA MIEN-
TRAS ESTE CONDUCIENDO EL VEHICULO. La opera-
ción del equipo podrá distraer al conductor de su aten-
ción en la carretera y ocasionar un accidente. Pare siem-
pre el vehículo en un lugar seguro antes de operar el
EFECTUE LAS CONEXIONES CORRECTAMENTE.En caso
contrario, podrá ocurrir un incendio o accidente.
DISPONGA EL CABLEADO DE MANERA QUE NO SEA
AGUJEREADO O DOBLADO. Encamine los cables y los
hilos de manera que no sean agujereados por piezas
móviles ni entren en contacto con puntos cortantes o
afilados que pueden dañar el cableado. En caso contra-
rio, podrá ocasionar un fallo en la unidad o en el vehícu-
NO SUBA EL VOLUMEN EXCESIVAMENTE. Mantenga
el volumen a un nivel que no le impida escuchar los
sonidos del exterior mientras conduce. El conducir sin
poder escuchar los ruidos del exterior puede ocasionar
NO UTILICE ESTE EQUIPO CON OTROS FINES A LOS
INDICADOS PARA EL VEHICULO. De lo contrario, po-
drá ocasionar una descarga eléctrica o heridas.
CONFIE EL CABLEADO Y LA INSTALACION A PROFE-
SIONALES. El cableado y la instalación de este aparato
necesitan una competencia y experiencia técnica con-
firmada. Para garantizar la seguridad, contacte siempre
al distribuidor al que ha comprado el aparato para con-
fiarle los trabajos a realizar.
NO BLOQUEE LOS ORIFICIOS DE VENTILACION O LOS
PANELES DEL RADIADOR. Si los bloquea el calor se
acumulará en el interior y podría producirse un incen-
UTILICE LOS ACCESORIOS ESPECIFICADOS E INSTA-
LELOS CORRECTAMENTE. La utilización de otras pie-
zas no designadas puede provocar daños en el interior
del aparato o puede hacer que la instalación no se efec-
túe correctamente, ya que las piezas flojas pueden ser
NO INSTALE EN LUGARES MUY HUMEDOS O LLENOS
DE POLVO. Un alto grado de humedad o polvo dentro
del aparato podrá ocasionar la aparición de humo o un
---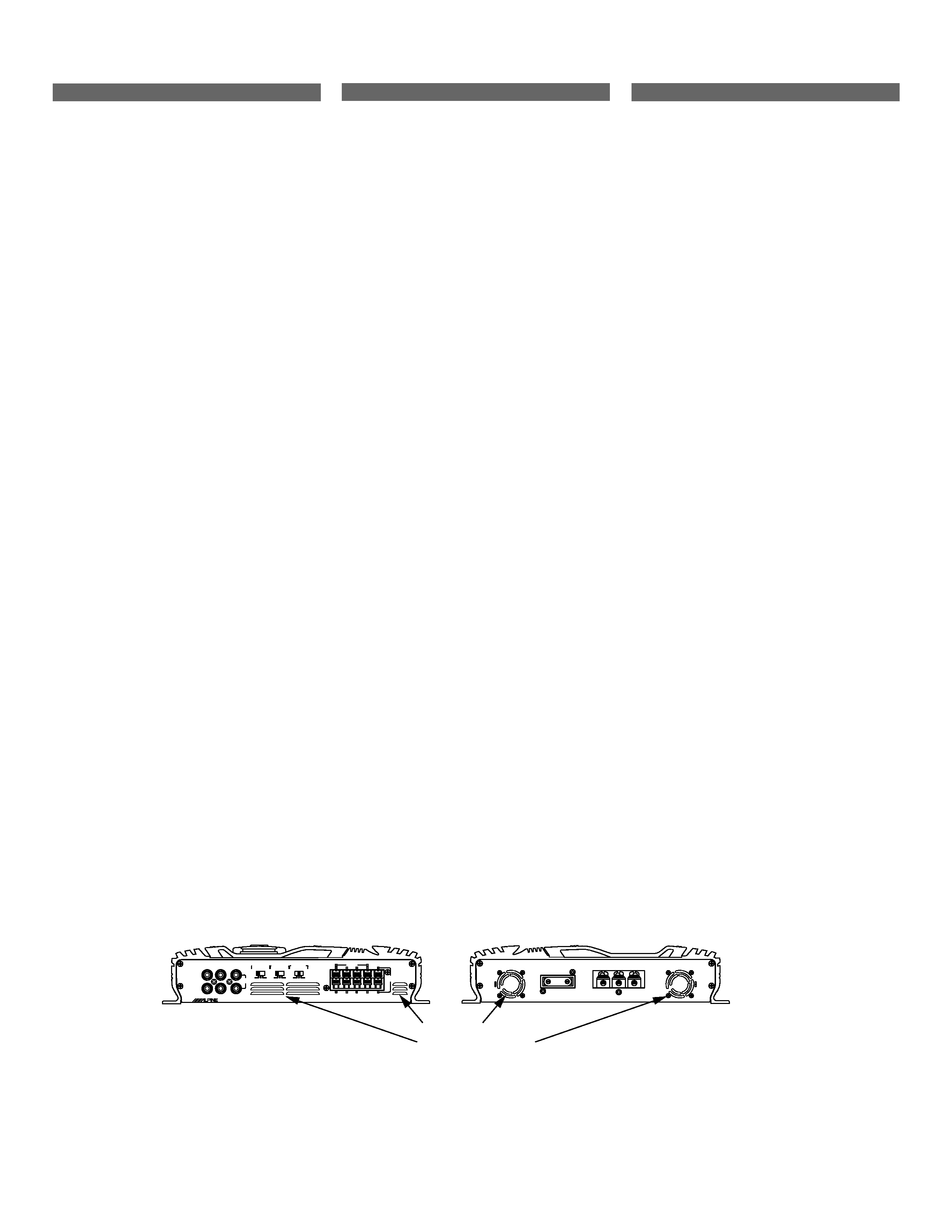 Unlike regular Class D amplifiers, the MRD-F752 uses
adaptive switching technology. Switching frequency is
determined by digital analysis of the incoming audio
waveform, combined with predictive processing algo-
rithms. This allows the Class-T amp to reduce the
"ground bounce" and crossover distortion common to
switching transistors. This gives MRD-F752 the effi-
ciency of a switching amplifier, but, with the sound qual-
ity of a pure Class-A analog amp. The result is the best
In any multi amp, or multi speaker audio system, there
will need to be a divider established between sets of
speakers to separate them from one another, this is the
function of a crossover. Crossovers are used to take out
the high frequencies on subwoofers (Low Pass), or re-
move the bass from mid-high speakers (High-Pass). In
a system that consists of a subwoofer and some mid/
high speakers, there will be overlapping frequencies that
both sets of speakers will be playing together. By using
a crossover to remove these overlapping frequencies
from each speaker, the amplifier becomes more efficient,
the entire system becomes more linear and there is less
strain on smaller speakers.
Most users will be listening to their systems while actu-
ally driving. A moving vehicle means a cockpit bom-
barded with road noise. High levels of road noise mean
masked bass frequencies (weak bass). A bass EQ is a
simple way to boost low-frequency response curves to
overcome these bass-killing factors and ensure that bass
Temperature Control with a Powerful Fan
In the MRD-F752, heat radiation is carried out forcibly
with a powerful fan to prevent deterioration of sound
The fan rotates in connection with the Remote Turn-On
Do not close the air ventilation hole. If closed, heat is
accumulated inside and it may cause fire hazard.
Contrairement aux amplificateurs habituels de Classe D,
le MRD-F752 emploie une technologie de commutation
adaptable. La fréquence commutative est déterminée par
analyse digitale de la forme d'onde d'entrée audio, com-
binée à des algorythmes de traitement de prévision. Ceci
permet à l'amplificateur de Classe-T de réduire le "rebond
au sol" et la distorsion de croisement habituels aux tran-
sistors commutateurs. Le MRD-F752 dispose ainsi de
l'efficacité d'un amplificateur commutateur, avec la qua-
lité de son d'un véritable amplificateur analogique de
Classe-A. Le résultat conjugue le meilleur des deux tech-
Dans tout système audio à plusieurs amplificateurs ou
enceintes, il doit y avoir un diviseur installé entre les
jeux d'enceintes pour les séparer l'une de l'autre, c'est
la fonction d'un séparateur. Les séparateurs sont utili-
sés pour prendre les hautes fréquences des subwoofers
(passe-bas) ou éliminer les basses des enceintes moyen-
nes-hautes fréquences (passe-haut). Dans un système
comprenant un subwoofer et quelques enceintes moyen-
nes-hautes fréquences, il y aura des fréquences de
chevauchement que joueront ensemble les deux jeux
d'enceintes. En utilisant un séparateur pour éliminer ces
fréquences de chevauchement de chaque enceinte, l'am-
plificateur devient plus efficace, tout le système plus li-
néaire, et il y a moins de contrainte sur les enceintes
Utilisation de l'EQ (égaliseur) de basses
La plupart des utilisateurs utilisent leur appareil pen-
dant qu'ils conduisent. Un véhicule en déplacement si-
gnifie un habitacle bombardé par les bruits de la route.
Et un grand volume de bruits de route masque les bas-
ses fréquences (basses faibles). Un EQ de basses est
un moyen simple d'augmenter les courbes de fréquence
des basses pour surmonter ces facteurs de perte et être
sûr d'obtenir des basses claires et puissantes.
Contrôle de la température avec un ventilateur puis-
A l'intérieur du MRD-F752, la radiation thermique est
expulsé de force avec un ventilateur puissant afin d'em-
pêcher la détérioration sonore.
Ce ventilateur tourne en connexion avec le conducteur
de mise en tension télécommandée.
Ne pas fermer l'orifice de ventilation. Si vous le fermez,
la chaleur s'accumulera à l'intérieur et un incendie ris-
Contrariamente a los amplificadores normales de clase
D, el MRD-F752 utiliza una tecnología de conmutación
adaptable. La frecuencia de conmutación es determina-
da por el análisis digital de la forma de onda de entrada
audio, combinada con algoritmos de tratamiento de pre-
visión. Esto permite al amplificador de clase T de redu-
cir el "rebote al suelo" y la distorsión de cruce normales
en los transistores conmutadores. El MRD-F752 dispo-
ne así de la eficiencia de un amplificador conmutador,
pero, con la calidad de sonido de un auténtico amplifi-
cador análogo de clase A. El resultado es lo mejor de las
Divisor de frecuencias incorporado
En cualquier sistema audio con varios amplificadores,
o con varios altavoces, debe haber un divisor colocado
entre los juegos de altavoces para separar unos de otros,
esta es la función del divisor de frecuencias. Estos divi-
sores se utilizan para extraer las frecuencias altas de
los altavoces de subgraves (Paso bajo), o para eliminar
las frecuencias graves de los altavoces de medios y agu-
dos (Paso alto). En un sistema compuesto por un alta-
voz de subgraves y unos altavoces de medios/agudos,
existirá una superposición de ciertas frecuencias que
los dos juegos de altavoces reproducirán conjuntamen-
te. Al utilizar un divisor de frecuencias para eliminar es-
tas frecuencias superpuestas de cada altavoz, el ampli-
ficador resultará más eficiente, todo el sistema será más
lineal y habrá menos tensión en los altavoces peque-
Verificación del ecualizador de graves
La mayor parte de los propietarios escuchan sus siste-
mas mientras conducen. Un vehículo en marcha es como
un puesto de piloto bombardeado por los ruidos de la
carretera. Los niveles altos del ruido de la carretera dan
lugar a unos sonidos bajos enmascarados (bajos débi-
les). Un ecualizador de graves es un remedio simple
para acentuar la curva de las frecuencias graves a fin de
superar estos factores supresores de las graves y para
asegurar unas graves distintas y potentes.
Control de la temperatura con un ventilador potente
En el MRD-F752, la radiación térmica es expulsada a la
fuerza con un ventilador potente para impedir la
deterioración de la calidad del sonido.
Este ventilador gira en conexión con el conductor de
No cierre el orificio de ventilación. Si lo hiciera, el calor
se acumularía en el interior y podría ocasionar un in-
5/4/3 CHANNEL COMBINANT DIGITAL AMPLIFIER
---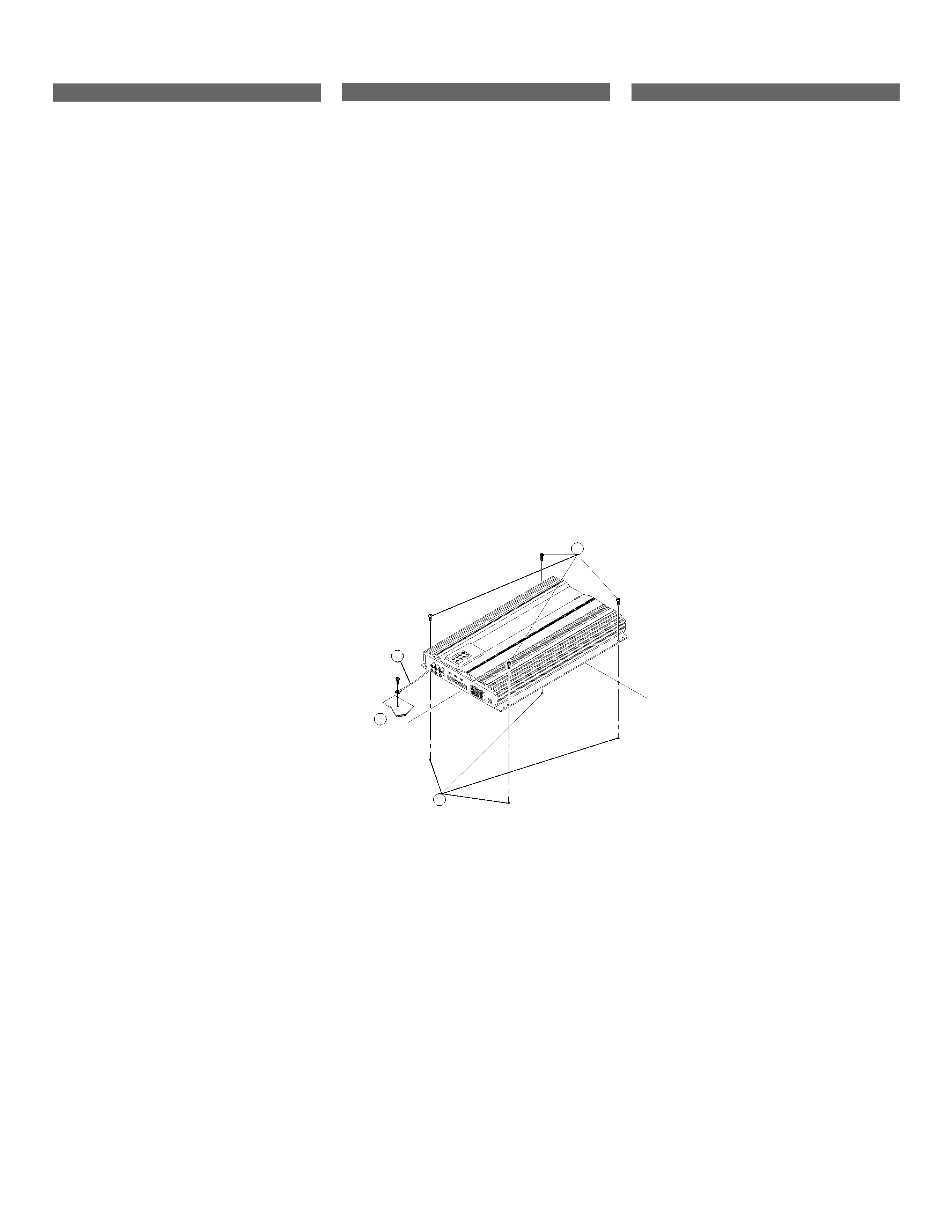 En raison de la sortie de puissance élevée du MRD-F752,
une forte chaleur est produite pendant le fonctionne-
ment de l'amplificateur. Pour cette raison, l'amplifica-
teur doit être monté dans un endroit permettant une
bonne ventilation, tel que le coffre. Pour ce qui concerne
les différentes positions d'installation, contacter un con-
cessionnaire agréé Alpine.
1. Apposer l'amplificateur contre la surface d'installa-
tion pour marquer les repères des quatre vis.
2. Vérifier qu'il n'y a pas d'objets derrière la surface
pouvant être abîmés lorsque les trous soient percés.
3. Percer les trous pour les vis.
4. Positionner le MRD-F752 par dessus les trous et fixer avec
les quatre vis auto-taraudées.
Pour connecter solidement le conducteur de mise à la
terre, utiliser la vis déjà fixée sur la partie métallique du
véhicule (signalée (5)). Assurez-vous que ce point est
une bonne mise à la terre en vérifiant la continuité à la
borne de la batterie (­). Si possible, connecter tout l'équi-
pement au même point de mise à la terre. Ceci vous aidera
Vis auto-taraudées (M4 x 14)
Conducteur de mise à la terre
Avant d'effectuer les connexions, vérifier que tous les com-
posants audio sont hors tension. Connectez le conducteur
jaune de la batterie provenant de l'amplificateur directement
à la borne positive (+) de la batterie du véhicule. Ne pas le
connecter au boîtier de fusibles.
Pour éviter que des bruits extérieurs interfèrent avec
· Installez l'appareil et acheminez les câbles à au moins
10 cm de distance du faisceau de câbles de la voiture.
· Eloignez les câbles d'alimentation de la batterie le plus
possible des autres câbles.
· Raccordez bien le fil de terre à un point métallique
apparent (enlevez la couche de peinture si nécessaire)
du châssis de la voiture.
· Si vous rajoutez un filtre antiparasites en option, rac-
cordez-le le plus loin possible de l'appareil. Contac-
tez votre revendeur Alpine pour plus de détails sur
les divers filtres antiparasites Alpine disponibles.
· Consultez votre revendeur Alpine pour plus de détails
sur les mesures de prévention contre les parasites.
Due to the high power output of the MRD-F752, consid-
erable heat is produced when the amplifier is in opera-
tion. For this reason, the amplifier should be mounted
in a location which will allow for free circulation of air,
such as inside the trunk. For alternate installation loca-
tions, please contact your authorized Alpine dealer.
1. Using the amplifier as a template, mark the four screw
2. Make sure there are no objects behind the surface
that may become damaged during drilling.
3. Drill the screw holes.
4. Position the MRD-F752 over the screw holes, and se-
cure with four self-tapping screws.
To securely connect the ground lead, use an already in-
stalled screw on the metal part of the vehicle (marked
(5)). Be sure this is a good ground by checking conti-
nuity to the battery (­) terminal. As much as possible
connect all equipment to the same ground point. These
procedures will help eliminate noise.
Self-Tapping Screws (M4 x 14)
Before making connections, be sure to turn the power
off to all audio components. Connect the yellow battery
lead from the amp directly to the positive (+) terminal of
the vehicle's battery. Do not connect this lead to the
To prevent external noise from entering the audio sys-
· Locate the unit and route the leads at least 10 cm
away from the car harness.
· Keep the battery power leads as far away from other
· Connect the ground lead securely to a bare metal spot
(remove the coating if necessary) of the car chassis.
· If you add an optional noise suppressor, connect it
as far away from the unit as possible. Your Alpine
dealer carries various Alpine noise suppressors, con-
tact them for further information.
· Your Alpine dealer knows best about noise prevention
measures so consult your dealer for further information.
Debido a la salida de alta potencia del MRD-F752, se produce
un calor considerable cuando el amplificador está en funcio-
namiento. Por esta razón, el amplificador deberá montarse
en una ubicación que permita la libre circulación de aire, como
por ejemplo dentro del maletero. Para ubicaciones de insta-
lación alternativas, por favor contacte a su distribuidor de
1. Utilizando el amplificador como plantilla, marque la
ubicación de los cuatro tornillos.
2. Asegúrese de que no hay objeto alguno bajo la su-
perficie que pueda verse dañado durante la perfora-
3. Perfore los agujeros para los tornillos.
4. Sitúe el MRD-F752 sobre dichos agujeros, y asegúrelo
con cuatro tornillos autorroscantes.
Para conectar de forma segura el cable de tierra, utilice un
tornillo ya instalado en la parte metálica del vehículo (marca-
do (5)). Asegúrese de que es un punto de tierra bueno veri-
ficando la continuidad con el terminal de la batería (­). Co-
necte siempre que sea posible todo el equipo en el mismo
punto de tierra. Esto ayudará a eliminar el ruido.
Tornillos autorroscantes (M4 x 14)
Antes de efectuar las conexiones, asegúrese de que apa-
ga todos los componentes audio. Conecte el cable ama-
rillo de la batería proveniente del amplificador directa-
mente al terminal positivo (+) de la batería del vehículo.
No conecte dicho cable al bloque de fusibles.
Para evitar que entre ruido externo en el sistema de
· Coloque la unidad y pase los cables a 10 cm por lo
menos del conjunto de cables del automóvil.
· Mantenga los conductores de alimentación de la ba-
tería lo más alejados posible de otros cables.
· Conecte el conductor de puesta a tierra con seguri-
dad a un punto metálico desnudo (si es necesario,
elimine el revestimiento) del chasis del automóvil.
· Si añade un supresor de ruido opcional, conéctelo lo
más lejos posible de la unidad. Su proveedor Alpine
dispone de varios supresores de ruido Alpine. Solicí-
· Su proveedor Alpine conoce la mejor forma de evitar
el ruido. Solicítele más información.
---