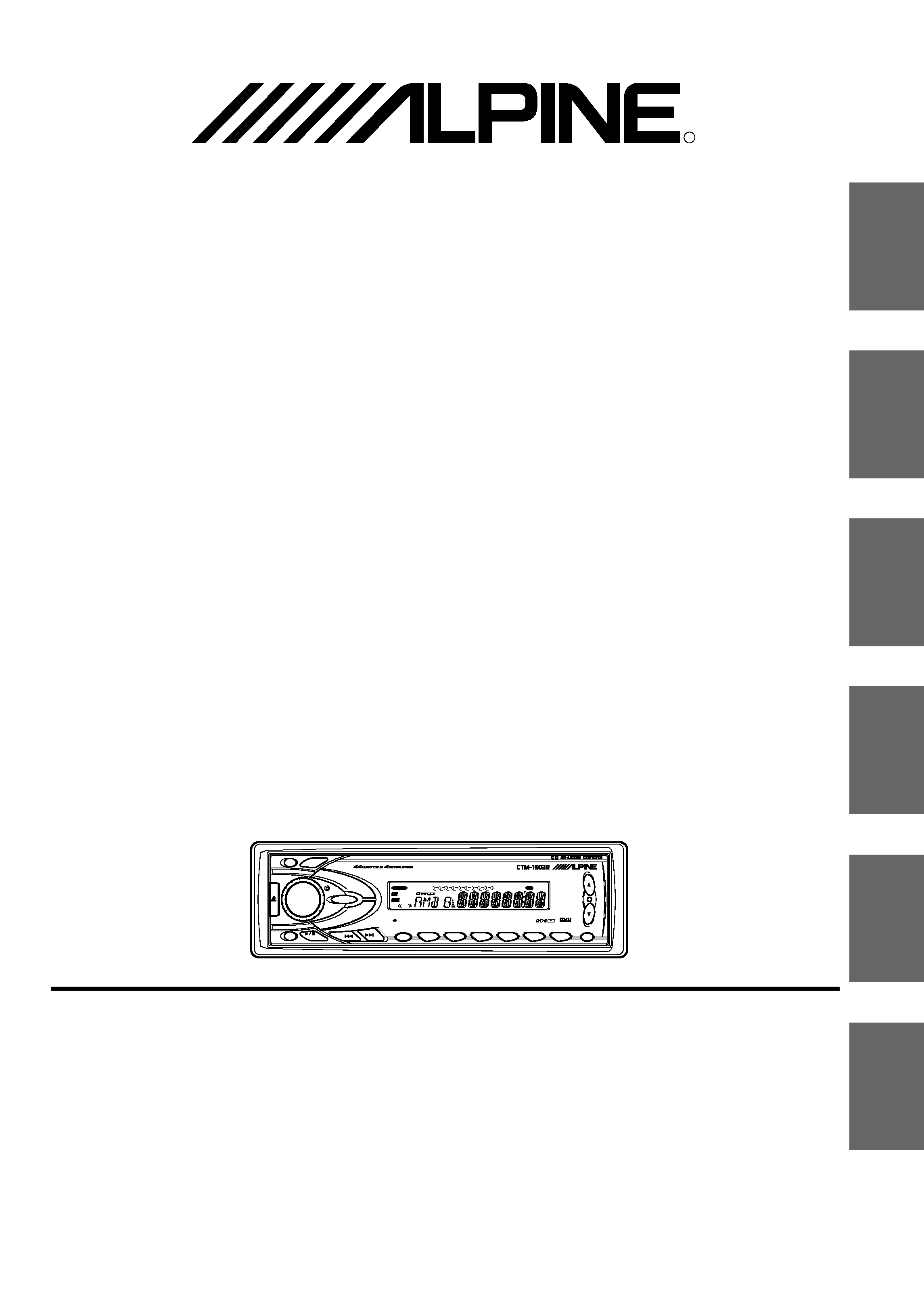 Tokyo office: 1-1-8 Nishi Gotanda,
ALPINE ELECTRONICS OF AMERICA, INC.
19145 Gramercy Place, Torrance,
Tel.: 1-800-ALPINE-1 (1-800-257-4631)
ALPINE ELECTRONICS OF CANADA, INC.
Suite 203, 7300 Warden Ave. Markham,
Tel.: 1-800-ALPINE-1 (1-800-257-4631)
ALPINE ELECTRONICS FRANCE S.A.R.L.
(RCS PONTOISE B 338 101 280)
98, Rue De La Belle Etoile, Z.I. Paris Nord Il
B.P. 50016 F-95945, Roissy, Charles De Gaulle
ALPINE ELECTRONICS OF U.K., LTD.
13 Tanners Drive, Blakelands, Milton Keynes
ALPINE ELECTRONICS DE ESPAÑA, S.A.
Portal De Gamarra 36, Pabellón 32
01013 Vitoria (Alava)-Apdo. 133, Spain
ALPINE ELECTRONICS OF AUSTRALIA PTY. LTD.
6-8 Fiveways Boulevarde Keysborough,
Kreuzerkamp 7-11 40878 Ratingen, Germany
Via C. Colombo 8, 20090 Trezzano Sul Naviglio
Meiyi Printing Factory, Dalian, China
No. 28 Chang Qing Street, Xi Gang District, Dalian, China
Please read before using this equipment.
Lesen Sie diese Bedienungsanleitung bitte vor
Veuillez lire avant d'utiliser cet appareil.
Léalo antes de utilizar este equipo.
Si prega di leggere prima di utilizzare il
Innan du använder utrustningen bör du läsa
igenom denna användarhandledning.
Digital Commander/Receiver
DIGITAL COMMANDER / RECEIVER
---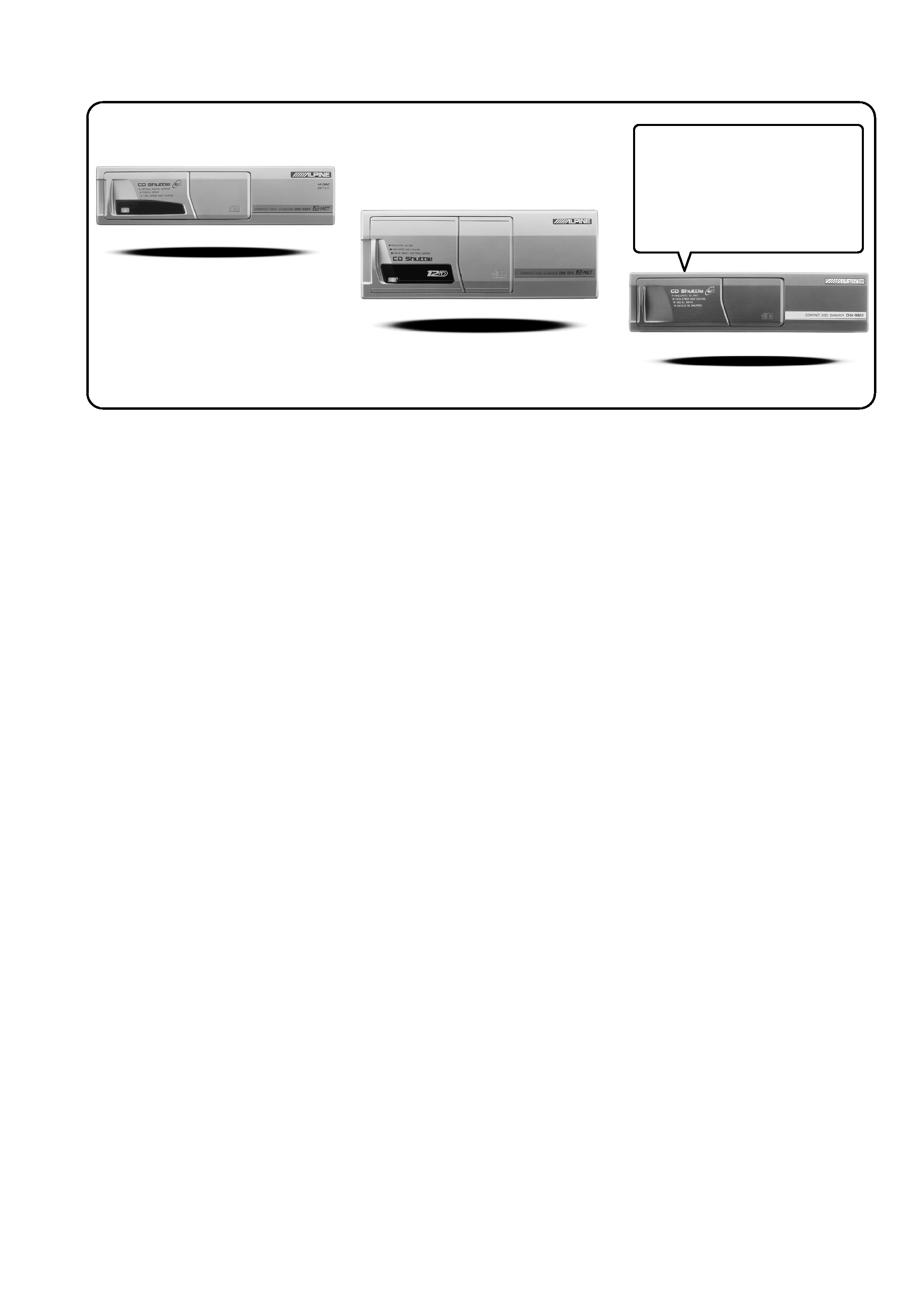 CD-Wechsler für CTM-1503R
Changeur CD pour CTM-1503R
Alpine CD Changers Give You More!
More musical selections, more versatility, more convenience.
An Alpine CD Changer adds more musical choices to your sound system. All models can be controlled from Alpine head units and
deliver excellent sound quality. The CHA-S624 is a high-performance 6-disc changer with a new M DAC, Ai-NET compatibility, Optical
Digital Output, 150 Disc Title Memory and CD TEXT. The CHA-1214 Ai-NET model holds 12 discs, and the CHM-S620 M-Bus model
is a super-compact 6-disc changer.
Von Alpine CD-Wechslern haben Sie mehr!
Mehr Musikauswahl, mehr Vielseitigkeit, mehr Komfort.
Mit einem Alpine CD-Wechsler erweitern Sie die Musikauswahl Ihres Systems. Sämtliche Modelle lassen sich von einer Alpine-
Bedieneinheit aus steuern und liefern hervorragende Klangqualität. Der CHA-S624 ist ein Ai-NET-kompatibler Hochleistungs-Wechsler
für 6 CDs mit dem neuen M-DAC, Digitalausgang für Glasfaserkabel, CD-Titelspeicher für 150 Titel und CD-TEXT. Das Ai-NET-
Modell CHA-1214 nimmt 12 CDs auf, und der M-Bus-kompatible CHM-S620 ist ein superkompakter Wechsler für 6 CDs.
Changeurs de CD Alpine : vous avez le choix!
Plus de sélections musicales, plus de souplesse, plus de confort.
Un changeur de CD Alpine permet d'augmenter la plage des sélections musicales de votre système embarqué. Tous les modèles peuvent
être contrôlés à partir des autoradios Alpine et offrent une excellente qualité audio. Le modèle CHA-S624 est un changeur 6 disques
ultra performant compatible Ai-NET et équipé d'un convertisseur N/A standard, d'une sortie optique numérique, d'une mémoire d'une
capacité de 150 titres et de la fonction CD TEXT. Le modèle CHA-1214 Ai-NET peut contenir 12 disques. Le modèle CHM-S620 M-
Bus est un changeur 6 disques super compact.
¡Los cambiadores Alpine de CD le ofrecen más!
Más selecciones musicales, más versatilidad y más ventajas.
Un cambiador Alpine de CD añade más opciones musicales a su equipo de sonido. Todos los modelos pueden controlarse desde las
unidades principales de Alpine y proporcionar un sonido de calidad excepcional. El modelo CHA-S624 es un cambiador de 6 discos de
alto rendimiento con el nuevo DAC "M" y compatibilidad con Ai-NET, salida digital óptica, memoria de títulos de 150 discos y TEXTO
CD. El modelo CHA-1214 Ai-NET admite 12 discos y el modelo CHM-S620 Bus-M es un cambiador de 6 discos y tamaño reducido.
I caricatori CD Alpine danno di più!
Più scelta, più versatilità, più comodità.
Un caricatore CD Alpine offre maggiore scelta. Tutti i modelli possono essere controllati tramite le unità di controllo Alpine e producono
un suono di qualità eccellente. CHA-S624 è un caricatore a 6 dischi Ai NET compatibile e dotato di un nuovo M DAC, di un'uscita
ottica digitale, memorizzazione dei titoli di 150 dischi e CD TEXT. Il modello CHA-1214 Ai NET può contenere un massimo di 12
dischi, mentre il modello CHM-S620 M-Bus è un caricatore a 6 dischi ultra compatto.
Alpines CD-växlare ger mer!
Fler musikval, mer variation, större bekvämlighet.
Med Alpines CD-växlare i systemet får du större musikalisk valfrihet. Alla modeller kan styras från Alpines huvudenheter och ger
enastående ljudkvalitet. CHA-S624 är en högpresterande växlare för 6 skivor med en ny M D/A-omvandlare, kompatibel med Ai-NET,
optisk digitalutgång, titelminne för 150 skivor och CD-TEXT. Modellen CHA-1214 Ai-NET rymmer 12 skivor och modellen CHM-
S620 M-Bus är en superkompakt växlare för 6 skivor.
---

[ Stellen Sie Ihr Fahrzeug stets gut sichtbar ab.
[ Verschließen Sie Türen, Fenster, Schiebedach und Kofferraum immer, auch bei nur kurzer Abwesenheit.
[ Lassen Sie keine Wertsachen sichtbar im Auto liegen.
[ Wird Ihr Fahrzeug aufgebrochen, wenden Sie sich sofort an die nächste Polizeidienststelle.
[ Belassen Sie Ihr Fahrzeug nach einem Aufbruch im Originalzustand.
[ Informieren Sie sich über technische Sicherungsmöglichkeiten bei einer Kriminalpolizeilichen
---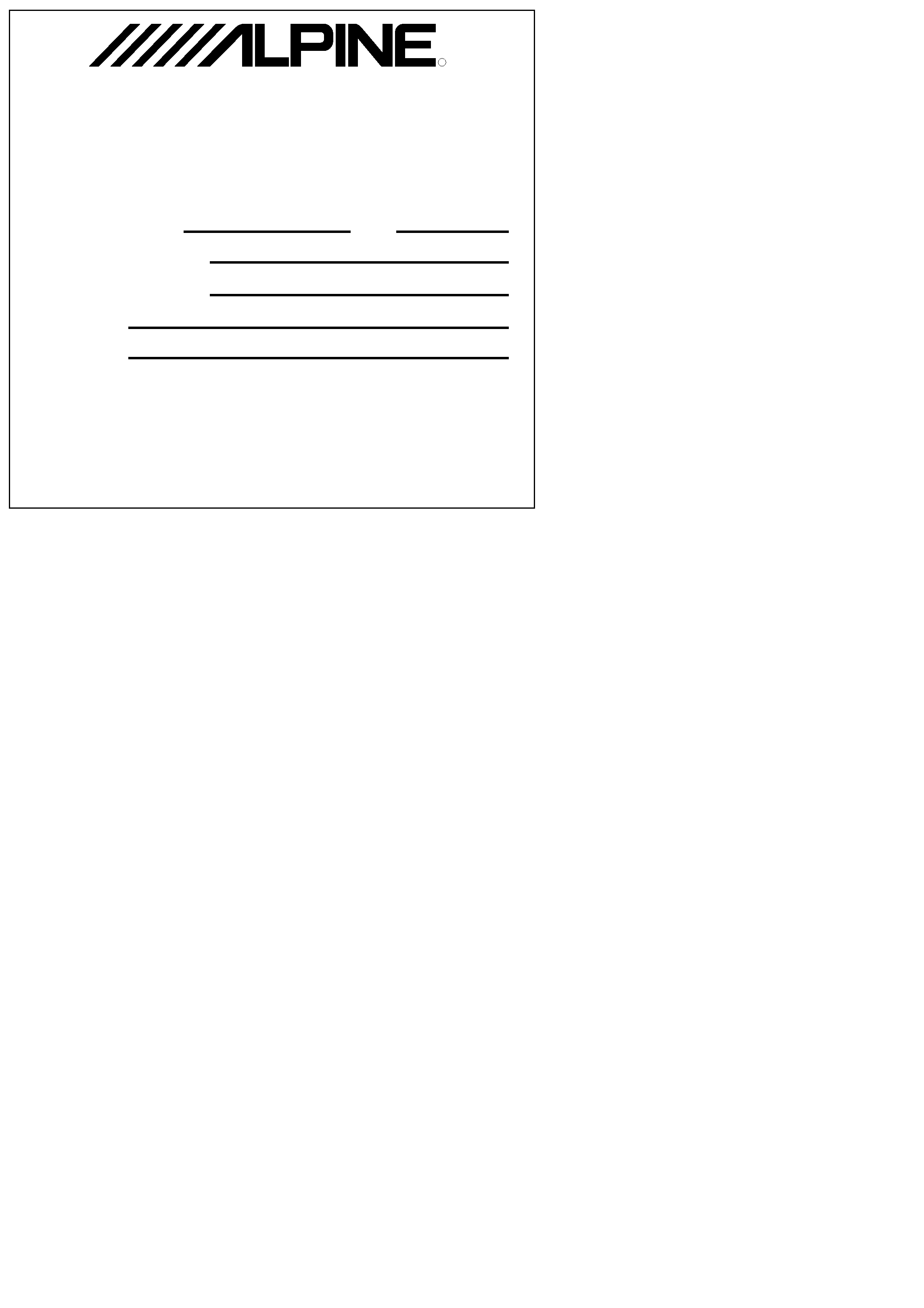 Bitte füllen Sie diesen Pass vollständig aus und bewahren Sie ihn
außerhalb des Fahrzeugs auf:
Im Falle eines Diebstahls wird für Sie die Schadensabwicklung mit der
Versicherung einfacher, und Sie erleichtern der Polizei die Fahndung
Car Audio and Navigation Systems
---

WARNING ................................................. 2
CAUTION .................................................. 2
PRECAUTIONS ........................................ 2
Detaching the Front Panel ................................. 3
Attaching the Front Panel ................................. 3
Initial System Start-Up ..................................... 3
Turning Power On and Off ................................ 3
Display Angle Adjustment ................................ 4
Subwoofer On and Off ...................................... 4
Adjusting Source Signal Levels ........................ 4
Adjusting Volume/Bass/Treble/
Balance (Between Left and Right)/
Fader (Between Front and Rear) ................... 4
Turning Loudness On/Off ................................. 5
Selecting BBE Mode ........................................ 5
Setting Bass Frequency ..................................... 5
Changing Display Pattern of Audio Level ........ 5
Manual Tuning .................................................. 6
Setting Frequency Step ..................................... 6
Automatic Seek Tuning .................................... 6
Manual Storing of Station Presets .................... 7
Automatic Memory of Station Presets .............. 7
Tuning to Preset Stations .................................. 7
Setting RDS Reception Mode and Receiving
RDS Stations ................................................. 8
Recalling Preset RDS Stations .......................... 8
Receiving RDS Regional (Local) Stations ........ 9
Receiving Traffic Information ........................... 9
PTY (Programme Type) Tuning ....................... 9
Receiving Traffic Information While Playing
CD Changer or Radio .................................. 10
Priority News .................................................. 10
CD Changer Operation (Optional)
Controlling CD Changer (Optional) ............... 11
Music Sensor (Skip) ........................................ 11
Fast Forward and Backward ........................... 12
Repeat Play ..................................................... 12
M.I.X. (Random Play) .................................... 12
Scanning Programmes .................................... 12
In Case of Difficulty ....................................... 13
Specifications .................................................. 15
Installation and Connections
Warning ........................................................... 16
Caution ............................................................ 16
Precautions ...................................................... 16
Installation ...................................................... 17
Connection ...................................................... 18
---