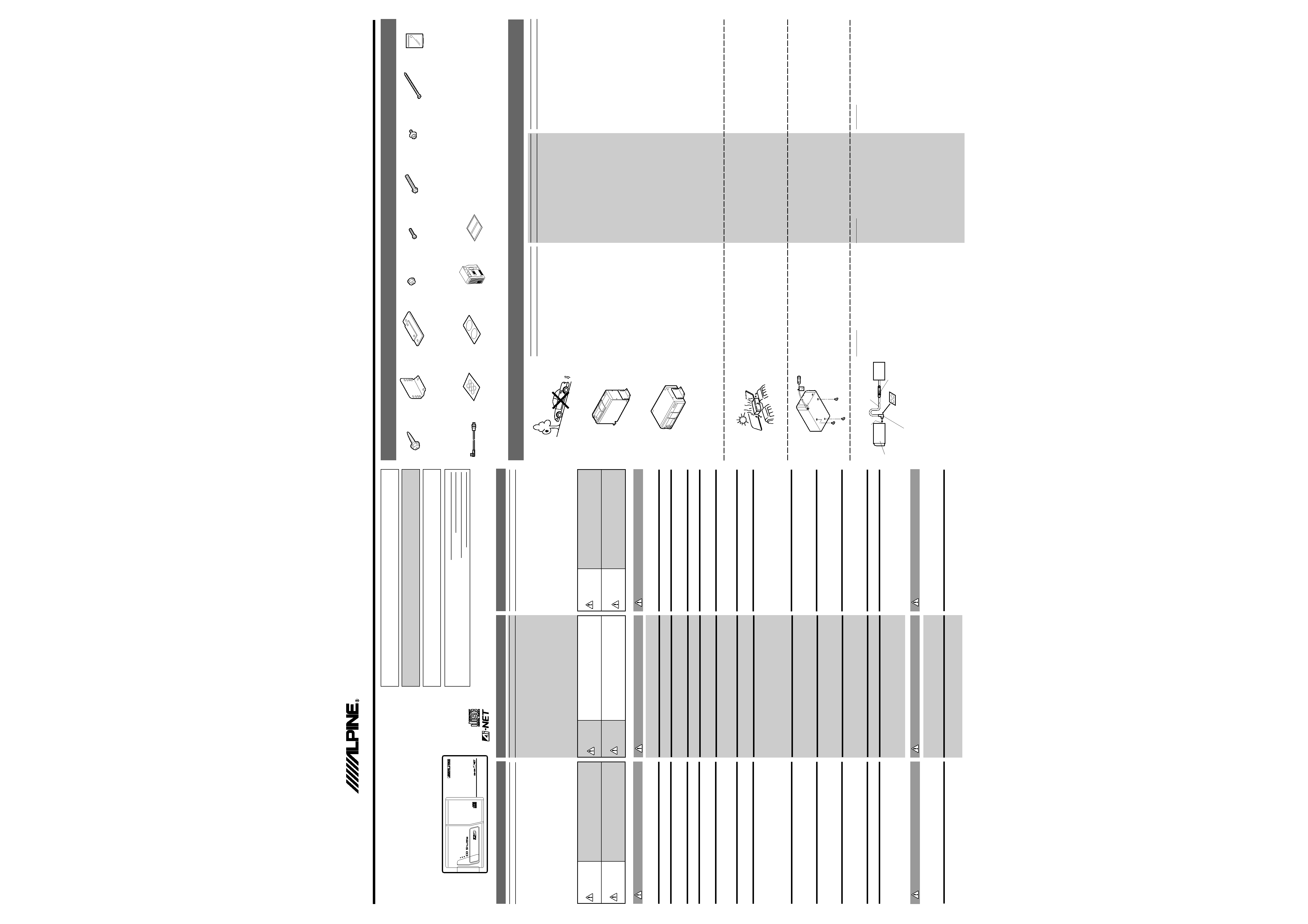 Please read this manual to maximize your enjoyment of the outstanding performance and feature
capabilities of the equipment, then retain the manual for future reference.
Veuillez lire ce mode d'emploi pour tirer pleinement profit des excellentes performances et fonctions de
cet appareil, et conservez-le pour toute référence future.
Lea este manual, por favor, para disfrutar al máximo de las excepcionales prestaciones y posibilidades
funcionales que ofrece el equipo, luego guarde el manual para usarlo como referencia en el futuro.
Compact Disc Remote Changer
(RCS PONTOISE B 338 101 280)
Yamagata Printing Co., Ltd.
2-6-34, Takashima, Nishi-ku, Yokohama, Kanagawa, Japan
Please record the serial number of your unit in the space provided here and keep it as a permanent record.
The serial number plate is located on the top of the unit.
Enregistrer le numéro de série de l'appareil dans l'espace prévu ici et le conserver en permanence. La
plaque de numéro de série est située sur la partie supérieure de l'appareil.
Anote el número de serie de su nuidad en el espacio proporcionado aquí, y consérvelo como un redistro
permanente. La placa con el número de serie está ubicada en la parts superior de la unidad.
SERIAL NUMBER/NUMÉRO DE SÉRIE/NUMERO DE SERIE:
INSTALLATION DATE/DATE D'INSTALLATION/FECHA DE INSTALACION:
INSTALLATION TECHNICIAN/INSTALLATEUR/INSTALADOR:
PLACE OF PURCHASE/LIEU D'ACHAT/LUGAR DE ADQUISICION:
Points to Observe for Safe Usage
Read this manual carefully before starting operation and use this
system safely. We cannot be responsible for problems resulting
from failure to observe the instructions in this manual.
This manual uses various pictorial displays to show how to use this
product safely and to avoid harm to yourself and others and
damage to your property. Here is what these pictorial displays
mean. Understanding them is important for reading this manual.
This label is intended to alert the user to the
presence of important operating instructions.
Failure to heed the instructions will result in
This label is intended to alert the user to the
presence of important operating instructions.
Failure to heed the instructions can result in
injury or material damage.
Cette étiquette a pour but de prévenir l'utilisateur
de la présence d'instructions importantes.
Si ces instructions ne sont pas suivies, des blessures ou
des dommages matériels risquent d'être occasionnés.
Cette étiquette a pour but de prévenir l'utilisateur
de la présence d'instructions importantes.
Si ces instructions ne sont pas suivies, des blessures
graves ou mortelles risquent d'être occasionnées.
Esta etiqueta previene al usuario de la presencia
de instrucciones de operación importantes.
Si no sigue estas instrucciones, corre el riesgo
de ocasionar heridas graves o mortales.
Esta etiqueta previene al usuario de Ia presencia
de instrucciones de operación importantes.
Si no sigue estas instrucciones, corre el riesgo
de ocasionar heridas o pérdidas materiales.
DO NOT DISASSEMBLE OR ALTER. Doing so may lead to accident, fire or electric
KEEP SMALL ARTICLES OUT OF THE REACH OF CHILDREN. If swallowed, con-
sult a physician immediately.
BEFORE WIRING, DISCONNECT THE CABLE FROM THE NEGATIVE (­) BATTERY
TERMINAL. Failure to do so may result in electric shock or injury due to electrical
MAKE THE CORRECT CONNECTIONS. Failure to do so may cause fire or acci-
DO NOT CUT AWAY THE WIRE SHEATH AND USE POWER FOR OTHER EQUIP-
MENT. Doing so may exceed the current carrying capacity of the wire and result
in fire or electric shock.
DO NOT INSTALL IN LOCATIONS WHICH MIGHT HINDER VEHICLE OPERA-
TION OR CREATE HAZARDS FOR VEHICLE OCCUPANTS. Doing so may ob-
struct forward vision or hamper movement.
DO NOT CONTACT, DAMAGE OR OBSTRUCT PIPES, FLUID LINES OR WIRING
WHEN DRILLING HOLES. Failure to take such precautions may result in fire or
cause an accident or injuries.
DO NOT USE NUTS OR BOLTS IN THE BRAKE SYSTEM WHEN MAKING INSTAL-
LATION OR GROUND CONNECTIONS. Never use safety-related parts such as
bolts or nuts in the steering or brake systems or tanks to make wiring installa-
tions or ground connections. Using such parts could disable control of the
vehicle and cause brake failure, other accident or injury.
ARRANGE THE WIRING SO IT IS NOT CRIMPED OR PINCHED. Route the cables
and wiring so as not to be crimped by moving parts or make contact with sharp
or pointed spots which might damage the wiring. Failure to do so may cause
failure of unit or vehicle.
HAVE THE WIRING AND INSTALLATION DONE BY EXPERTS. The wiring and
installation of this unit requires special technical skill and experience. To ensure
safety, always contact the dealer where you purchased this unit to have the work
HALT USE IMMEDIATELY IF A PROBLEM APPEARS. When problems occur such
as a lack of sound or video, foreign objects inside the unit, smoke coming out,
or noxious odors, stop use immediately and contact the dealer where you bought
the equipment. Failure to do so may result in an accident or injury.
DO NOT USE THIS EQUIPMENT FOR PURPOSES OTHER THAN STATED FOR THE
VEHICLE. Failure to do so may result in electric shock or injury.
DO NOT PLACE FOREIGN OBJECTS IN INSERTION SLOTS OR GAPS. Do not
insert hands, fingers or foreign objects in the disc or cassette insertion slots, or
in gaps during monitor startup/storage. Doing so may result in personal injury
or damage to the equipment.
NE PAS DEMONTER NI MODIFIER. Il y a risque d'accident ou de choc électrique.
NE PAS LAISSER DE PETITES PIECES A PORTEE DES ENFANTS. En cas d'ingestion,
consultez immédiatement un médecin.
AVANT LE CABLAGE, DEBRANCHER LE CABLE DE LA BORNE NEGATIVE (­
) DE LA BATTERIE. Le non-respect de cette précaution risque de provoquer un
choc électrique ou des blessures dues à des courts-circuits électriques.
EFFECTUER CORRECTEMENT LES CONNEXIONS. Sinon il y a risque d'incendie
NE PAS COUPER LA GAINE DES CABLES POUR ALIMENTER D'AUTRES
EQUIPEMENTS. L'intensité nominale du câble sera dépassée et un incendie
ou un choc électrique risque de se produire.
NE PAS INSTALLER DANS DES ENDROITS RISQUANT DE GENER LA CONDUITE
DU VEHICULE OU POTENTIELLEMENT DANGEREUX POUR LES OCCUPANTS
DU VEHICULE. La vue avant pourrait être obstruée ou les mouvements gênés.
NE PAS TOUCHER, ENDOMMAGER OU BOUCHER LES TUYAUX, CONDUITES
OU CABLES LORSQUE VOUS PERCEZ DES TROUS. Il y a risque d'incendie,
d'accident ou de blessures.
NE PAS UTILISER DES ECROUS OU DES BOULONS DANS LE SYSTEME DE
FREINAGE PENDANT L'INSTALLATION OU LES CONNEXIONS DE MASSE. Ne
jamais utiliser des pièces liées à la sécurité telles que les boulons ou écrous
de la direction ou des systèmes de freinage ou des réservoirs pour faire des
installations de câblage ou de connexion de masse. L'utilisation de ce genre
de pièces pourrait désactiver les systèmes de contrôle du véhicule,
endommager les freins et causer un accident ou des blessures.
DISPOSER LE CABLAGE DE SORTE QU'IL NE SOIT PAS VRILLE OU PLIE.
Acheminer les câbles et les fils de sorte qu'ils ne soient pas vrillés par des
pièces mobiles ou qu'ils n'entrent pas en contact avec des points tranchants
ou pointus qui risquent d'endommager le câblage. Sinon l'appareil ou le véhicule
risquent de ne pas fonctionner comme il faut.
CONFIER LE CABLAGE ET L'INSTALLATION A DES PROFESSIONNELS. Le
câblage et l'installation de cet appareil nécessitent une compétence et
expérience technique confirmée. Afin de garantir la sécurité, contacter toujours
le revendeur auprès duquel l'appareil a été acheté pour lui confier les travaux
ARRETEZ-VOUS IMMEDIATEMENT EN CAS DE PROBLEME. Si un problème se
présente, absence du son ou de l'image, objets tombés dans l'appareil,
dégagement de fumée ou d'odeurs nocives, arrêtez-vous immédiatement et
contactez le revendeur où vous avez acheté l'appareil. Il y a risque d'accident
NE PAS UTILISER L'APPAREIL DANS D'AUTRES BUTS QUE CEUX ENONCES. Il
y a risque de choc électrique ou de blessure.
NE PAS INSERER D'OBJETS ETRANGERS DANS LES FENTES D'INSERTION OU
ORIFICES. Ne pas mettre les mains, les doigts ou des objets étrangers dans les
fentes d'insertion de disque ou de cassette, ou dans les orifices pendant la mise
en marche/ rangement de l'appareil. Vous pourriez vous blesser ou endommager
NO DESMONTE O ALTERE. Si lo hace, podrá ocasionar un accidente, incendio
MANTENGA LOS OBJETOS PEQUEÑOS FUERA DEL ALCANCE DE LOS NIÑOS.
Si tragasen algo, consulte a un médico inmediatamente.
ANTES DE EFECTUAR EL CABLEADO, DESCONECTE EL CABLE DEL TERMINAL
NEGATIVO (­) DE LA BATERIA. De no hacerlo así, podria ocasionar una descarga
eléctrica o heridas debido a cortociruitos eléctricos.
EFECTUE LAS CONEXIONES CORRECTAMENTE. En caso contrario, podrá ocurrir
NO CORTE EL RECUBRIMIENTO DE CABLES PARA EMPALMAR Y ALIMENTAR
OTROS EQUIPOS. Si lo hace, podrá sobrecargar la capacidad de los cables y
ocasionar un incendio o descarga eléctrica.
NO INSTALE EL APARATO EN LUGARES QUE PUEDAN INTERFERIR CON LA
OPERACION DEL VEHICULO O CREAR PELIGROS PARA LOS OCUPANTES
DEL VEHICULO. Si lo hace, podrá obstruir la visión trasera o impedir el
NO TOQUE, DAÑE NI OBSTRUYA LAS TUBERIAS, CONDUCTOS DE FLUIDO O
CABLEADO CUANDO TALADRE AGUJEROS. Si no toma estas precauciones,
podrá ocasionar un incendio o causar un accidente o heridas.
NO UTILICE TUERCAS O PERNOS EN EL SISTEMA DE FRENOS DURANTE LA
INSTALACION O LAS CONEXIONES A TIERRA. No utilice nunca piezas
relacionadas con la seguridad como los pernos en los sistemas de dirección o
de frenos para hacer instalaciones de cableado o conexión a tierra. Si utiliza
tales partes podrá incapacitar el control del vehículo y ocasionar un fallo en los
frenos, otro accidente o heridas.
DISPONGA EL CABLEADO DE MANERA QUE NO SEA AGUJEREADO O
DOBLADO. Encamine los cables y los hilos de manera que no sean agujereados
por piezas móbiles o que no entren en contacto con puntos cortantes o afilados
que pueden dañar el cableado. En caso contrario, podrá ocasionar un fallo en
la unidad o en el vehículo.
CONFIE EL CABLEADO Y LA INSTALACION A PROFESIONALES. El cableado
y la instalación de este aparato necesitan una competencia y experiencia técnica
confirmada. Para garantizar la seguridad, contacte siempre el distribuidor al
que ha comprado el aparato para confiarle los trabajos a realizar.
DEJE DE USARLO INMEDIATAMENTE SI APARECE ALGUN PROBLEMA. Cuando
ocurran problemas tales como falta de sonido o vídeo, caiga algún objeto dentro
de la unidad, el aparato despida humo u olores nocivos, deje de usarlo.
NO UTILICE ESTE EQUIPO CON OTROS FINES A LOS INDICADOS PARA EL
VEHICULO. De lo contrario, podrá ocasionar una descarga eléctrica o heridas.
NO INTRODUZCA OBJETOS EXTRAÑOS EN LAS RANURAS DE INSERCION O
EN LAS ABERTURAS. No introduzca las manos, los dedos ni objetos extraños en
las ranuras de inserción de discos o cintas, o en las aberturas cuando prepare/
guarde el monitor. Si lo hiciera, podrá sufrir heridas personales u ocasionar
USE SPECIFIED ACCESSORY PARTS AND INSTALL THEM SECURELY. Use of
other than designated parts may damage this unit internally or may not securely
install the unit in place as parts that come loose may create hazards.
DO NOT INSTALL IN LOCATIONS WITH HIGH MOISTURE OR DUST. A high
incidence of moisture or dust that penetrates into this unit may cause smoke or
UTILISER LES ACCESSOIRES SPECIFIES ET LES INSTALLER CORRECTEMENT.
L'utilisation d'autres pièces non désignées risque de provoquer des dommages
à l'intérieur de l'appareil ou son installation risque de ne pas être faite
correctement, car les pièces desserrées peuvent provoquer des dangers.
NE PAS INSTALLER DANS DES ENDROITS TRES HUMIDES OU POUSSIEREUX.
Une humidité ou poussière importante pénétrant dans l'appareil peut être à
l'origine d'un dégagement de fumée ou d'un incendie.
UTILICE LOS ACCESORIOS ESPECIFICADOS E INSTALELOS CORRECTAMENTE.
La utilización de otras piezas no designadas puede provocar daños en el inte-
rior del aparato o puede hacer que la instalación no se efectúe correctamente,
ya que las piezas flojas pueden ser peligrosas.
NO INSTALE EN LUGARES MUY HUMEDOS O LLENOS DE POLVO. Un alto
grado de humedad o polvo dentro del aparato podrá ocasionar la aparición de
Accessories/Accessoires/Accesorios
agonal de pestaña (M5 x15)
Plaquettes au sol/Placas base
Plastic Bag for Transport
pour les verrous de trans-
los fiadores de transporte
(M6) /Ecrous six pans à re-
bord (M6) /Tuercas hexago-
Bolts (M6 x 50)/Boulons six
onal de pestaña (M6 x 50)
Bolts (M4 x 8)/Boulons six
pans à collerette (M4 x 8)/
nal con arandela (M4 x 8)
Supports de type "L"/Soportes
Dust Cover Label (L/R)/Eti-
quette de protection con-
tre la poussière/Etiqueta de
protección contra el polvo
Input/Output Label (L/R)/Eti-
quette de couvercle (Gauche/
Droite)/Etiqueta de protec-
Effectuez l'installation sur un emplacement plat. Assu-
rezvous que le frein à main est activé et l'allumage
Consulez les sections Connexions Fonctionnement
avant de commencer I'installation.
Effectuer correctement le montage de I'unité en utilisant
les supports de type "L" fournis. Un montage incorrect
peut dégrader la performance (le lecteur sautera les pis-
tes ou fera erreur lors du choix de celles-ci, etc.).
Installez le changeur dans le coffre de la voiture ou
dans un autre endroit adapté. Dans le compartiment
passager de certaines voitures, la boîte à gants sous le
tableau de bord ou la console centrale peut contenir le
CHA-1214. Assurez-vous que l'installation ne gênera
pas la conduite ni le passager au niveau des jambes.
Le CHA-1214 devrait être installé sur une surface sta-
ble. S'il n'y a aucune surface stable sur laquelle installer
le changeur (Shuttle), vous devrez construire une pla-
que de fixation. Choisissez un emplacement facile
d'accés pour pouvoir insérer et enlever le magasin de
disques compacts. Choisissez I'emplacement de mon-
tage et la position. Préparez ensuite les pièces
nécessaires pour pouvoir commencer I'installation.
Pour I'installation à la verticale, assurez-vous d'instal-
ler le Shuttle avec I'ouverture d'insertion du magasin
de disques compacts tournée vers le haut.
Installation du changeur (Shuttle)
Avec le CHA-1214, les disques compacts sont insérés et
enlevés automatiquement dans le magasin de disques
compacts. N'installez pas l'appareil sens dessus-des-
sous, le mécanisme peut devenir désaligné.
N'installez pas le changeur (Shuttle) près du réservoir
d'essence de I'automobile. Ceci empêchera que les vis
de montage endommagent le réservoir.
N'installez jamais le changeur (Shuttle) sur la plage
arrière ou sur le tableau de bord avant d'une automo-
bile. Les températures occasionnées par les rayons
directs du soleil peuvent être extrêmes et peuvent
endommager le changeur de façon permanente. La
garantie Alpine sera annulée si vous ne tenez aucun
compte de cette précaution et le changeur en résulte
Verrouillage en vue du transport
Trois verrous ont été fixés sous le changeur pour
protéger le changeur lors de l'expédition. Enlevez ces
verrous avant d'utiliser le changeur et conservez-les
dans le sac de plastique attaché au connecteur du
'Antes de comenzar con la instalación
Realice la instalación en un lugar plano.
Asegúrse de que ha puesto el freno de mano y de que
ha quitado la llave contacto.
Consulte las secciones "Conexiones " y " Operación"
antes de proceder a la instalación.
Instale la unidad correctamente utilizando los soportes
de tipo "L" proporcionados. Si no lo hiciera así, podría
disminuir el rendimiento (el lector saltará o equivoca-
Instale el cambiador en el maletero del automóvil o en
otro lugar apropiado. En el compartimiento del pasaje-
ro de algunos automóviles, en la guantera, por debajo
del salpicadero o en la consola central, podrá haber
espacio para acomodar el CHA-1214. Cerciórese de que
la instalación no interfiera con la operación segura del
vehículo o con el espacio para las piernas del pasajero.
El CHA-1214 debe ser montado sobre una superficie
estable. Si no se dispone de una superficie estable,
usted deberá construir una plancha de montaje para el
cambiador (Shuttle). Seleccione un lugar que permita
insertar y quitar con facilidad el depósito CD. Determi-
ne el lugar y la posición de montaje. Asegúrese de
tener listas las piezas necesarias antes de comenzar
Para una instalación en posición vertical, asegúrese de ins-
talar el cambiador (Shuttle) de modo que la ranura de
inserción del depósito CD quede de cara hacia arriba.
Instalación del cambiador (Shuttle)
Con el CHA-1214, los discos compactos son extraídos y
reinsertados automáticamente en el depósito CD. NO
instale la unidad al revés, ya que el mecanismo podria
No instale el cambiador (Shuttle) cerca del depósito de
combustible del vehículo. Esto evitará que los torni-
llos de montaje dañen el depósito.
Nunca instale el cambiador en la repisa trasera o en el
tablero de instrumentos delantero del automóvil. La tem-
peratura causada por la luz directa del sol en dichos
lugares puede ser extrema y pude causar daños perma-
nentes al cambiador. La garantía Alpine perderá su validez
si no tiene en cuenta esta precaución y el cambiador (Shu-
ttle) resulta dañado por tal causa.
En la parte inferior del cambiador han sido provistos
tres fiadores de transporte para protección durante el
transporte. Quite estos fiadores antes de usar el apa-
rato. Guarde los fiadores de transporte en la bolsa
plástica sujeta al conector del cambiador.
Guide for Installation and Connections/Guide d'installation et de connexions/Guia de instalatioón y conexiones
Connect the DIN connector cable of the CHA-1214 CD
Shuttle to the Ai-NET connector of a head unit.
The CHA-1214 is designed for 12-Volt DC negative
ground operation. Before making electrical connec-
tions, make sure that your car uses this type of system.
· When installation and connections are completed,
check the followings: a) Connections are proper. b)
Operation of brake lamps, horn etc. are proper with
the ignition ON. c) Operation of audio units is prop-
3 Head unit equipped with Ai-NET connector
6 Match the arrow marks first, then connect.
Raccordez le câble à connecteur DIN du changeur CD
CHA-1214 au connecteur Ai-NET de l'appareil pilote.
Le CHA-1214 est conçu pour fonctionner sur le courant
continu de 12 volts à masse négative. Avant de faire les
connexions électriques, assurez-vous que votre voi-
ture utilise ce système électrique.
· Quand vous avez terminé l'installation et les con-
nexions, vérifiez les points suivants: a) Les con-
nexions sont correctes. b) Les feux de freinage, le
klaxon, etc. fonctionnenent correctement quand vous
mettez le contact. c) Les divers appareils audio fonc-
tionnent quand vous les mettez sous tension.
1 Connecteur d'entrée Ai-NET
3 Appareil principal équipé de connecteur Ai-NET
5 Etiquettes d'entrée/sortie
6 Alignez les fléches avant de brancher.
Conecte el cable con conector DIN del cambiador de CD,
CHA- 1214, al conector Ai-NET de una unidad principal.
El CHA-1214 ha sido diseñado para ser usado con 12
voltios CC, polo negativo a masa. Antes de realizar las
conexiones eléctricas, asegúrese de que su vehículo
emplea este tipo de sistema.
· Cuando haya completado la instalación y las co-
nexiones, compruebe lo siguiente: a) Que la co-
nexiones sean correctas. b) Que la operación de las
luces de freno, bocina, etc. sea correcta con el inte-
rruptor de encendido en "ON". c) Que la operación
de las unidades de audio sea correcta con.
1 Conector de entrada Ai-NET
3 Unidad de cabeza equipada con conector Ai-NET
4 Conecte como se muestra
5 Indicaciones de entrada/salida
6 Primero haga coincidir las marcas de flecha, luego
Perform the installation at a location that is level. Make
sure the parking brake is on and the ignition is OFF.
Refer to the Connections and Operation sections be-
fore you proceed with installation.
Install the Shuttle properly using the "L" type brackets
supplied. Improper installation can degrade perfor-
mance (causing the player to skip, mis-track, etc.).
Install the Shuttle in the trunk of the car or another suit-
able location. In the passenger compartment of some
cars, the glove box, under the dash or center console
may be able to accommodate the CHA-1214. Make sure
that the installation will not interfere with the safe oper-
ation of the vehicle or with passenger leg room.
The CHA-1214 should be mounted to a stable surface.
If no stable surface is available, you must build a mount-
ing board for the Shuttle. Choose a location which
allows easy access to insert and remove the CD maga-
zine. Determine the mounting location and position.
Then have the necessary parts ready before you begin
For the vertical installation be sure to install the Shu-
ttle with the CD magazine slot facing upward.
With the CHA-1214, CDs are automatically removed
from and reinserted into the CD magazine, DO NOT
mount the unit upside down, as this could cause the
mechanism to become misaligned.
Do not install the Shuttle near the vehicle's fuel tank.
This will prevent the mounting screws from dama-
Never install the Shuttle on the rear deck or front
dashboard of the car. The temperatures caused by
direct sunlight at these locations can reach extremes
that could cause permanent damage to the Shuttle.
The Alpine Warranty will be voided in cases where
this caution has been ignored and results in damage
Three transport locks have been attached to the bot-
tom of the Shuttle for protection during shipment.
Remove these locks before using. Keep the removed
transport locks in the plastic bag attached to the con-
DIGITAL SERVO DISC TITLE MEMORY
Puntos que debe respetar para un uso seguro
Points à respecter pour une utilisation sûre
Lire attentivement ce manuel avant de commencer l'opération et
l'utilisation du système en toute sécurité. Nous dégageons toute
responsabilité des problèmes résultant du non-respect des instructions
Ce manuel utilise divers affichages illustrés pour montrer comment
utiliser cet appareil en toute sécurité, pour éviter de s'exposer soi-même
et les autres personnes aux dangers et pour éviter d'endommager
l'appareil. Voici la signification de ces affichages illustrés. Il est important
de bien les comprendre pour la lecture de ce manuel.
Signification des affichages
Lea atentamente este manual antes de comenzar la operación y la
utilización del sistema sin riesgos. Declinamos toda responsabili-
dad si se ocasionan problemas por no respetar las instrucciones
Este manual utiliza diversas ilustraciones para mostrar como utili-
zar este aparato de manera segura, para evitar la exposición de sí
mismo y de otras personas a peligros y para evitar de estropear el
aparato. He aquí la significación de dichas ilustraciones. Es muy
importante que las comprenda bien para la lectura de este manual.
Significación de las ilustraciones
---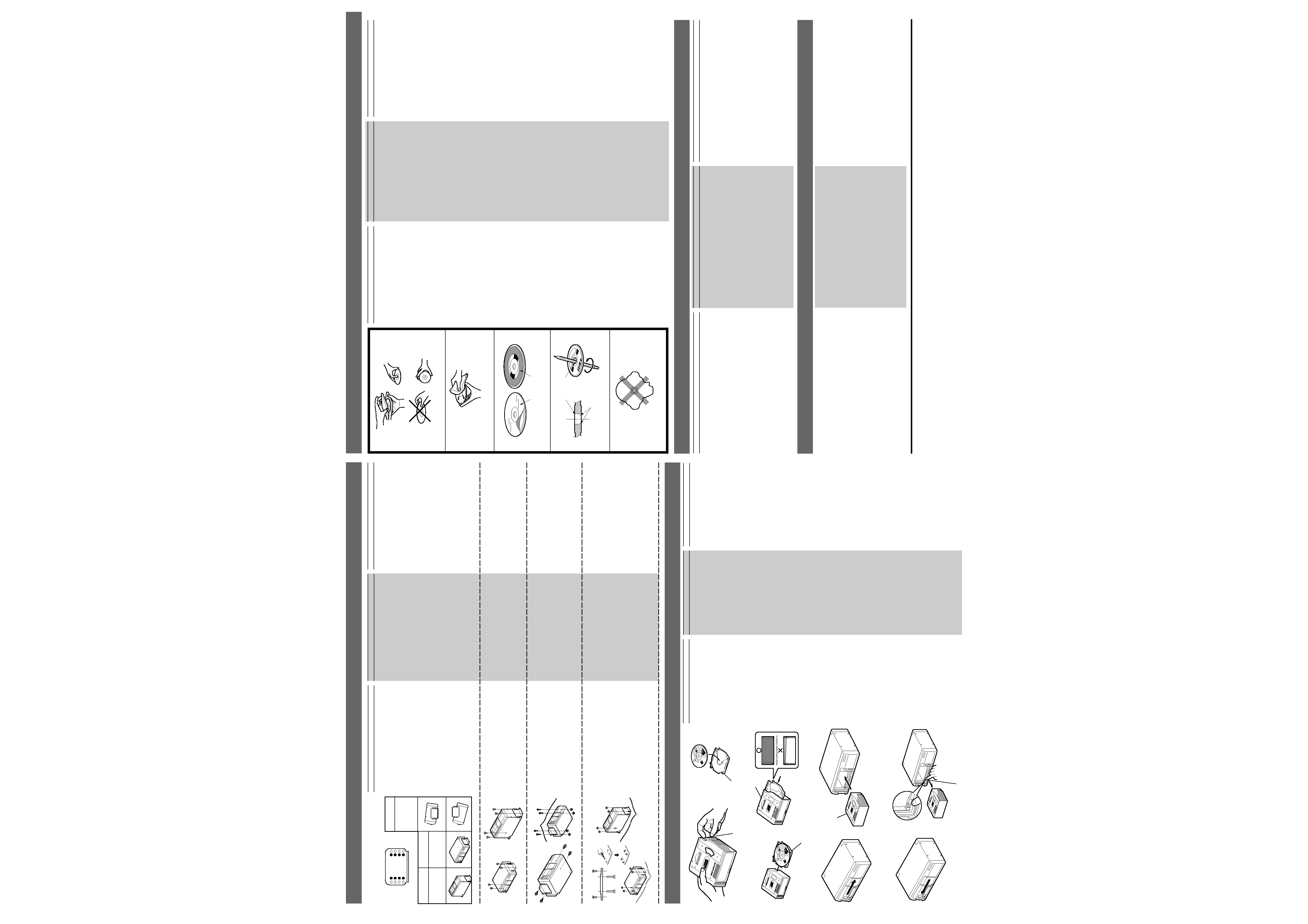 Installation/Installation/Instalacion
Specifications/Spécifications/Especificaciones
Sampling Rate .......................................................................................... `44.1 kHz
System. ............................................................... Optical (Compact disc System)
Number of Quantization Bits ............................................................ 16-bit Linear
Oversampling ............................................................................................. 8 Times
Number of Channels .............................................................................. 2 (stereo)
Frequency Response. .................................................... 5-20,000 Hz (+0, -0.5 dB)
Wow & Flutter ............................................................... Below measurable limits
Total Harmonic Distortion. ....................................................... 0.004% (at 1 kHz)
Dynamic Range .............................................................................................. 94 dB
Signal-to-Noise Ratio. .............................................................................. 103 dBA
Channel Separation ................................................... More than 85 dB (at 1 kHz)
Power Requirement ............................................. 14.4 V DC (11 -16V allowable)
Output Voltage .................................................................. 850 mV into 10 kohms
Weight. .................................................................................... 2.3 kg (3 lbs. 11 oz)
Dimensions (H x W x D) ...................................................... 2-3/8" x 9-13/16" x 6"
Due to product improvement, specifications and design are subject to change
Taux d'échantillonnage ............................................................................ 44,1kHz
Système. ...................................................................... Optique (disque compact)
Nombre de bits de quantification .............................................. Linéaire à 16 bit
Suréchantillonnage ................................................................................... Octuple
Nombre de canaux ................................................................................. 2 (stéréo)
Réponse en fréquence ................................................ 5 à 20.000 Hz (+0,-0,5 dB)
Pleurage et scintillement. ............................................................ Non mesurable
Distorsion harmonique totale .................................................... 0,004% (à 1kHz)
Gamme dynamique. ....................................................................................... 94dB
Rapport signal-bruit ................................................................................. 103 dBA
Séparation des canaux ........................................... Supérieure à 85 dB (à 1kHz)
Alimentation ................................. 14,4 V CC (tension admissible de 11 à 16 V)
Tension de sortie. .................................................................. 850 mV à 10 kohms
Poids ............................................................................................................... 2,3kg
Dimensions (larg. x haut. x prof.) ......................................... 98 x 262 x 178 mm
En raison des améliorations qui peuvent être apportées aux produits, les spé-
cifications et la conception peuvent changer sans préavis.
Frecuencia de muestreo ............................................................................ 44,1kHz
Sistema ................................................... Optico (sistema de discos compactos)
Número de bits de cuantificación .............................................. Lineal de 16 bits
Sobremuestreo ....................................................................................... 8 tiempos
Número de canales .................................................................. 2 (estereofónicos)
Respuesta de frecuencia ............................................ 5 ­ 20.000 Hz (+0, ­0,5 dB)
Ululación y trémolo ............................................. Inferior a los límites medibles
Distorsión armónica total ........................................................... 0,004% (a 1 kHz)
Gama dinámica .............................................................................................. 94 dB
Relación señal a rudio ............................................................................... 103 dBA
Separación de canales ................................................ Superior a 85 dB (a 1kHz)
Alimentación ..................................................... 14,4 V CC (11 ­ 16V, permisible)
Tensión de salida ................................................................ 850 mV a 10 kohmios
Peso ................................................................................................................. 2,3 kg
Dimensiones .................................. Ancho:262 mm, Alto:98 mm, Prof.:178 mm
Con el propósito de introducir mejoras, las especificaciones y el diseño del
producto están sujetos a cambios sin previo aviso.
Tokyo office: 1-1-8 Nishi Gotanda,
Shinagawa-ku, Tokyo 141, Japan
Via C. Colombo 8, 20090 Trezzano Sul
ALPINE ELECTRONICS OF AMERICA, INC.
19145 Gramercy Place, Torrance,
Tel.: 1-800-ALPINE-1 (1-800-257-4631)
ALPINE ELECTRONICS FRANCE S.A.R.L.
(RCS PONTOISE B 338 101 280)
98, Rue De La Belle Etoile, Z.I. Paris Nord Il
B.P. 50016 F-95945, Roissy,
Charles De Gaulle Cedex, France
ALPINE ELECTRONICS OF CANADA, INC.
Suite 203, 7300 Warden Ave. Markham,
Tel.: 1-800-ALPINE-1 (1-800-257-4631)
ALPINE ELECTRONICS OF U.K., LTD.
13 Tanners Drive, Blakelands,
Milton Keynes MK14 5BU, U.K.
ALPINE ELECTRONICS OF AUSTRALIA PTY. LTD.
6-8 Fiveways Boulevarde Keysborough,
ALPINE ELECTRONICS DE ESPAÑA, S.A.
Portal De Gamarra 36, Pabellón 32
01013 Vitoria (Alava)-Apdo. 133, Spain
Brandenburger Strasse 2-6 D-40880 Ratingen,
Proper care of your disc/Entretien des disques compacts/Cuidado adecuado de su disco
Refiérase a las Figs. 1 - 4.
2 Estabilizador del disco
Tratamiento adecuado (Fig. 1)
Maneje su disco como se muestra y no lo deje caer
mientras lo tiene en sus manos. Tenga el disco de
modo que no deje huellas dactilares en su superficie.
Si la superficie estuviera rayada, el transductor podría
saltar. No pegue sobre el disco cintas, papeles ni eti-
quetas engomadas. No se debe escribir sobre el disco.
Mantenga limpios sus discos (Fig. 2)
Las huellas dactilares, el polvo o la suciedad en la su-
perficie de sus discos, pueden hacer que el transductor
salte . Frote la superficie con un pedazo de paño suave
en un movimiento que vaya desde el centro al exte-
Si la superficie estuviera sucia en extremo,
límpiela con un paño suave y limpio embebido en una
solución de detergente neutral suave.
Accesorios de discos (Fig.3)
Existen a la venta varios accesorios de discos para pro-
teger la superficie del disco y mejorar la calidad del sonido.
No obstante, muchos de ellos aumentarán el espesor y/
o el diámetro del disco. El empleo de tales accesorios
puede hacer que el disco exceda las limitaciones de ta-
maño especificadas y cause el funcionamiento
defectuoso del cambiador. Debido a la alta precisión elec-
trónica del CHA-1214 y a su mecanismo altamente estable,
estos accesorios no son necesarios ni recomendados
para usar con los discos colocados en so el CHA-1214.
Precaución con discos nuevos (Fig.4)
Cuando se inserte en el depósito del cambiador un disco
nuevo, es posible que el disco no se reproduzca tras la
carga inicial. Esto es causado por pequeñas rebabas al-
rededor del orificio central y en el exterior del disco, que
impiden la carga estable en la posición correcta.
Para remover estas rebabas, frote el borde interior del
orificio y el borde exterior del disco con un bolígrafo u
otro objeto similar e inserte de nuevo el disco.
El mecanismo previene automáticamente la reproduc-
ción de este tipo de disco como medida protectora. Esto
no es indicativo de operación defectuosa.
No intente reproducir discos dañados, deformados o
resquebrajados ya que podría causar serios daños al
Coloque sus discos en sus cajas individuales cuando
no los esté usando y guárdelos en un lugar fresco y
alejado del sol el calor y el polvo.
Discos de forma irregular (Fig. 5)
Cerciórese de utilizar siempre sólo discos de forma
regular en esta unidad. Los bordes exterior e interior
deben ser redondos y lisos. El uso de discos de forma
irregular podría causar daños al mecanismo.
Handling CD magazine/Manipulation du magasin CD/Manejo del depósito CD
Before operating the unit, follow the proce-
dure below for loading the CD magazine.
2. Insert one disc into each CD tray
magazine (up to 12 discs ). Make sure the
label side of the disc is facing up (Fig. 2)
Hold the disc so you will not leave finger-
prints on the disc surface (refer to
"PROPER CARE OF YOUR DISC" section).
When removing the CD tray from the CD
magazine, hold the tray securely so as
3. Insert each CD tray, with the disc loaded,
all the way into the CD magazine (Fig. 3).
Be sure to insert 12 CD trays whether the
Make sure the CD trays are inserted
straight to prevent jamming (Fig. 4).
4. Open the CD magazine compartment
door by sliding it to the right until it locks.
5. Insert the CD magazine
into the Shuttle until it locks with the
narrow side facing the unit as shown in
Fig. 6. After inserting the CD magazine
6. Close the CD magazine compartment
door by sliding it to the left. (Fig. 7)
Caution: Door must be completely
closed and remained closed at
all times to prevent dust, water
and smoke contaminants from
diminishing the overall perfor-
7. To remove the CD magazine, open the
CD magazine compartment door, then
Note: Do not forcibly remove the CD
magazine by hand because this
would cause damage to the
Préparation pour la lecture
Avant d'utiliser cet appareil, faites ce qui suit
pourchargerlemagasindedisquescompacts.
1. PourretirerleplateaudeCD
de disques compacts, tirez le levier
2. MettreunCDdanschaqueplateaudeCD
du magasin (jusqu'à 12 disques). Assurez-
vousqueI'étiquetteesttournéeverslehaut
Tenez le disque de manière à ne pas laisser
d'empreintessursasurface(reportez-vous
à la section "ENTRETIEN DES DISQUES
Lorsque vous retirez le plateau CD du ma-
gasin de disques compacts, tenez-le
fermement pour ne pas faire tomber le dis-
3. Insérez à fond chaque plateau de CD, avec
le disque chargé, dans le magasin de dis-
Assurez-vous d'insérer 12 plateaux de CD
avec ou sans disques chargés.
Assurez-vousd'insérerlesplateauxCDcor-
rectement, sinon ils peuvent rester coincés
4. Ouvrez le volet du logement de chargeur
CDenlefaisantglisserversladroitejusqu'à
ce qu'il reste bloquer. (Fig. 5)
5. Insérez le chargeur de CD
changeur jusqu'à ce qu'il se bloque, avec la
face la plus étroite dirigée vers l'appareil,
commeindiquésurlaFig.6.Aprèsinsertion
6. Fermez le volet du logement de chargeur
CD en le faisant glisser vers la gauche. (Fig.
Attention: Le volet doit être complète-
ment fermé et toujours le res-
ter pour éviter les baisses de
dues à la poussière, à l'eau et à
7. PourenleverlechargeurCD,ouvrezlevolet
dulogementdechargeurCD,puisappuyez
Remarque: Ne chercher pas à enlever le
chargeur CD à la main, car le
Preparación para la reproducción
Antesdeusarlaunidad,sigalosprocedimien-
tos des critos a continuación para cargar el
1. Para retirar el plato portadiscos
pósito de CD, tire de la palanca
2. Inserte un disco en cada plato portadiscos
3 de depósito (hasta un máximo de 12).
Asegúrese de que el lado con la etiqueta
está orientado hacia arriba (Fig. 2).
Al tomar el disco, asegúrese de no dejar
huellasdactilaresensusuperficie(consulte
la sección "CUIDADO ADECUADO DE SU
Cuando quite el plato portadiscos del de-
pósito CD sosténgalo firmemente para no
3. Inserte cada plato portadisco, con el disco
dentro,afondoeneldepósitodeCD(Fig.3).
Asegúrese de introducir los 12 platos por-
tadiscos con o sin los discos.
Asegúresedeintroducirlosplatosportadi-
scoscorrectamente,sinolohicierapodrían
quedarse en ganchados (Fig. 4)
4. Abra la puerta del compartimiento del car-
gador de CD deslizándola hacia la derecha
hasta que quede bloqueada. (Fig. 5)
5. Inserte el cargador de CD
estrecha mirando hacia la unidad, de la
forma mostrada en la Fig. 6, hasta el fondo
delinteriordelcambiadorhastaquequede
6. Después de insertar el cargador de CD
cierre la puerta deslizándola hacia la
Precaución: Deberá cerrar completa-
reducirelrendimientoglobal
7. Para sacar el cargador de CD, abra la
puerta del compartimiento del cambiador
deCD,luegopresioneelbotóndeexpulsión
Nota: No saque el cargador de CD
forzándolo con las manos porque
ello causaría daños al mecanismo
Instalación usando las placas base para el piso
1. Determine el lugar de montaje ubicando el cambiador (Shu-
ttle) debajo de la alfombra.
2. Primeramente, inserte el perno de cabeza hexagonal (M6 x 25) por la parte inferior de
los agujeros de las placas base para el piso. Las cabezas de los pernos deberan que-
dar embutidas en el agujero por debajo de la base de forma que la base asiente
horizontalmente en el suelo. Luego, monte las placas base para el piso en el piso del
vehículo con los tornillos de cabeza hexagonal con pestaña (M5 x 15).
3. Corte con un cuchillo la moqueta en forma de "+" para permitir que
pase a su través el eje roscado de las placas base para el piso.
4. Monte el cambiador en la alfombra usando tuercas hexago-
1 Tornillos con cabeza hexagonal de pestaña (M5 x 15)
3 Placas base para el piso
4 Tuercas hexagonales de pestaña (M6)
5 Pernos con cabeza hexagonal (M6 x 25)
Installation of Shuttle to Vehicle Floor
Use the hexagon flange-head screws (M5 x15) to fasten the
"L" type mounting brackets (supplied) to the vehicle floor.
1 Hexagon Flange-head Screws (M5 x 15)
Under Rear Deck Installation
1. Attach the "L" type brackets to both sides of the Shuttle
with hexagon washer-head bolts (M4x8) .
2. Drill with approx. 6mm diameter tip and firmly mount
brackets with hexagon flange-head bolts (M6x 50) and
hexagon flange-head nuts (M6).
4 Hexagon Flange-head Nuts (M6)
6 Hexagon Flange-head Bolts (M6 x 50)
7 Hexagon Washer-head Bolts (M4 x 8)
1. Determine a mounting location by placing the Shuttle
2. First, insert the Hexagon bolts (M6 x 25) up through the holes
in the bottom of the floor base plates. The bolt heads should be
recessed into the hole under the base plate so the base lays flat
on the floor. Then, mount the floor base plates to the floor of the
car with the Hexagon flange-head screws (M5 x 15).
3. Cut mat in "+" shape with a knife to allow the threaded
shaft of the floor base plates to come through.
4. Mount the Shuttle on the carpet with hexagon flange-head
1 Hexagon Flange-head Screws (M5 x 15)
4 Hexagon Flange-head Nuts (M6)
5 Hexagon Bolts (M6 x 25)
Instalación del cambiador en el piso del vehículo
Utilice los tornillos de cabeza hexagonal con pestaña (M5 x
15) para fijar los soportes de montaje tipo "L" (suministra-
dos) en el piso del vehículo.
1 Tornillos con cabeza hexagonal de pestaña (M5 x 15)
Installation sous la plage arrière
1. Fixer les supports en "L" sur les deux côtés du Shuttle à
l'aide de boulons à six pans à collerette (M4 x 8).
2. Percez avec un foret de 6mm de diamètre et montez les
supports fermement avec les boulons six pans à rebord
(M6 x 50) et les ècrous six pans à rebord (M6).
4 Ecrous six pans à rebord (M6)
6 Boulons six pans à rebord (M6 x 50)
7 Boulons six pans à collerette (M4 x 8)
Installation utilisant des plaquettes au sol
1. DéterminezI'emplacementdumontageenplaçantlechangeur
2. Insérez tout d'abord les boulons à tête six-pans (M6 x 25) dans les trous à
la partie inférieure des plaques de fixation au plancher du support. Les tê-
tes des boulons doivent être encastrées dans le creux situé sous la plaque
de fixation du support afin que le support repose à plat sur le plancher.
Montez ensuite les plaques de fixation sur le plancher de la voiture avec les
vis six-pans à embase (M5 x 15).
3. Marquezletapisd'un"+"avecuncouteaupourpermettreI'axe
fileté des plaquettes au sol de passer.
4. Monter le Shuttle sur la moquette à I'aide des écrous six pans à rebord (M6)
1 Vis six pans à rebord (M5 x 15)
4 Ecrous six pans à rebord (M6)
5 Boulons six pans (M6 x 25)
Installation du changeur au plancher du véhicule
Utilisez les vis hexagonaux à embase (M5 x 15) pour fixer les
ferrures de montage en "L" (fournis) au plancher du véhicu-
1 Vis six pans à rebord (M5 x 15)
Instalación debajo de la repisa posterior
1. Usando pernos de cabeza hexagonal con arandela (M4 x 8),
fije los soportes tipo "L" en ambos lados del cambiador.
2. Haga las perforaciones con una broca de aproximada-
mente 6mm de diámetro y monte firmemente los soportes
usando los pernos con cabeza hexagonal de pestaña (M6
x 50) y las tuercas hexagonales de pestaña (M6).
4 Tuercas hexagonales de pestaña (M6)
6 Pernos con cabeza hexagonal de pestaña (M6 x 50)
7 Pernos de cabeza hexagonal con aramdela (M4 x 8)
Installation of "L" type brackets
1. Determine the mounting location and angle.
2. Choose the proper mounting holes on the brackets to the
3. Mount the "L" type bracket according to the mounting
angle. Use the hexagon washer-head bolts (M4 x 8) to
fasten the two "L" type mounting brackets (supplied) to
the sides of the CD Shuttle.
If you plan to mount the changer at an angle, make sure that
the magazine will not fall out when ejected. Check as fol-
1. Insert a loaded magazine into the changer.
2. Have your hand ready to stop the magazine if it falls, then,
3. If the magazine falls out of the changer when it is ejected,
adjust mounting angle upwards.
This will prevent damage to the magazine or its contents.
Installation des pattes en "L"
1. Déterminer l'emplacement et I'angle de montage.
2. Choisissez les orifices de montage appropriés sur les
pattes en L en fonction de l'angle de montage.
3. Monter le support de type "L" selon I'angle de montage.
Utilisez les boulons à six pans à collerette (M4 x 8) pour
resserrer les deux supports de montage, type "L" (four-
nis) sur les côtés du changeur (Shuttle) des disques
Avant d'installer le changeur dans une position inclinée,
assurez-vous que le chargeur ne tombe pas quand il est
éjecté. Verifiez comme suit:
1. Insérez un chargeur plein dans le changeur.
2. Mettez votre main devant le chargeur pour le bloquer au
cas où il tomberait, puis appuyez sur la touche EJECT.
3. Si le chargeur tombe du changeur guand il est éjecté,
réglez l'angle d'installation du changeur vers le haut.
Cette opération permet d'éviter d'abîmer le chargeur et son
Instalación de los soportes tipo "L"
1. Determine el lugar y el ángulo de instalación.
2. Elija los agujeros de montaje adecuados en los soportes,
para el ángulo de montaje.
3. Monte el soporte tipo "L" de acuerdo con el ángulo de
instalación. Use los pernos con cabeza hexagonal de aran-
dela (M4 x 8) para fijar los dos soportes de instalación tipo
"L" (proporcionados) a los costados del cambiador (Shu-
Si piensa instalar el cambiador de forma inclinada, asegu-
rese de que el cargador no se vaya a caer cuando lo abra.
1. Inserte el cargador cargado en el compartimiento del
2. Este atento con la mano dispuesta a cogerlo en caso de
que vaya a caerse y luego presione el boton de expulsión
3. Si el cargador fuera a caerse del cambiador al abrirlo,
pongalo en una posición más horizontal.
Esto ayudará a prevenir que el cargador o los discos puedan
L-Bracket Hole Application Chart/Tableau de montage de
trou de la patte en L/Diagram de uso del orificio del soporte
Utilisez les orifices mar-
Utilisez les orifices mar-
Service care/Soins pratiques/Cuidados practicos
· Para los clientes de Norteamérica
Este cambiador de discos compactos ha sido probado y es conforme
con los límites de los dispositivos informáticos de categoría B, según
la regulación de FCC, sección 15, subsección J. Este equipo produce
y utiliza altas frecuencias radio y debe ser instalado y utilizado según
las instrucciones del fabricante.
· Para los usuarios europeos
Si tuviera dudas sobre la garantía consulte, por favor, con el almacén
donde haya realizado su compra.
· Para los usuarios en otros países
Los clientes que adquieran este producto fuera de Los Estados Unidos
de América y Canadá y que tengan este aviso incluido en el embalaje,
contacten a su distribuidor para obtener más información sobre la
· Pour les clients d'Amérique du Nord
Ce changeur de disques compacts a été testé et est conforme aux
limites des dispositifs informatiques de catégorie B, conformément
aux réglements du FCC, section 15, sous-section J. Ce matériel pro-
duit et utilise des hautes fréquences radio et doit être installé et utilisé
conformément aux directives du fabricant.
· Pour les clients Européens
Pour plus de détails sur la garantie, consulter votre revendeur.
· Pour les clients d'autres pays
Pour les clients qui achèteraient ce produit en dehors des pays autres
que les Etats Unis d'Amérique et du Canada et dont cette notice est
comprise dans le carton, prière de contacter votre revendeur pour
plus d'informations concernant la garantie.
· For the North American Customers
This Compact Disc Shuttle has been type tested and found to comply
with the limits for a Class B computing device in accordance with the
specifications in Subpart J of Part 15 of FCC Rules. This equipment
generates and uses radio frequency energy, and it must be installed and
used properly in accordance with the manufacturer's instructions.
Should you have any questions about warranty, please consult your
· For Customers in other Countries
Customers who purchase the product with which this notice is pack-
aged, and who make this purchase in countries other than the United
States of America and Canada, please contact your dealer for infor-
mation regarding warranty coverage.
Handle your disc as shown. Do not drop the disc while
handling. Hold the disc so you will not leave finger-
prints on the surface. If the surface is scratched, it may
cause the pickup to skip. Do not affix tape, paper, or
gummed labels on the disc. Do not write on the disc.
Keep Your Discs Clean (Fig. 2)
Fingerprints, dust, or soil on the surface could cause
the pickup to skip. For routine cleaning, wipe the play-
ing surface with a clean, soft cloth from the center of
the disc to the outer edge. If the surface is heavily
soiled, dampen a clean, soft cloth in a solution of mild
neutral detergent before cleaning the disc.
Disc Accessories (Fig. 3)
Various disc accessories for protecting the surface of
the disc and improving sound quality are available on
However, many of them will increase the thickness
and/or diameter of the disc. Using such accessories
may place the disc beyond the specified size limita-
tions and cause the changer to malfunction. Because
of the high precision electronics of the CHA-1214 and
the highly stable mechanism, these accessories are
not necessary and therefore not recommended for use
with discs placed in the CHA-1214.
Caution for new discs (Fig.4)
When a newly purchased disc is inserted into the chang-
er magazine, the disc may fail to play after initial
loading. This is caused by small bumps around the
center hole and outside of the disc, which prevent sta-
ble loading into the correct position. To remove the
bumps, rub the inside edge of the hole and outside
edge of the disc with a ball-point pen or other such
instrument, then insert the disc again.
The mechanism automatically prevents this type of disc
from playing as a protective measure. This is not an in-
dication of faulty operation.
Do not attempt to play cracked, warped, or otherwise
Playing a bad disc could severely damage the play-
When not in use, place your discs in their individual
cases and store them in a cool place away from the
Irregular Shaped Discs (Fig. 5)
Make sure the discs you use in this unit do not have
any irregularities. The outer and inner edges should
be round and smooth. Use of irregularly shaped discs
may cause damage to the mechanism.
Se reporter aux Fig. 1 - 4.
2 Stabilisateur de disque
Manipulation correcte (Fig. 1)
Manipulez votre disque comme indiqué sur la figure. Ne
le laissez pas tomber lorsque vous le manipulez. Tenez
le disque de façon à ne pas laisser d'empreintes dessus.
Si la surface est rayé, le capteur saute. Ne collez pas de
ruban, de papier ou d'étiquettes gommées sur les dis-
Nettoyez vos disques (Fig. 2)
Les empreintes, la poussière ou la saleté apparaissant à
la surface du disque peuvent provoquer des sauts du
capteur. Nettoyer la surface du disque avec un chiffon
doux propre en partant du centre vers le bord extérieur.
Si la surface est très sale, imbiber un chiffon propre dans
une solution détergente neutre pour la nettoyer.
Accessoires de disque (Fig. 3)
Divers accessoires de disque pour protéger la surface
du disque et améliorer la qualité sonore sont disponi-
bles dans le commerce. Cependant, la plupart d'entre
eux ont un effet sur l'épaisseur et/ou le diamètre du dis-
que. Tels accessoires déplacent les spécifications du
disque hors de la limite et peuvent provoquer quelques
problèmes. Dû à la haute précision électronique du CHA-
1214 et à son mécanisme hautement stable, ces
accessoires ne sont pas nécessaires ni recommandés
avec les disques posés dans le CHA-1214.
Précaution avec les disques neufs (Fig.4)
Lorsqu'un disque neuf est introduit dans le magasin du
changeur, le disque peut ne pas reproduire après le char-
gement initial. Ceci est provoqué par de petites bavures
autour du trou central et à l'extérieur du disque, empê-
chant un chargement stable dans la position correcte.
Enlever les bavures en frottant le bord intérieur du trou
et le bord extérieur du disque avec un stylo à bille ou un
autre objet similaire, puis réinsérer le disque compact.
Le mécanisme empêche de jouer automatiquement un
tel disque par mesure de protection et ceci n'est pas un
N'essayez pas de faire jouer un disque fissuré déformé
ou endommagé. II pourrait endommage gravement le
Laissez vos disques dans leurs boîtiers individuels que vous
rangerez dans un endroit frais, à l'abri du soleil, de la cha-
Disques à forme irrégulière (Fig. 5)
Veillez à n'utiliser que des disques sans aucune irrégularité
avec cet appareil. Les bords extérieur et intérieur doivent
être ronds et unis . L'utilisation de disques à forme irrégu-
lière pourrait endommager ger le mécanisme.
---