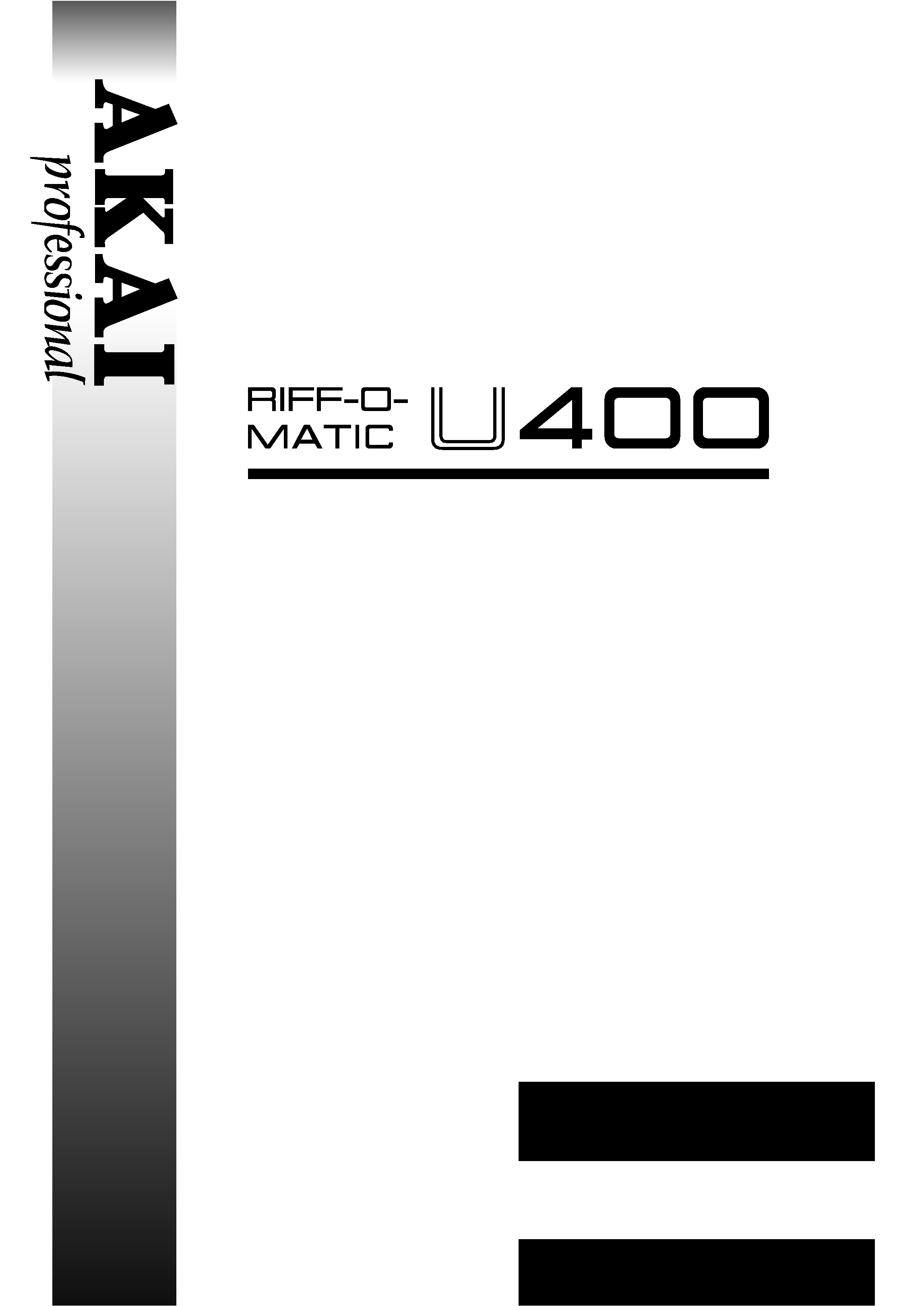 To prevent fire or shock hazard, do not
expose this appliance to rain or moisture.
Variable Tempo/Constant Pitch
---

To prevent fire or shock hazard, do not expose this appliance to rain or moisture.
---

The U400 is designed to be used in a standard household environment.
Power requirements for electrical equipment vary from area to area. Please ensure that your AC
Adaptor supplied meets the power requirements in your area. If in doubt, consult a qualified
electrician or AKAI professional dealer.
@ 60 Hz for USA and Canada
220~230/240 VAC @ 50 Hz for Europe
PROTECTING YOURSELF AND THE U400
Never touch the AC Adaptor with wet hands.
Always disconnect the AC Adaptor from the power supply by pulling on the adaptor/plug,
Allow only an AKAI professional dealer or qualified professional engineer to repair or
reassemble the U400. Apart from voiding the warranty, unauthorized engineers might touch
live internal parts and receive a serious electrical shock.
Do not put, or allow anyone to put any object, especially metal objects, into the U400.
Use only a household AC power supply. Never use a DC power supply.
If water or any other liquid is spilled into or onto the U400, disconnect the power, and call
Make sure that the unit is well-ventilated, and away from direct sunlight.
To avoid damage to internal circuitry, as well as the external finish, keep the U400 away from
sources of direct heat (stoves, radiators, etc.).
Avoid using aerosol insecticides, etc. near the U400. They may damage the surface, and may
Do not use denaturated alcohol, thinner or similar chemicals to clean the U400. They will
Modification of this equipment is dangerous, and can result in the functions of the U400 being
impaired. Never attempt to modify the equipment in any way.
Make sure that the U400 is always well-supported when in use on a firm level surface.
In order to assure optimum performance of your U400, select the setup location carefully, and
make sure the equipment is used properly. Avoid setting up the U400 in the following
1. In a humid or dusty environment
2. In a room with poor ventilation
3. On a surface which is not horizontal
4. Inside a vehicle such as a car, where it will be subject to vibration
5. In an extremely hot or cold environment
---

CAUTION (Only for the product sold in Canada and U.S.A.)
To prevent electric shock, do not use this polarized AC power plug with an extension cord,
receptacle, or other outlet unless the blades can be fully inserted to prevent blade exposure.
Afin d'éviter tout risque de décharge électrique, n' utilisez pas cette prise polarisée avec une
rallonge, une prise de courant ou autre sortie á moins que les lames puissent être complétement
insérées et qu'elles ne soient plus visibles.
(for U.K. customers only)
This equipment is fitted with an approved converter plug.
To change the fuse in this type of plug proceed as follows:
1) Remove the fuse cover and old fuse.
2) Fit a new fuse which should be a BS1362 5 Amp A.S.T.A. or BSI approved type.
If the AC mains plug fitted to the lead supplied with this equipment is not suitable for your type of
AC outlet sockets, it should be changed to an AC mains lead, complete with moulded plug of the
If this is not possible, the plug should be cut off and a correct one fitted to suit the AC outlet. This
should be fused at 5 Amps.
If a plug without a fuse is used, the fuse at the distribution board should not be greater than 5 Amp.
PLEASE NOTE: THE SEVERED PLUG MUST BE DESTROYED TO AVOID A POSSIBLE
SHOCK HAZARD SHOULD IT BE INSERTED INTO A 13 AMP SOCKET
The wires in this mains lead are coloured in accordance with the following code:
As the colours of the wires in the mains lead of this apparatus may not correspond with the
coloured markings identifying the terminals in your plug, please proceed as follows:
The wire which is coloured BLUE must be connected to the terminal which is marked with the
letter N or coloured BLACK.
The wire which is coloured BROWN must be connected to the terminal which is marked with
the letter L or coloured RED.
DO NOT CONNECT ANY WIRE TO THE PIN MARKED E OR
OR YELLOW & GREEN WHEN WIRING THE PLUG.
Ensure that all the terminals are securely tightened and no loose strands of wire exist.
Before replacing the plug cover, make certain the cord grip is clamped over the outer sheath of
the lead and not simply over the wires.
---

CHANGES OR MODIFICATIONS NOT EXPRESSLY APPROVED BY THE MANUFACTURER
FOR COMPLIANCE COULD VOID THE USER'S AUTHORITY TO OPERATE THE EQUIPMENT.
This equipment has been tested and found to comply with the limits for a Class B digital device
pursuant to Part 15 of the FCC rules. These limits are designed to provide reasonable protection
against harmful interference in a residential installation. This equipment generates, uses, and can
radiate radio frequency energy and, if not installed and used in accordance with the instructions,
may cause harmful interference to radio communications. However, there is no guarantee that
interference will not occur in a particular installation. If this equipment does cause harmful interference
to radio or television reception, which can be determined by turning the equipment off and on, the
user is encouraged to try to correct the interference by one or more of the following measures:
Reorient or relocate the receiving antenna.
Increase the separation between the equipment and receiver.
Connect the equipment into an outlet on a circuit different from that to which the receiver is connected.
Consult the dealer or an experienced radio/TV technician for help.
AVIS POUR LES ACHETEURS CANADIENS DU U400
Le présent appareil numérique n'ément pas de bruits radioélectriques dépassant les limites
applicables aux appareils numériques de la Class B prescrites dans le Règlement sur le brouillage
radioélectrique édicté par le ministère des Communications du Canada.
This digital apparatus does not exceed the Class B limits for radio noise emissions from digital
apparatussetoutintheRadioInterferenceRegulationsoftheCanadianDepartmentofCommunications.
This appliance is not equipped with a main power switch. Even when the appliance is turned off,
the power supply to the appliance is not completely turned off when the power cord is plugged in.
Pull out the adaptor when not using the appliance for long periods.
The AKAI U400 is a computer-based instrument and uses software contained in ROM. Software that
is provided with the instrument, including information contained in this manual, is copyrighted by
applicable laws. You can use that software or information concerning the instrument only for personal
use. You are strictly prohibited to copy or modify any part of the software or manual without written
permission from AKAI professional M.I. Corp., Yokohama, Japan.
---