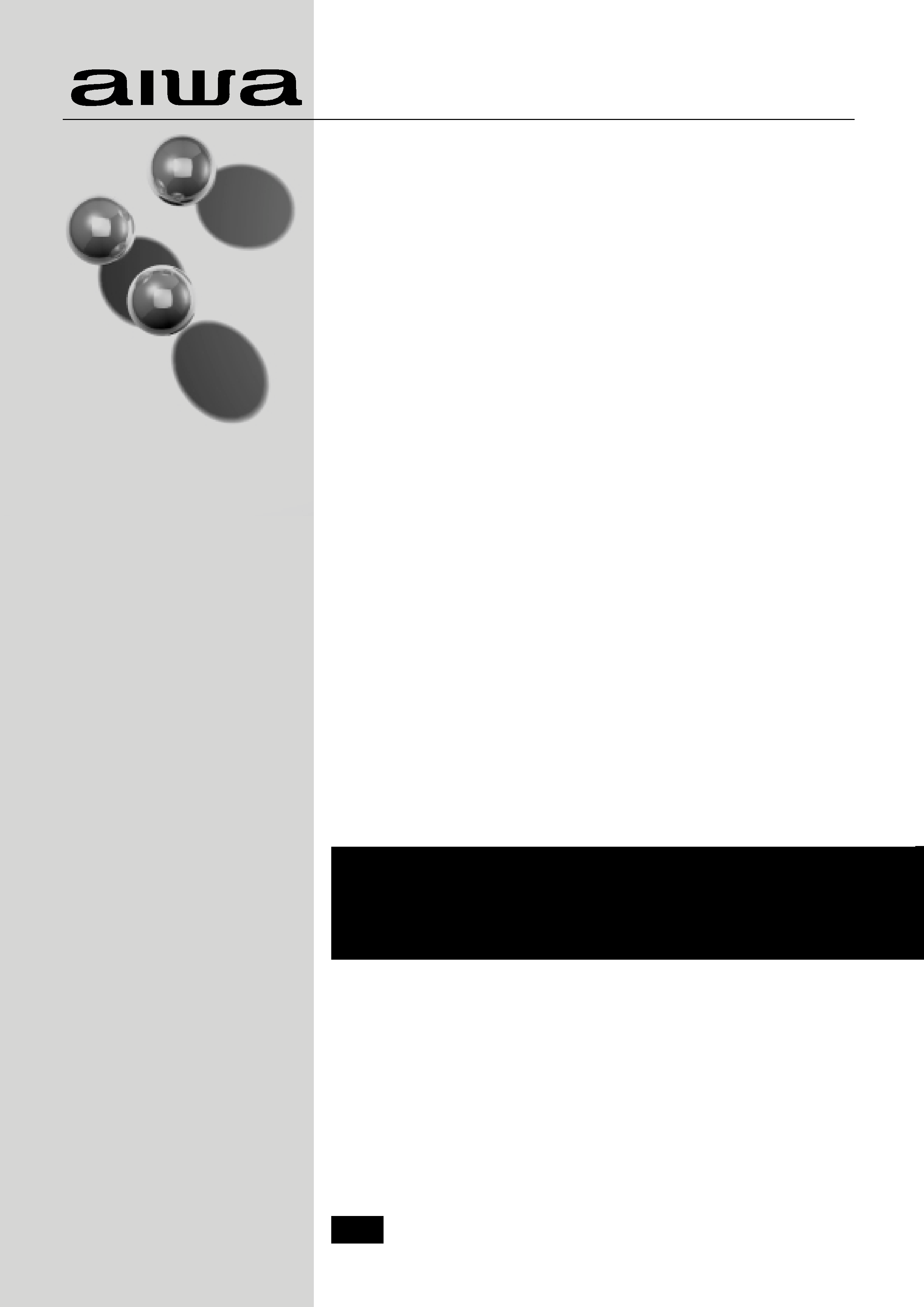 ACTIVE SPEAKER SYSTEM (POWERED SUBWOOFER)
SISTEMA DE ALTAVOCES ACTIVOS (ALTAVOZ DE SUBGRAVES ACTIVO)
ENCEINTE ACOUSTIQUE ACTIVE (CAISSON DE GRAVES ALIMENTE)
---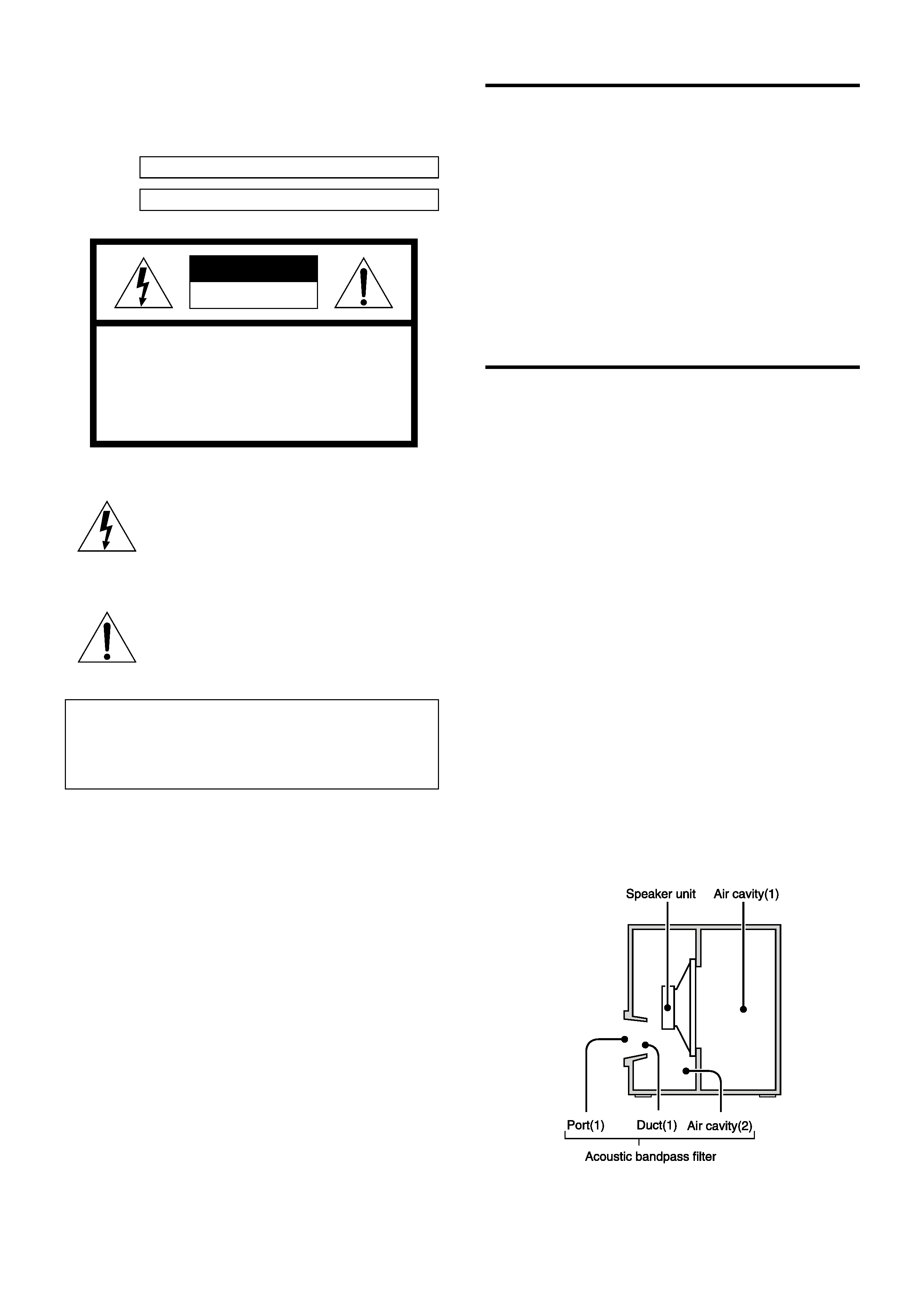 FEATURES ......................................................................... 2
PRECAUTIONS .................................................................. 4
POSITIONING ..................................................................... 6
CONNECTIONS .................................................................. 6
OPERATION ....................................................................... 8
SPECIFICATIONS ............................................................ 10
· PHASE switch (NORMAL/REVERSE)
You can use the PHASE switch to change the quality or volume
of sound reproduced by the powered subwoofer.
The TS-W37 automatically turns on when receiving a signal input
from the connected equipment.
· Frequency TURNOVER selector
According to the frequency range of the front speakers, you can
adjust the frequency range of the sound reproduced by the
· Two-way connection to the amplifier
The TS-W37 can be connected to equipment either with an RCA
phono jack for a super woofer, or typical L and R speaker
The TS-W37 adopts a Dynamic Bass System in which port (1),
duct (1), and air cavity (2) compose an acoustic bandpass filter
in front of air cavity (1). By virtue of this structure, the bass
reproduction limit is extended and sounds higher than middle
range frequencies are reduced in the Dynamic Bass System.
This makes it possible for the TS-W37 to reproduce powerful
For your convenience, record the model number and serial number
(you will find them on the rear of your set) in the space provided below.
Please refer to them when you contact your AIWA dealer in case of
"CAUTION:TO REDUCE THE RISK OF
DO NOT REMOVE COVER (OR BACK).
NO USER-SERVICEABLE PARTS INSIDE.
REFER SERVICING TO QUALIFIED
Explanation of Graphical Symbols:
The lightning flash with arrowhead symbol,
within an equilateral triangle, is intended to alert
the user to the presence of uninsulated
"dangerous voltage" within the product's
enclosure that may be of sufficient magnitude
to constitute a risk of electric shock to persons.
The exclamation point within an equilateral
triangle is intended to alert the user to the
presence of important operating and
maintenance (servicing) instructions in the
literature accompanying the appliance.
WARNING: TO REDUCE THE RISK OF FIRE OR
ELECTRIC SHOCK, DO NOT EXPOSE
THIS APPLIANCE TO RAIN OR
---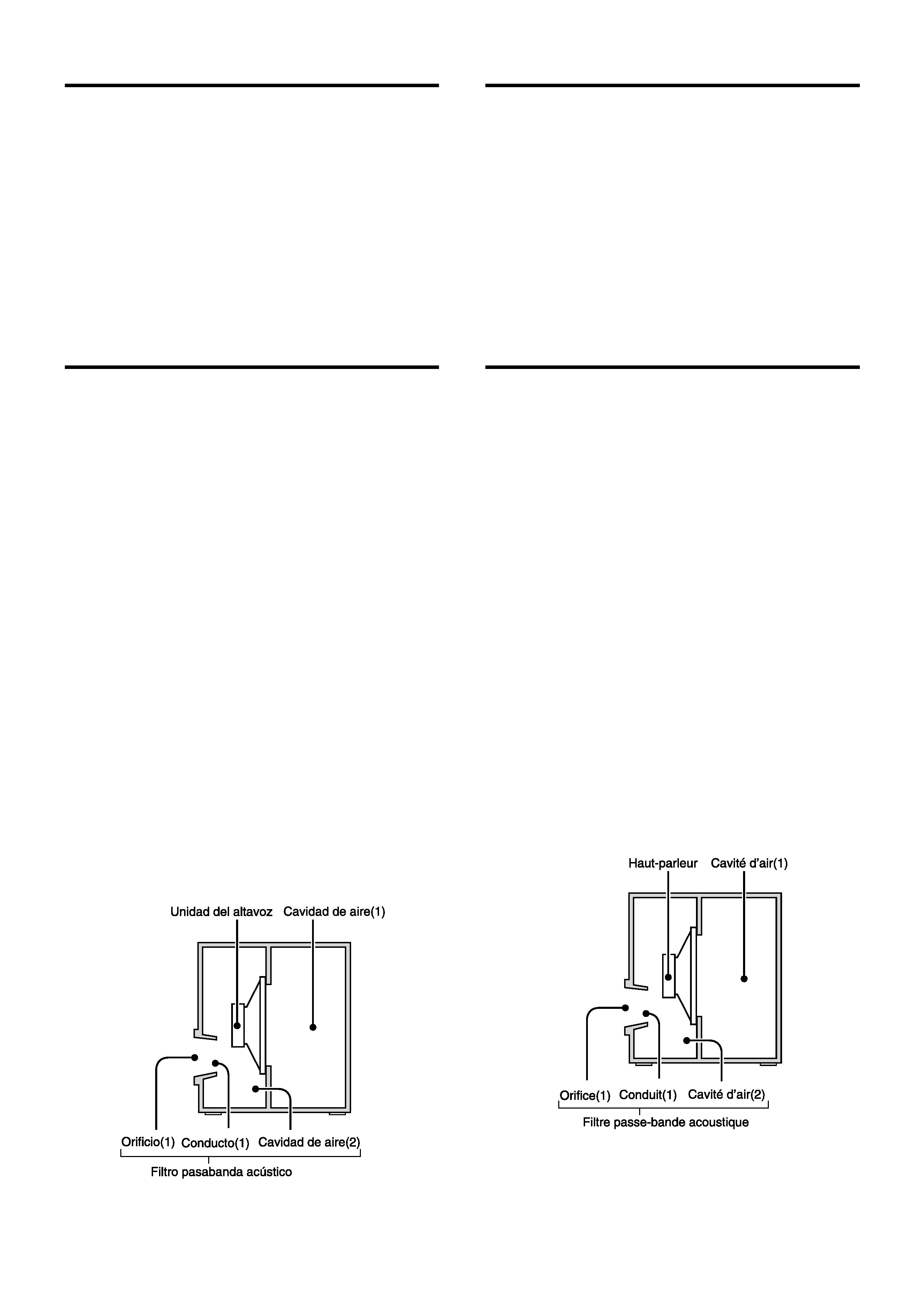 CARACTERISTIQUES ....................................................... 3
PRECAUTIONS .................................................................. 5
POSITIONNEMENT ............................................................ 7
CONNEXIONS .................................................................... 7
UTILISATION ...................................................................... 9
SPECIFICATIONS ............................................................. 11
· Sélecteur PHASE (NORMAL/REVERSE)
On peut utiliser le sélecteur PHASE pour changer la qualité ou
le volume du son restitué par le caisson de graves alimenté.
· Fonction d'alimentation automatique
Le TS-W37 se met automatiquement sous tension lors de la
réception d'une entrée de signal venant de l'appareil connecté.
· Commande de transfert de fréquence
En fonction de la bande passante des enceintes avant, on peut
régler celle du caisson de graves.
· Deux façons de raccorder à l'amplificateur
On peut raccorder le TS-W37 à un appareil équipé soit d'une
prise phono RCA pour caisson de graves, soit de bornes
d'enceintes classiques L et R.
· Système de basses dynamiques
Le TS-W37 est muni d'un système de basses dynamiques dans
lequel l'évent (1), le conduit (1) et la cavité d'air (2) forment un
filtre passe-bande acoustique devant la cavité d'air (1). Grâce à
cette structure, la limite de restitution des basses est repoussée
et les sons supérieurs aux fréquences médium sont réduits. Le
TS-W37 peut ainsi restituer un grave puissant.
CARACTERISTICAS .......................................................... 3
PRECAUCIONES ............................................................... 5
UBICACION ........................................................................ 7
CONEXIONES .................................................................... 7
OPERACIONES .................................................................. 9
ESPECIFICACIONES ....................................................... 11
· Selector PHASE (NORMAL/REVERSE)
Usted podrá utilizar el selector PHASE para cambiar la calidad
o el volumen del sonido reproducido por el altavoz de subgraves
· Función de encendido automático
El TS-W37 se enciende automáticamente cuando se recibe una
señal de entrada procedente del equipo conectado.
· Control de transición de frecuencia
Según la gama de frecuencias de los altavoces delanteros, usted
podrá ajustar la gama de frecuencias del sonido reproducido
por el altavoz de subgraves activo.
· Dos formas de conexión al amplificador
El TS-W37 podrá conectarse a equipos que posean toma fono
RCA para altavoz de supergraves o terminales para altavoces
· Sistema de graves dinámicos
El TS-W37 adopta un sistema de graves dinámicos en el que la
abertura (1), el conducto (1) y la cavidad de aire (2) componen
un filtro acústico pasabanda delante de la cavidad de aire (1).
En virtud de esta estructura, en el sistema de graves dinámicos
se ha ampliado el límite de reproducción de los graves y se han
reducido los sonidos más altos que la gama media. Esto hace
posible que el TS-W37 pueda reproducir un sonido grave potente.
---

Follow the advice below for safe and correct operation.
Before connectiong AC cord, check that the rated voltage shown
on the rear panel matches your local voltage.
· Do not use the unit in places which are extremely hot, cold, dusty
· The unit should be situated with adequate space around it so
that proper heat ventilation is assured. Allow 10 cm clearance
from the rear and the top of the unit, and 5 cm from the each
- Do not place the unit on a bed, rug, or similar surface that may
block the ventilation openings.
- Do not install the unit in a bookcase, cabinet, or airtight rack
where ventilation may be impeded.
Using the unit near a TV set
Although the unit is magnetically shielded, there may be cases in
which the picture on some TV sets may become magnetically
· If the TV picture is distorted, turn off the power of the TV set
once, and after 15 to 30 minutes turn it on again.
· If there seems to be no improvement, move the unit further away
· Furthermore, be sure not to place magnets or objects using
magnets, such as audio racks, toys etc. near the TV set. These
may cause magnetic distortion to the picture due to their
interaction with the unit.
A howling or buzzing sound may be heard if a turntable or a stereo
system is placed near the unit. Move the unit away from the
equipment or decrease the volume.
· When connecting and disconnecting the AC cord, always grasp
the plug. Do not pull the cord by itself since pulling the cord may
damage it and thus be hazardous.
· When you are not going to use the unit for a long period of time,
disconnect the AC cord. If the cord is plugged in, a small amount
of current keeps on flowing to the unit even if the power button is
To clean the cabinet, use a soft cloth slightly moistened with a
mild detergent solution. Do not use strong solvents, such as
alcohol, benzine or thinner.
Keep cassette tapes, personal credit card etc. using magnetic
cording away from the unit as the recorded information may be
erased or some noise may be added on cassette tapes.
Should any problem occur, disconnect the AC cord and refer
servicing to qualified personnel only.
---

Para lograr una operación segura y correcta, siga los consejos
ofrecidos a continuación.
Acerca de la tensión de CA
Antes de conectar el cable de alimentación de CA, compruebe si
la tensión nominal mostrada en el panel trasero concuerda con la
· No utilice la unidad en lugares extremadamente cálidos, fríos,
· La unidad deberá situarse donde tenga suficiente espacio libre
a su alrededor, para que la ventilación apropiada quede
asegurada. Deje un espacio libre de 10 cm por la parte posterior
y superior de la unidad, y 5 cm por cada lado.
- No ponga la unidad sobre una cama, una alfombra o superficies
similares que podrían tapar las aberturas de ventilación.
- No instale la unidad en una librería, mueble o estantería cerrada
herméticamente donde la ventilación no sea adecuada.
Utilización de la unidad cerca de un televisor
Aunque la unidad está magnéticamente apantallada, puede
suceder que las imágenes de algunos televisores sufran
· Si las imágenes del televisor sufren distorsiones, desconecte la
alimentación del televisor, y vuelva a conectarla después de 15
· Cuando parezca que no se producen mejoras, aleje la unidad
· Además, no coloque imanes ni objetos que los utilicen, como
bastidores de audio, juguetes, etc. cerca del televisor. Estos
objetos podrían causar la distorsión magnética de las imágenes
debido a su interacción con la unidad.
Sonido de aullido o zumbido
Si coloca un giradiscos o un sistema estéreo cerca de la unidad,
es posible que oiga un sonido de aullido o zumbido. Aleje la unidad
de este equipo o reduzca el volumen.
· Para conectar y desconectar el cable de alimentación de CA,
tire siempre del enchufe. No tire nunca del propio cable porque
podría dañarlo y resultaría peligroso.
· Cuando no vaya a utilizar la unidad durante mucho tiempo,
desconecte el cable de alimentación de CA. Si deja el cable
enchufado, circulará una pequeña cantidad de corriente por la
unidad incluso aunque el botón de alimentación no esté en ON.
Para limpiar la caja, utilice un paño suave ligeramente humedecido
en una solución poco concentrada de detergente. No use
disolventes fuertes, como alcohol, bencina, ni diluidor de pintura.
Mantenga alejados objetos magnéticos
Mantenga los casetes, las tarjetas de crédito, etc. que utilicen
codificación magnética alejados de la unidad, porque la
información grabada podría borrarse, o en las cintas podría entrar
Si tiene algún problema, desconecte el cable de alimentación
de CA y consulte solamente a personal de reparación
Suivre les conseils ci-dessous pour utiliser I'appareil correctement
Avant de brancher le cordon secteur, s'assurer que la tension
nominale indiquée sur le panneau arrière correspond à celle du
· Ne pas utiliser I'appareil dans un endroit très chaud, froid,
· L'appareil doit être positionné avec un espace suffisant autour
afin d'assurer une dissipation adéquate de la chaleur. Laisser
un espace de 10 cm derrière et dessus l'appareil, et un espace
- Ne pas mettre l'appareil sur un lit, un tapis ou sur une surface
similaire qui pourrait obstruer les orifices de ventilation.
- Ne pas mettre l'appareil dans une bibliothèque, un coffret ou
un meuble complètement fermé où l'aération serait insuffisante.
Utilisation de I'appareil près d'un téléviseur
Bien que l'appareil soit à blindage antimagnétique, l'image de
certains téléviseurs peut subir une distorsion magnétique.
· Si l'image du téléviseur est déformée, mettre le téléviseur hors
tension, puis le remettre sous tension au bout de 15 à 30 minutes.
· Si la situation ne s'améliore pas, éloigner I'appareil du téléviseur.
· En outre, veiller à ne pas placer des aimants ou objets contenant
un aimant, comme des racks audio, des jouets ou autres près
du téléviseur. Leur interaction avec I'appareil peut provoquer une
distorsion magnétique de l'image.
Hurlement ou ronronnement
Un hurlement ou un ronronnement risque de se produire si
I'appareil se trouve près d'un tourne-disque ou d'une chaîne
stéréo. Eloigner I'appareil de cet appareil ou baisser le volume.
· Pour brancher ou débrancher le cordon d'alimentation secteur,
tenir la fiche. Ne jamais tirer sur le cordon proprement dit car il
pourrait être endommagé, ce qui serait dangereux.
· Si on ne compte pas utiliser l'appareil pendant longtemps,
débrancher le cordon d'alimentation secteur. S'il est raccordé
au secteur, une petite quantité de courant circule dans l'appareil,
même si l'interrupteur d'alimentation n'est pas sur ON.
Pour nettoyer le coffret, utiliser un chiffon doux légèrement
imprégné d'une solution détergente douce. Ne pas utiliser de
solvant puissant, comme de l'alcool, de la benzine ou du diluant.
Eloigner les objets aimantés
Eloigner les cassettes, cartes de crédils ou autres objets à code
magnétique de I'appareil car les données enregistrées pourraient
être effacées et les cassettes risqueraient d'être altérées par des
En cas de problème, débrancher le cordon d'alimentation
secteur et consulter uniquement un technicien qualifié.
---