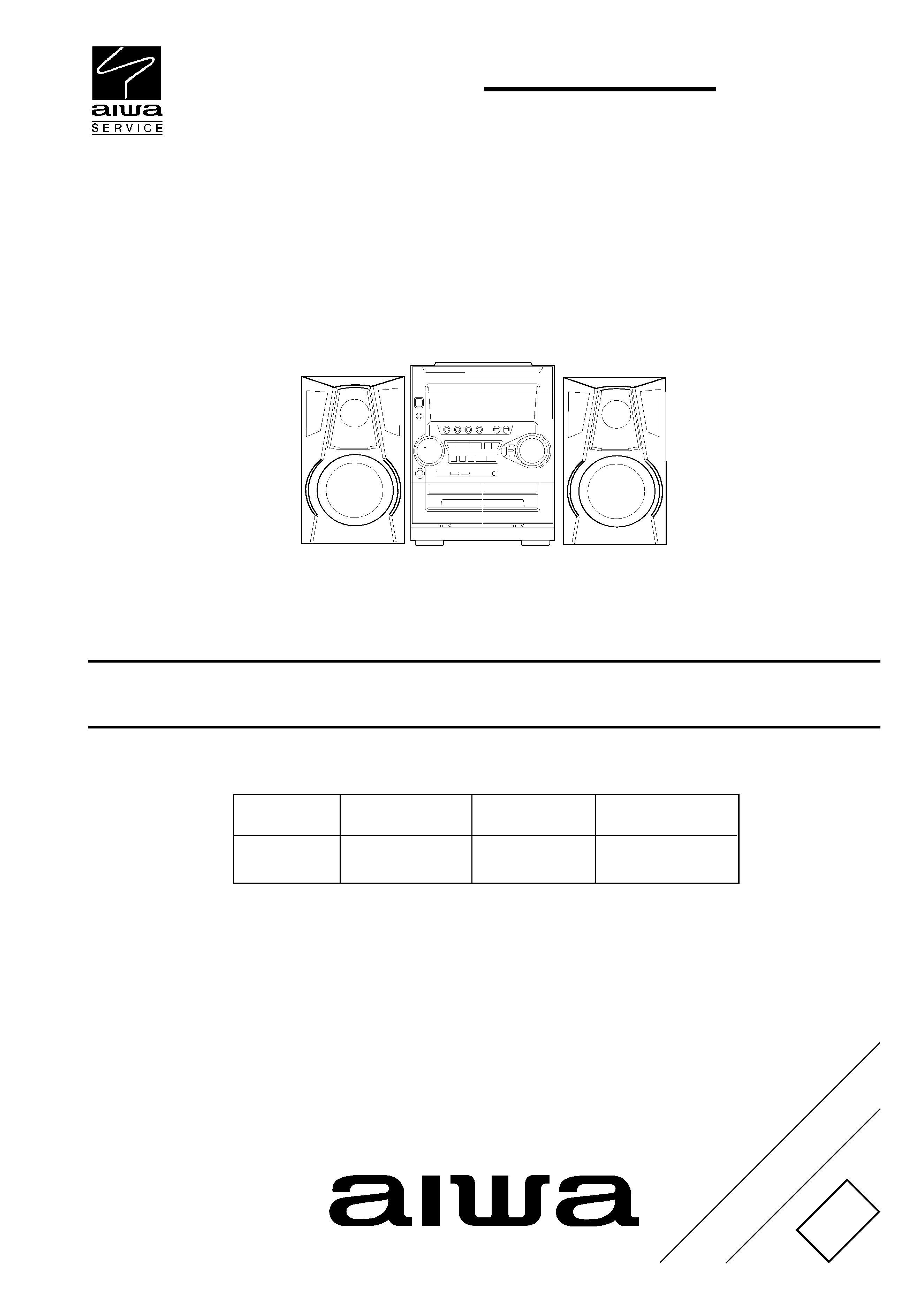 BASIC TAPE MECHANISM : ZZM-3 PR1NM
BASIC CD MECHANISM : AZG-1 ZD3RDM
S/M Code No. 09-008-423-4S1
· This Service Manual is the "Supplement" and replaces "Simple Manual"
(S/M Code No. 09-007-423-4T5).
· This Service Manual contains information about the difference between
NSX-AJ22 (U) and NSX-AJ20 (U). If requiring the other information, see
Service Manual of NSX-AJ20/SZ20 (U,LH),
(S/M Code No.09-001-423-4R1).
· If requiring information about the CD mechanism, see Service Manual
of AZG-1, (S/M Code No. 09-001-335-3N8).
---

· Design and specifications are subject to change without notice.
· The word "BBE"and the "BBE symbol" are trademarks of BBE
Under license from BBE Sound,Inc.
530 kHz to 1710 kHz (10 kHz step)
531 kHz to 1602 kHz (9 kHz step)
60 W + 60 W (50 Hz - 20 kHz,
THD less than 1%, 6 ohms)
75 W + 75 W (1 kHz, THD less than
Total harmonic distortion
0.08% (30 W, 1 kHz, 6 ohms,
SPEAKERS: accept speakers of 6
accept speakers of 8 ohms to 16 ohms
PHONES (stereo jack): accepts
headphones of 32 ohms or more
4 tracks, 2 channels stereo
Deck 1 : Playback head x 1
Deck 2 : Recording/Playback head x 1,
<Compact disc player section>
Power consumption in standby mode
15 W with power-economizing
0.9 W with power-economizing
<Speaker system SX­NAJ33>
3 way, bass reflex (magnetic
140 mm (5
5
/
8
in.) cone type
60mm (2
3
/
8
in.) cone type
20 mm (
13
/
16
in.) ceramic type
Output sound pressure level 87 dB/W/m
(9
1
/
8
x 12
7
/
8
x 10
1
/
8
in.)
---

ELECTRICAL MAIN PARTS LIST
---

CHIP CAPACITOR, 0.1FZ-25Z
JACK,DIA6.3 BLK ST W/SW KM16AT
JACK,PIN 2P MSP 242V05 PBSN
JACK,PIN 2P MSP 242V05 PBSN
TERMINAL,ANT 4P MSP-154V-02
VIB,XTAL 4.500MHZ CSA-309
---

SW,RTRY XRE012103PVB25FINA 1-2
SW,RTRY XRE012103PVB25FINB 1-2
---