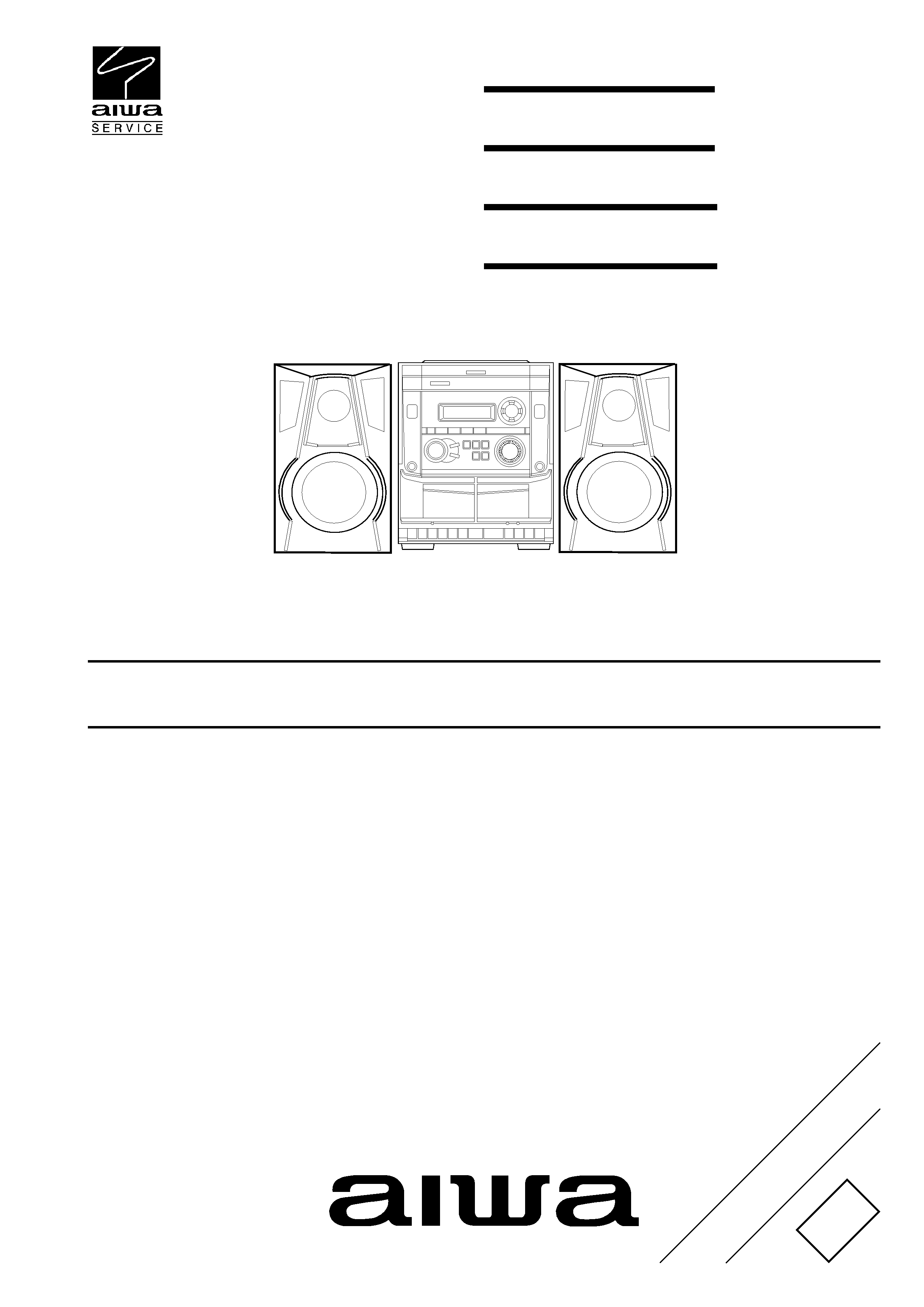 S/M Code No. 09-00C-428-8S1
Refer to MAIN C.B parts number for difference of the model.
8A-NF9-701-010 is for NSX-AJ17<U>/BL14<LH> VA model,
8A-NFA-646-010 is for NSX-AJ14<U>/BL14<HR,HS,HT,EZ,K,V>/BL16<EZ>
BASIC TAPE MECHANISM : ZZM-2 PR1NM
BASIC CD MECHANISM : AZG-1
This Service Manual contains information about the difference between
NSX-AJ14/AJ17/BL14/BL16 (VA Model) and NSX-AJ14/AJ17/BL14/BL16.
If requiring the other information see Service Manual as listed in Table 1 on
If requiring information about the CD mechanism, see Service Manual
of AZG-1 ZA3RNDM/ZA4RDC/ZA4RNDC, (S/M Code No. 09-001-335-3NC),
AZG-1 ZA7RNDC, (S/M Code No. 09-001-335-3NL).
---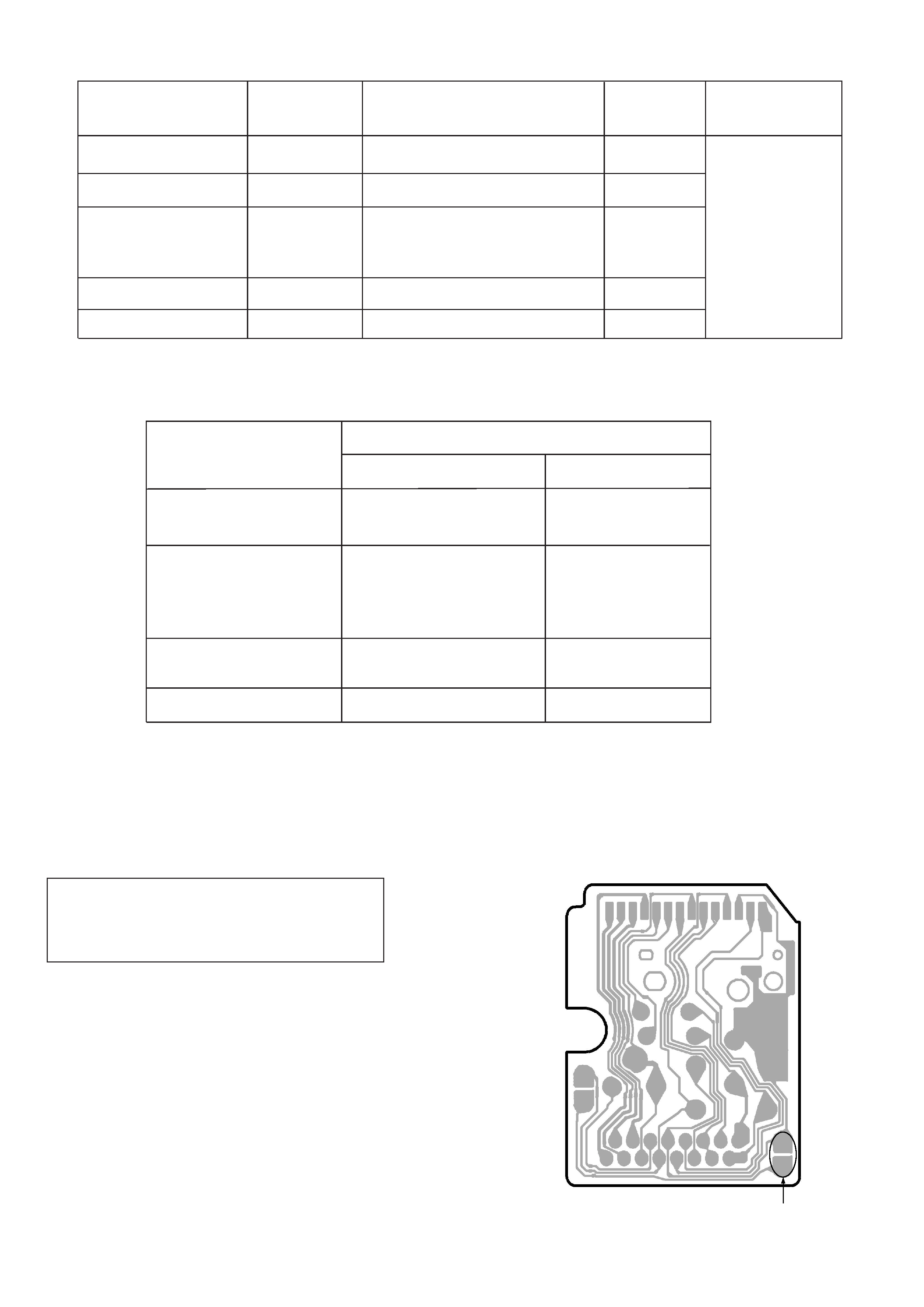 Precaution to replace Optical block (AZG-1 ZA7RNDC)
Body or clothes electrostatic potential could ruin
laser diode in the optical block. Be sure ground
body and workbench, and use care the clothes
1) After the connection, remove solder shown in
---

Design and specifications are subject to change without notice.
65 MHz to 74 MHz (10KHz step)
87.5 MHz to 108 MHz (50kHz step)
Usable sensitivity (IHF)<V> FM1:15.3 dBf
530 kHz to 1710 kHz (10 kHz step)
531 kHz to 1602 kHz (9 kHz step)
<SW tuner section><HT,HR>
14U: 10 W + 10 W (50 Hz - 20 kHz,
T.H.D. less than 1%, 6 ohms)
15 W + 15 W (1 kHz, T.H.D. less than
17U: 30 W + 30 W (50 Hz - 20 kHz,
T.H.D. less than 1%, 6 ohms)
40 W + 40 W (1 kHz, T.H.D. less than
LH: 28 W + 28 W (1 kHz, T.H.D. 1%,6
(1 kHz, T.H.D. 10%, 6 ohms)
(1 kHz, T.H.D. 1%, 6ohms)
(1 kHz, T.H.D. 10%, 6 ohms)
EZ,K,V: 12 W + 12 W (1 kHz/DIN 45500,
(1 kHz/DIN 45324, T.H.D. 10%, 6ohms)
EZ: DIN MUSIC POWER: 30 W + 30 W
Total harmonic distortion
14U,EZ,K,V: 0.1% (6 W, 1 kHz, 6 ohms,
17U: 0.1% (15 W, 1 kHz, 6 ohms,DIN
LH: 0.1% (14 W, 1 kHz, 6 ohms,DIN
HT,HS,HR: 0.1% (8 W, 1 kHz, 6 ohms,
HR,HS: MIC 1.8 mV(10 kohms)
accept speakers of 6 ohms or more
accept speakers of 8 ohms to 16 ohms
accepts headphones of 32 ohms or more
4 tracks, 2 channels stereo
Deck 1 : Recording/Playback head
Deck 2 : Playback head x 1
<Compact disc player section>
Semiconductor laser (l =780 nm)
NTSC/PAL color format (selectable)
<Speaker system>SX-NAJ11<U>
2 way, bass reflex (magnetic
120 mm (4
3
/
4
in.) cone type
20 mm (
13
/
16
in.) ceramic type
(8
3
/
4
x 12
7
/
8
x 8
3
/
8
in.)
<Speaker system>SX-NAJ17<17U>,SX-NBL11<HS,HR,14EZ,K,
HT,V>,SX-NBL16<16EZ>,SX-NBL17<LH>
2 way, bass reflex (magnetic shielded
EXCEPT U:120 mm cone type
U: 120 mm (4
3
/
4
in) cone type
U: 20 (
13
/
16
in) mm ceramic type
EXCEPT U: 20 mm ceramic type
EXCEPT U: 87 dB/W/m U: 86 dB/W/m
HR,HT,LH: 120 V/220-230 V/240 V AC
14U: With power-economizing
17U,LH: With power-economizing
With power-economizing mode on :
(10
1
/
4
x 12
7
/
8
x 13
3
/
4
in.)
14U: 4.8 kg (10 lbs 9 oz.)
---

ELECTRICAL MAIN PARTS LIST
C-IC,M38B57MCH-E236FP<EXCEPT 16EZ>
C-IC,M38B59MFH-E251FP<16EZ>
C-IC,NJM14558MD-TE2<LH,17U>
IC,NJM4558LD<EXCEPT LH,17U>
IC,LC72131 D-N<EXCEPT HS,HT,HR,V>
C-TR,2SA1235F<EXCEPT K,14EZ,16EZ,14U,V>
TR,KTC3199GR<EXCEPT 17U,14U>
TR,CC5551<EXCEPT K,14EZ,16EZ,14U,V>
TR,2SD1933<EXCEPT LH,17U>
TR,2SB1342<EXCEPT LH,17U>
TR,DTC144ES<EXCEPT LH,17U>
TR,2SC2714 (0.1W)<LH,17U>
TR,2SC535(B/C)<EXCEPT LH,17U>
TR,DTA114YS<EXCEPT LH,17U>
TR,DTA114ES<HT,K,14EZ,16EZ,HR>
TR,2SC2001K<HT,K,14EZ,16EZ,HR>
FET,2SK439E/F<HT,K,14EZ,16EZ,HR>
DIODE,1N5393-GOODARK<14U>
DIODE,1N5402GW(F20)<LH,17U>
DIODE,RL203 GW<EXCEPT 17U,14U>
VARI-CAP,SVC 348(S/T)<HT,HR>
CHIP CAPACITOR,0.1-25<LH,17U>
CHIP CAPACITOR,0.1-25<LH,17U>
CHIP CAPACITOR,0.1-25<LH,17U>
CHIP CAPACITOR,0.1-25<LH,17U>
CAP,TC U 0.1-50 Z F<EXCEPT LH,17U>
CHIP CAPACITOR,0.1-25<LH,17U>
CAP,TC U 0.1-50 Z F<EXCEPT LH,17U>
CHIP CAPACITOR,0.1-25<LH,17U>
CAP,TC U 0.1-50 Z F<EXCEPT LH,17U>
CHIP CAPACITOR,0.1-25<LH,17U>
CAP,TC U 0.1-50 Z F<EXCEPT LH,17U>
CHIP CAPACITOR,0.1-25<LH,17U>
CAP,E 2200-50 M 85 IVLELON<LH,17U>
CAP,E 2200-50 M 85 IVLELON<LH,17U>
CAP,E 3300-25M85IVLELON<LH,17U,14U>
CAP,E3300-35M85IV<HT,K,14EZ,16EZ,V>
CAP,E 3300-35 M SMG<HS,HR>
CAP,E 2200-25 M 85IV<LH,17U,14U>
CAP,E2200-35M85IV<HT,K,14EZ,16EZ,V>
CAP,E 2200-35 M SMG<HS,HR>
CAP, ELECT 220-25V<LH,17U>
CAP, ELECT 33-50V<K,14EZ,16EZ,14U,V>
CAP,E 22-50M 11L SME<HS,HT,HR>
CAP, ELECT 100-50V<LH,17U>
CAP, ELECT 22-50<EXCEPT LH,17U>
CAP, ELECT 100-25V<EXCEPT LH,17U>
CAP, ELECT 100-50V<LH,17U>
CAP, CHIP 0.01 DM<LH,17U>
CAP,TC U 0.01-50 K B<EXCEPT LH,17U>
CAP, ELECT 100-50V<LH,17U>
CAP, ELECT 47-16V<EXCEPT LH,17U>
CAP,TC U 0.01-50 Z F<EXCEPT LH,17U>
CAP, ELECT 100-25V<EXCEPT LH,17U>
CAP, ELECT 47-16V<EXCEPT LH,17U>
CAP, ELECT 47-25V<LH,17U>
CHIP CAPACITOR,0.1-25<LH,17U>
C-CAP,S 2700P-50 B<LH,17U>
CAP,TC U 3900P-50 K B<EXCEPT LH,17U>
C-CAP,S 2700P-50 B<LH,17U>
CAP,TC U 3900P-50 K B<EXCEPT LH,17U>
CAP,TC U 4700P-50 K B<EXCEPT LH,17U>
CAP,TC U 4700P-50 K B<EXCEPT LH,17U>
CAP, ELECT 3.3-50V<EXCEPT LH,17U>
CAP, ELECT 4.7-50V<LH,17U>
CAP, ELECT 3.3-50V<EXCEPT LH,17U>
CAP, ELECT 4.7-50V<LH,17U>
CAP,TCU220P-50J <K,HS,14EZ,16EZ>
CAP,TC U220P-50J<K,HS,14EZ,16EZ>
CAP, ELECT 22-50<EXCEPT LH,17U>
CAP, ELECT 22-50<EXCEPT LH,17U>
C-CAP,S 220P-100 J CH<LH,17U>
CAP,TC U 220P-50 J CH<EXCEPT LH,17U>
C-CAP,S 220P-100 J CH<LH,17U>
CAP,TC U 220P-50 J CH<EXCEPT LH,17U>
CAP,TC U 0.1-50 Z F<EXCEPT LH,17U>
CAP,TC U 0.1-50 Z F<EXCEPT LH,17U>
CAP, CHIP 0.01 DM<LH,17U>
CAP,TC U 0.01-50 KB<EXCEPT LH,17U>
---

CAP, CHIP 0.01 DM<LH,17U>
CAP,TC U 0.01-50KB<EXCEPT LH,17U>
CAP,TC U 0.01-50KB<K,14EZ,16EZ,V>
CAP,TC U 0.01-50KB<K,14EZ,16EZ,V>
CAP,TC U 0.1-50 Z F<EXCEPT LH,17U>
CAP,TC U 0.1-50 Z F<EXCEPT LH,17U>
CAP,TC U 0.1-50 Z F<EXCEPT LH,17U>
CAP,TC U 0.1-50 Z F<EXCEPT LH,17U>
C-CAP,S 0.015-50 J B<LH,17U>
CAP,TC U 0.01-50 KB<K,14EZ,16EZ>
C-CAP,S 0.015-50 J B<LH,17U>
CAP,TC U 0.01-50 KB<K,14EZ,16EZ>
CAP, CHIP 0.01 DM<LH,17U>
CAP,TC U 0.01-50 KB<K,14EZ,16EZ>
CAP, CHIP 0.01 DM<LH,17U>
CAP,TC U 0.01-50 KB<K,14EZ,16EZ>
CAP,TC U 4700P-50 K B<EXCEPT LH,17U>
C-CAP,S 2200P-50 B<LH,17U>
CAP,TC U 2200P-50 K B<EXCEPT LH,17U>
CAP,TC U 0.1-50 ZF<K,14EZ,16EZ>
CHIP CAPACITOR,0.1-25<LH,17U>
CAP, ELECT 10-50V<LH,17U>
CAP, ELECT 10-50V<LH,17U>
CAP,CHIP S B1200P<LH,17U>
CAP,TC U 1200P-50 K B<EXCEPT LH,17U>
CAP,CHIP S B1200P<LH,17U>
CAP,TC U 1200P-50 K B<EXCEPT LH,17U>
CAP,TC U 1000P-50 KB<EXCEPT LH,17U>
CAP,TC U 1000P-50 KB<EXCEPT LH,17U>
CAP,TC U 0.022-50 K B<EXCEPT LH,17U>
C-CAP,S 47P-50 CH<LH,17U>
CAP,TC U 27P-50 J CH<K,14EZ,16EZ>
CAP,TC U 47P-50 J CH<HS,HT,14U,HR,V>
C-CAP,S 47P-50 CH<LH,17U>
CAP,TC U 27P-50 J CH<K,14EZ,16EZ>
CAP,TC U 47P-50 J CH<HS,HT,14U,HR,V>
C-CAP,S 0.068-16VRK<LH,17U>
CAP,TC U 0.068-50 K B<EXCEPT LH,17U>
C-CAP,S 0.068-16VRK<LH,17U>
CAP,TC U 0.068-50 K B<EXCEPT LH,17U>
CAP,TC U 6800P-50 K B<EXCEPT LH,17U>
CAP,TC U 6800P-50 K B<EXCEPT LH,17U>
CAP,TC U 0.1-50 ZF<K,14EZ,16EZ>
CAP,TC U 0.1-50 ZF<K,14EZ,16EZ>
CAP,TC U 0.1-50 ZF<K,14EZ,16EZ>
CAP,TC U 0.1-50 ZF<K,14EZ,16EZ>
CAP,TC U 0.022-50 K B<EXCEPT LH,17U>
CAP,TC U 0.1-50 Z F<EXCEPT LH,17U>
CHIP CAPACITOR,0.1-25<LH,17U>
CAP,TC U 0.1-50 ZF<K,14EZ,16EZ>
CAP,TC U 0.01-50 KB<K,14EZ,16EZ>
CAP,TC U 470P-50 J CH<EXCEPT LH,17U>
CAP,TC U 82P-50 J CH<EXCEPT LH,17U>
CHIP CAPACITOR,82P(J)<LH,17U>
CAP,TC U 82P-50 J CH<EXCEPT LH,17U>
CHIP CAPACITOR,82P(J)<LH,17U>
CAP, CHIP 0.01 DM<LH,17U>
CAP,TC U 0.01-50 K B<EXCEPT LH,17U>
CAP, CHIP 0.01 DM<LH,17U>
CAP,TC U 0.01-50 K B<EXCEPT LH,17U>
CAP, CHIP 0.01 DM<LH,17U>
CAP,TC U 0.01-50 K B<EXCEPT LH,17U>
CAP, CHIP 0.01 DM<LH,17U>
CAP,TC U 0.01-50 K B<EXCEPT LH,17U>
C-CAP,S 2200P-50 B<LH,17U>
CAP,TC U 2200P-50 K B<EXCEPT LH,17U>
C-CAP,S 2200P-50 B<LH,17U>
CAP,TC U 2200P-50 K B<EXCEPT LH,17U>
C-CAP,S 2700P-50 B<LH,17U>
CAP,TC U 2700P-50 K B<EXCEPT LH,17U>
C-CAP,S 2700P-50 B<LH,17U>
CAP,TC U 2700P-50 K B<EXCEPT LH,17U>
C-CAP,S 2700P-50 B<LH,17U>
CAP,TC U 2700P-50 K B<EXCEPT LH,17U>
CAP, CHIP 0.01 DM<LH,17U>
CAP,TC U 0.01-50 K B<EXCEPT LH,17U>
CAP, CER 1000P-50V<K,14EZ,16EZ,14U,V>
CAP,TC U 560P-50 J CH<K,14EZ,16EZ,V>
CAP,TC U 0.1-50 Z F<EXCEPT LH,17U>
CHIP CAPACITOR,0.1-25<LH,17U>
C-CAP,S 390P-50 CH<LH,17U>
CAP,TC-U 390P-50 B<EXCEPT LH,17U>
C-CAP,S 390P-50 CH<LH,17U>
CAP,TC-U 390P-50 B<EXCEPT LH,17U>
CAP,CHIP S B1200P<LH,17U>
CAP,TC U 1200P-50 K B<EXCEPT LH,17U>
CAP,CHIP S B1200P<LH,17U>
CAP,TC U 1200P-50 K B<EXCEPT LH,17U>
C-CAP,S 0.015-50 B<LH,17U>
CAP,TC U 0.015-50V K B<EXCEPT LH,17U>
C-CAP,S 0.015-50 B<LH,17U>
CAP,TC U 0.015-50V K B<EXCEPT LH,17U>
CAP,TC-U 10P-50 CH<EXCEPT LH,17U>
CAP, ELECT 220-10V<EXCEPT LH,17U>
CAP, ELECT 220-25V<LH,17U>
CAP, ELECT 220-10V<EXCEPT LH,17U>
CAP, ELECT 220-25V<LH,17U>
C-CAP,S 0.1-25 K B<LH,17U>
CAP,TC U 0.1-50KB<EXCEPT LH,17U>
CAP,TC U 0.1-50 K B<EXCEPT LH,17U>
CAP,TC U 0.1-50 K B<EXCEPT LH,17U>
C-CAP,S 100P-50 CH<LH,17U>
CAP,TC U 100P-50 J CH<K,14EZ,16EZ>
C-CAP,S 100P-50 CH<LH,17U>
CAP,TC U 100P-50 J CH<K,14EZ,16EZ>
CAP, CHIP 0.01 DM<LH,17U>
CAP,TC U 0.01-50 K B<EXCEPT LH,17U>
CHIP CAP 1000P<K,14EZ,16EZ,14U>
---