STEREO CAR CASSETTE RECEIVER
RADIO-CASSETTE ESTEREOFONICO PARA AUTOMOVIL
For your convenience, record the model number and
serial number (you will find them on the right side of
your set) in the space provided below. Please refer to
them when you contact your AIWA dealer in case of
---

---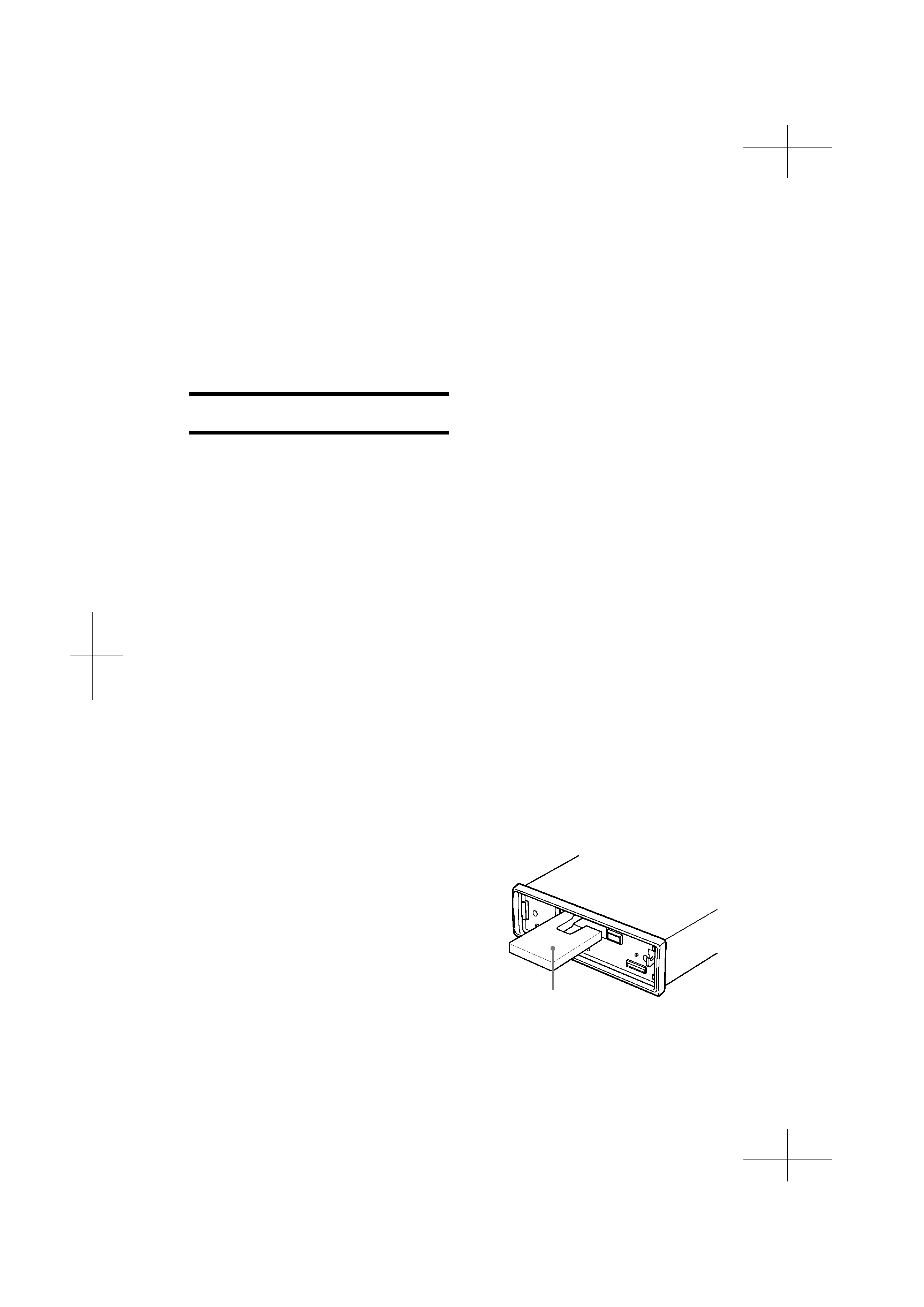 Thank you for your purchasing this AIWA product.
To optimize the performance of this unit, please
read through this manual carefully.
In addition to this operating instructions manual,
be sure to refer to the separate installation and
connections manuals as well.
· This unit is designed to be operated on a 12-volt
DC negative-ground electrical system only.
· To prevent short-circuiting, disconnect the
negative car battery terminal until the unit has
been mounted and connected completely.
· When replacing the fuse, be sure to use one
whose amperage rating is identical. Use of a
fuse of higher amperage may cause serious
· Keep screwdrivers, etc. and other metallic or
magnetic objects away from the playback head.
· When your car was parked in direct sunlight
resulting in a considerable rise in temperature
inside the car, allow the unit to cool off before
· Keep the volume at such a level that you can
hear outside warning sounds (horns, sirens,
Do NOT expose cassettes to direct sunlight,
extremely high or cold temperature or moisture.
Keep cassettes away from equipment with built-
in magnets to avoid unwanted noise or loss of
Do NOT touch the tape of a cassette, as any dirt
or dust will contaminate the heads.
Be sure to remove any cassette from the unit if
This equipment has been tested and found to
comply with the limits for a Class B digital device,
pursuant to Part 15 of the FCC Rules. These
limits are designed to provide reasonable
protection against harmful interference in a
residential installation.
This equipment generates, uses, and can radiate
radio frequency energy and, if not installed and
used in accordance with the instructions, may
communications. However, there is no guarantee
that interference will not occur in a particular
installation. If this equipment does cause harmful
interference to radio or television reception, which
can be determined by turning the equipment off
and on, the user is encouraged to try to correct
the interference by one or more of the following
-- Reorient or relocate the receiving antenna.
-- Increase the separation between the
-- Connect the equipment into an outlet on
circuit different from that to which the
-- Consult the dealer or an experienced radio/
Modifications or adjustments to this product, which
are not expressly approved by the manufacturer,
may void the user's right or authority to operate
Caution on the transit protection pad
The unit is shipped with a transit protection pad
in the cassette compartment.
before operating the unit.
---

PARTS AND CONTROLS .................................................................................................................. 3
DETACHING AND ATTACHING THE FRONT PANEL ...................................................................... 4
SETTING THE CLOCK ....................................................................................................................... 5
RADIO OPERATION .......................................................................................................................... 5
PRESETTING STATIONS .................................................................................................................. 6
MY INFORMATION SWITCH ............................................................................................................. 8
TAPE PLAYBACK ............................................................................................................................... 9
SOUND ADJUSTMENTS ................................................................................................................. 10
CONNECTING A PORTABLE CD/MD/MP3 PLAYER OR OTHER EQUIPMENT ........................... 12
SETTING THE BEEP TONE ............................................................................................................. 13
MAINTENANCE ................................................................................................................................ 13
SPECIFICATIONS ............................................................................................................................ 14
---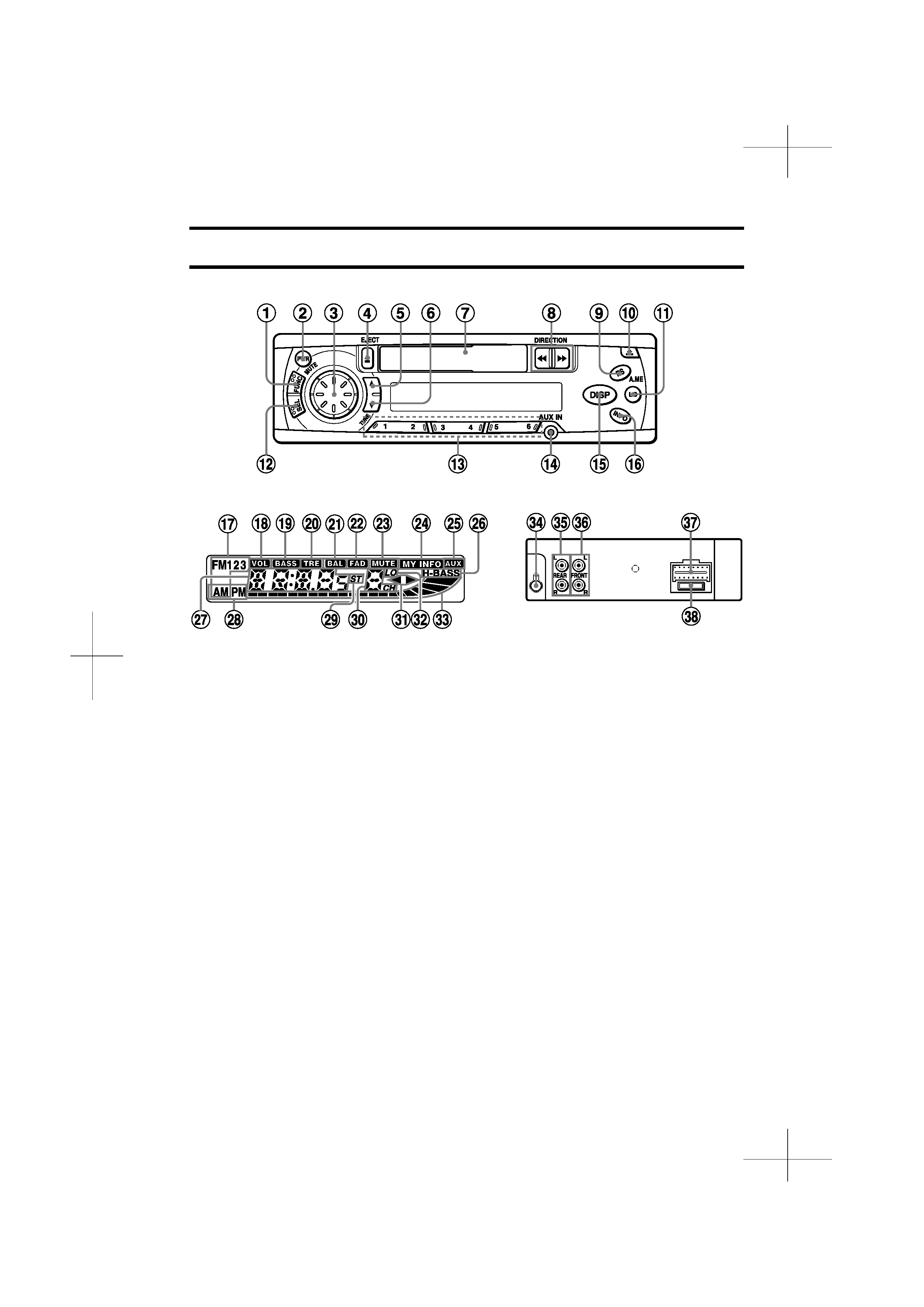 2 PWR (power on/off)/MUTE button
9 A.ME (Auto Memory)/PS (Preset Scan)
# Preset station buttons (1 ­ 6)
$ AUX IN jack (3.5-mm dia.)
^ INFO (My Information) button
- BAL (balance) indicator
w MY INFO (My Information) indicator
r H-BASS (High BASS) indicator
y AM/PM (clock) indicator
o d (tape direction) indicators
s Power supply/speaker connector
---