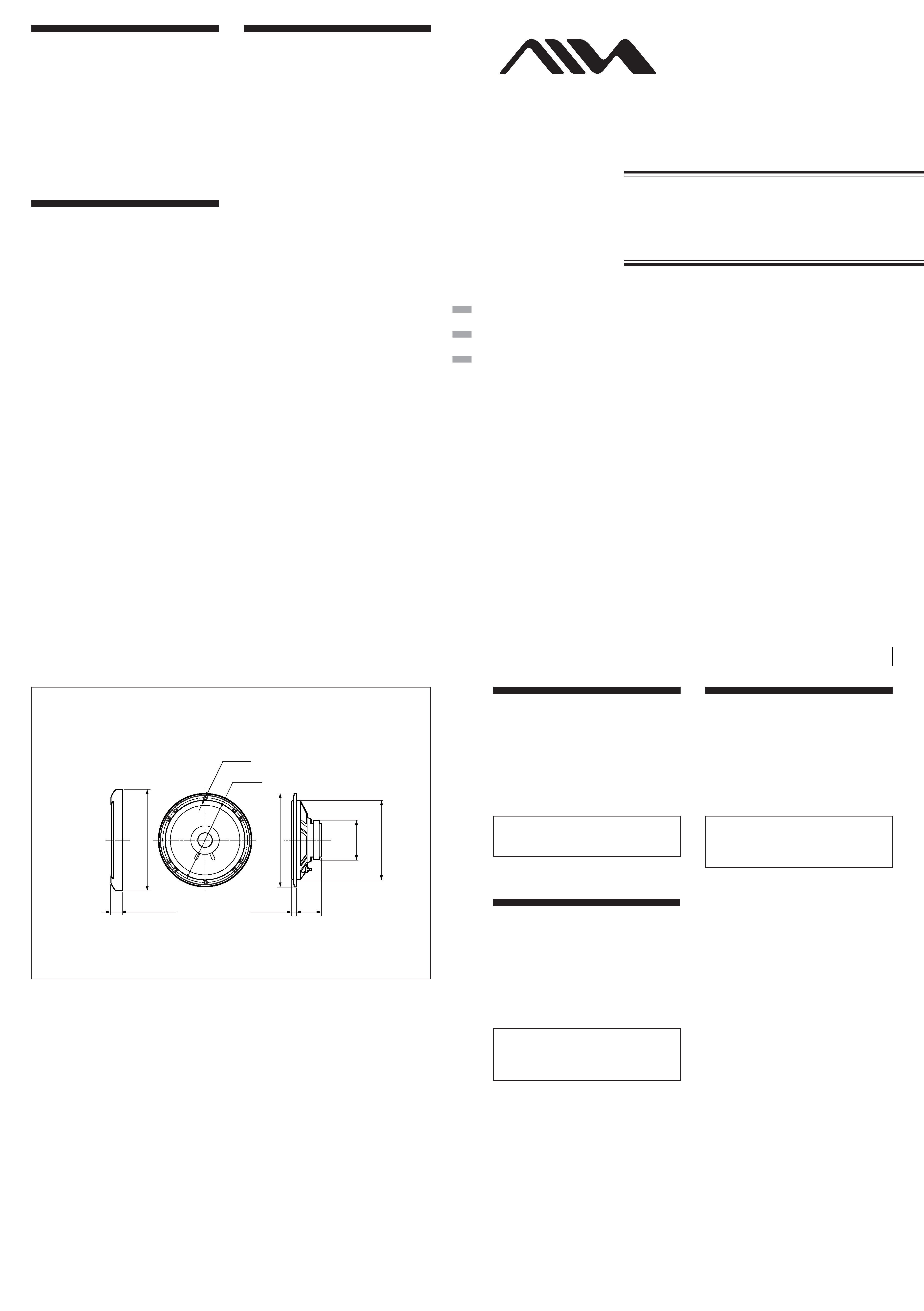 · Donotcontinuouslyusethespeakersystem
beyondthemaxinputpowerhandling
· Keeprecordedtapes,watches,andpersonal
creditcardsusingmagneticcodingawayfrom
thespeakersystemtoprotectthemfrom
damagecausedbythemagnetsinthe
Ifyoucannotfindanappropriatemounting
location,consultyourcardealeroryour
nearestSonydealerbeforemounting.
Maximum input power 130 W
Approx. 460 g per speaker
Design and specifications are subject to change
· Eviteutilizardeformacontinuadaelsistema
dealtavocesconunapotenciaquesobrepase
sucapacidaddepotenciadeentradamáxima.
· Mantengaalejadosdelsistemadealtavoces
lascintasgrabadas,relojesotarjetasde
créditoconcodificaciónmagnéticaparaevitar
dañosqueposiblementecausaríaelimánde
Sinopuedeencontrarunemplazamiento
apropiadoparaelmontage,consulteal
distribuidordesuautomóviloalproveedor
· Nefaitespasfonctionnerencontinule
systèmedehaut-parleursàunepuissance
supérieureàsapuissancedesortiemaximale.
· Garderlesbandesenregistrées,lesmontreset
lescartesdecréditutilisantuncode
magnétiqueàl'écartdusystèmedehaut-
parleurspourévitertoutdommagecausépar
lesaimantsdeshaut-parleurs.
Sil'onnepeuttrouverunemplacement
adéquatpourl'installation,prièrede
consulterleconcessionnaireSonyleplus
Graves: 16 cm, tipo cono de
Potencia máxima de entrada
Respuesta en frecuencia 40 ­ 22 000 Hz
Diseño y especificaciones sujetos a cambio sin
Puissance d'entrée maximale
Env. 460 g par haut-parleur
La conception et les spécifications sont modifiables
© 2004 Sony Corporation
Printed in Thailand
---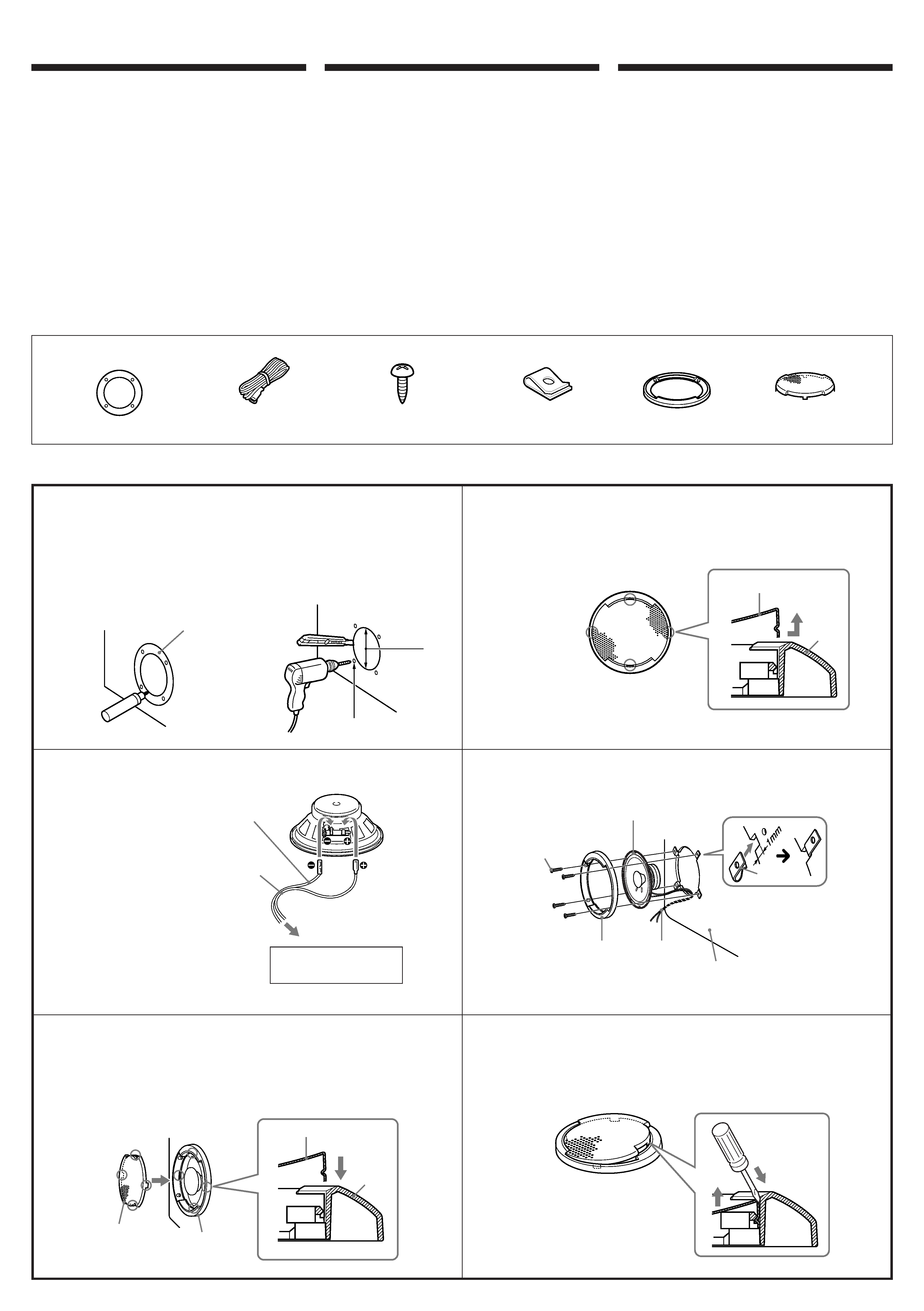 Mounting from the car interior
Mark the 4 bolt holes and make them 3.3 mm* in diameter.
Marquer les 4 orifices des boulons et percer des trous de 3,3 mm* de diamètre.
Marque los orificios de los 4 pernos y hágalos de 3,3 mm* de diámetro.
How to remove the grille net
Comment retirer le filet de la grille
Cómo extraer la red de la rejilla
Press and insert the edges of the grille net.
Pousser et insérer les bords du filet de la grille.
Presione e inserte los extremos de la red de la rejilla.
Retirez le filet de la grille.
Extraiga la red de la rejilla.
* White cord -- Left speaker
Grey cord -- Right speaker
* Cordon blanc -- Haut-parleur gauche
Cordon gris -- Haut-parleur droit
* Cable blanco -- Altavoz izquierdo
Cable gris -- Altavoz derecho
Amplificateur de puissance, etc.
Amplificador de potencia, etc.
A depth of at least 43 mm is required for flush mounting. Measure the
depth of the area where you are to mount the speaker, and ensure that the
speaker is not obstructing any other components of the car. Keep the
following in mind when choosing a mounting location:
· Make sure that nothing is obstructing around the mounting location of
the door (front or rear) where you are to mount the speaker.
· A hole for mounting may already be cut out of the inner panel of the
door (front or rear). In this case, you need to modify the board only.
· If you are to mount this speaker system in the door (front or rear), make
sure that the speaker terminals, frame or magnet do not interfere with
any inner parts, such as the window mechanism in the door (when you
open or close the window), etc.
Also make sure that the speaker grille does not touch any inner fittings,
such as the window cranks, door handles, arm rests, door pockets, lamps
Para montar el altavoz de modo que quede empotrado en la ubicación de
montaje se requiere una profundidad mínima de 43 mm. Mida la
profundidad del área donde desee montar el altavoz y asegúrese de que no
obstruya ningún otro componente del automóvil. Cuando elija la ubicación
de montaje, recuerde lo siguiente:
· Asegúrese de que no haya ningún objeto cerca de la puerta (delantera o
trasera) donde desea montar el altavoz que pueda impedir su instalación.
· Es posible que en el panel interno de la puerta (delantera o trasera) ya
exista un orificio para montar el altavoz. En este caso, sólo deberá
· Si desea montar este sistema de altavoces en la puerta (delantera o
trasera), asegúrese de que los terminales, el marco o el imán del altavoz
no interfieran con los componentes internos como, por ejemplo, el
mecanismo de la ventanilla de la puerta (al subir o bajar la ventanilla),
Asegúrese también de que la rejilla del altavoz no esté en contacto con
accesorios internos como, por ejemplo, los picaportes de las ventanillas y
las puertas, los reposabrazos, los compartimentos para guardar objetos
situados en las puertas, las luces o los asientos etc.
Montaje desde el interior del automóvil
Une profondeur d'au moins 43 mm est nécessaire pour un montage
encastré. Mesurez la profondeur de l'emplacement où vous souhaitez
installer le haut-parleur et assurez-vous que ce dernier ne gênera aucun
des autres éléments du véhicule. Veuillez toujours garder les remarques
suivantes en mémoire lorsque vous choisissez un emplacement pour
· Vérifiez qu'il n'existe aucun obstacle autour de l'emplacement où vous
allez installer le haut-parleur dans la portière (avant ou arrière).
· Un orifice peut déjà avoir été pratiqué dans le panneau interne de la
portière (avant ou arrière). En pareil cas, il ne vous reste plus qu'à
· Si vous installez ce système de haut-parleurs dans la portière (avant ou
arrière), vérifiez que les bornes, le bord ou l'aimant des haut-parleurs ne
gênent pas les éléments internes comme le mécanisme de lève-vitres de
la portière (lorsque vous baissez ou remontez la vitre), etc.
Vérifiez également que la grille du haut-parleur ne touche aucun des
équipements internes comme les manivelles des vitres, les poignées de
portières, les accoudoirs, les vide-poches des portières, les lampes ou les
Montage depuis l'intérieur de l'habitacle
---