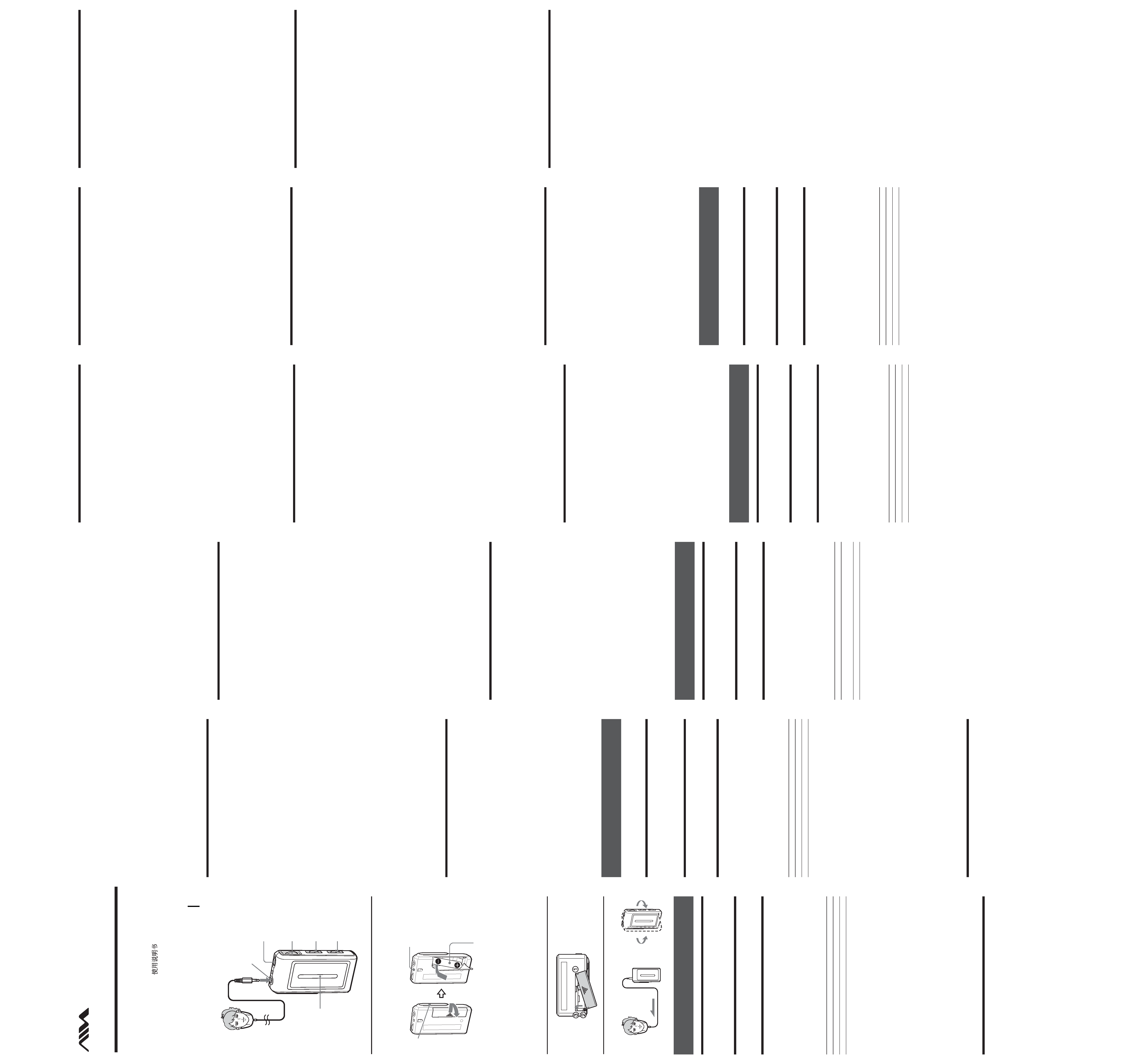 Sony Corporation © 2003 Printed in China
Before operating the radio, please read these instructions thoroughly and
retain them for future reference.
You can enjoy a powerful bass sound using the "S-BASS" system.
1
Open the battery compartment lid at the rear of the radio.
2
Insert one R03 (size AAA) battery (not supplied) with the )
and ( marks aligned correctly.
3
Close the battery compartment lid.
Battery life (approx. hours)
Using Sony alkaline LR03 (size AAA) battery
Using Sony R03 (size AAA) battery
*Measured by JEITA (Japan Electronics and Information Technology
Industries Association) standards. The actual battery life may vary
depending on the circumstance of the unit.
When to replace the battery
Replace the battery when the sound becomes weak or distorted. Remove
the old battery and insert a new one.
· Do not charge the dry battery.
· Do not carry the dry battery with coins or other metallic objects. It can
generate heat if the positive and negative terminals of the battery are
accidentally contacted by a metallic object.
· When you are not going to use the unit for a long time, remove the
battery to avoid damage from battery leakage and corrosion.
If the battery compartment lid comes off
The battery compartment lid is designed to come off when opened with
excessive force. To put it back on, see the illustration.
1 Insert the right hook of the lid into the right hole in the unit.
2 Hang the left hook on the left part of the compartment where the lid fits.
3 Slide the left hook toward the left hole in the unit.
1
Connect the supplied stereo earphones to \ (stereo
2
Set POWER to ON to turn on the radio.
4
Turn TUNING to tune in to a station.
*You will hear the sound in stereo only if the program of the station you
are tuned into is in stereo.
Insert the ( side of the battery first.
Introduisez d'abord le pôle négatif ( de la pile.
Legen Sie die Batterie mit dem Minuspol ( zuerst ein.
Inserte el polo negativo ( de la pila primero.
Inserire dapprima il lato ( della pila.
To Improve the Reception (See Fig. C)
Extend the stereo earphones cord which functions as an FM antenna.
The ferrite bar antenna is built into the unit. Rotate the unit horizontally
If you hold or place the radio near a pack of cigarettes, the wrapping foil
may interfere with the AM signal and noise may occur.
If this happens, keep the radio away from the pack of cigarettes.
To Enjoy Powerful Bass Sound
Set POWER to S-BASS to emphasize bass sound.
Do not force to fix the unit to the thick belt or other thick materials with
The clip may be bent or deformed.
·Operate the unit only on 1.5 V DC with one R03 (size AAA) battery.
· The nameplate indicating operating voltage, etc. is located on the rear
·Avoid exposure to extreme temperature, direct sunlight, moisture, sand,
dust, or mechanical shock. Never leave the unit in a car parked in the
· Should any solid object or liquid fall into the unit, remove the battery
and have the unit checked by a qualified personnel before operating it
· In vehicles or in buildings, radio reception may be difficult or noisy. Try
· To clean the casing, use a soft cloth dampened with a mild detergent
· This product is not designed to be splash-resistant, so you should take
care to use the unit when raining, snowing or in a water-splash place.
Notes on Stereo Earphones
Do not use stereo earphones while driving, cycling, or operating any
motorized vehicle. It may create a traffic hazard and is illegal in some
areas. It can also be potentially dangerous to play your headsets at high
volume while walking, especially at pedestrian crossings. You should
exercise extreme caution or discontinue use in potentially hazardous
Preventing hearing damage
Avoid using stereo earphones at high volume. Hearing experts advise
against continuous, loud and extended play. If you experience a ringing
in your ears, reduce volume or discontinue use.
Keep the volume at a moderate level. This will allow you to hear outside
sounds and to be considerate to the people around you.
If there is lightning when you are using the unit, take off the stereo
If you have any questions or problems concerning your unit, please
consult your nearest Sony dealer.
AM: 526.5 - 1 606.5 kHz (Italy)/530 - 1 605 kHz (Other countries)
\ (stereo earphones) jack (ø 3.5 mm stereo minijack) load impedance
4 mW + 4 mW (at 10 % harmonic distortion)
1.5 V DC, one R03 (size AAA) battery
× 79 × 14.8 mm (w/h/d) (Approx. 1
9
/
16
× 3
1
/
8
×
19
/
32
inches) not incl. projecting parts and controls
× 79.8 × 15.1 mm (w/h/d) (Approx. 1
3
/
4
× 3
1
/
4
×
5
/
8
inches) incl. projecting parts and controls
Approx. 54 g (1.9 oz) incl. a battery and stereo earphones
Design and specifications are subject to change without notice.
A pleine puissance, l'écoute prolongée du baladeur peut endommager
l'oreille de l'utilisateur.
Avant de faire fonctionner la radio, lisez attentivement toutes ces
instructions, et conservez-les pour pouvoir vous y reporter
Vous pouvez appréciez des graves puissantes grâce au système
1
Ouvrez le couvercle du logement de la pile situé à l'arrière de
2
Introduisez une pile R03 (taille AAA) (non fournie) en
veillant à aligner correctement les polarités ) et (.
3
Fermez le couvercle du logement de la pile.
Durée de vie de la pile (durée approximative en heures)
Avec la pile Sony alcaline LR03 (taille AAA)
Avec la pile Sony R03 (taille AAA)
*Mesurée suivant les normes de la JEITA (Japan Electronics and
Information Technology Industries Association). La durée de vie
effective de la pile peut varier en fonction des circonstances d'utilisation
A quel moment remplacer la pile
Remplacez la pile dès que le son s'affaiblit ou est déformé. Retirez
l'ancienne pile et introduisez une pile neuve.
Remarques à propos de la pile
· Ne rechargez pas la pile sèche.
· Ne transportez pas la pile sèche avec des pièces de monnaie ou des
objets métalliques. En effet, ceci peut générer de la chaleur si les bornes
positive et négative de la pile sont mises accidentellement en contact
avec un objet métallique.
· Si vous vous apprêtez à ne pas utiliser l'appareil pendant une période
prolongée, retirez la pile pour éviter toute fuite ou corrosion de celle-ci.
Si le couvercle du logement de la pile se détache
Le couvercle du logement de la pile est conçu pour se détacher si la
traction exercée lors de l'ouverture est trop forte. Pour le remettre en
place, reportez-vous à l'illustration.
1 Insérez le crochet droit du couvercle dans l'orifice droit de l'appareil.
2 Placez le crochet gauche dans la partie gauche du logement, à l'endroit
où le couvercle s'enclenche.
3 Faites glisser le crochet gauche dans l'orifice gauche de l'appareil.
Fonctionnement de la radio
1
Raccordez les écouteurs stéréo fournis à la prise \ (écouteurs
2
Réglez POWER sur ON pour allumer la radio.
3
Réglez BAND sur FM* ou AM.
4
Tournez TUNING pour trouver une station.
* Le son émis est en stéréo uniquement si le programme de la station sur
laquelle vous êtes syntonisé est en stéréo.
Pour améliorer la réception (voir Fig. C)
Dépliez le cordon des écouteurs stéréo qui tient lieu d'antenne FM.
L'antenne en ferrite est intégrée dans l'appareil. Faites pivoter l'appareil
horizontalement pour obtenir une réception optimale.
Si vous tenez ou déposez la radio à proximité d'un paquet de cigarettes, le
papier d'emballage métallique du paquet peut interférer avec le signal
AM et entraîner des interférences.
Si ce phénomène se produit, tenez la radio à distance du paquet de
Pour écouter des graves puissantes
Réglez POWER sur S-BASS pour mettre les graves en relief.
Ne forcez pas pour fixer l'appareil à une ceinture épaisse ou d'autres
matériaux épais avec la pince.
La pince pourrait se plier ou se déformer.
·Utilisez l'appareil uniquement sur 1,5 V cc avec une pile R03 (taille
· La plaque signalétique indiquant la tension d'utilisation, etc., est située
· Evitez toute exposition à une température extrême, au rayonnement
direct du soleil, au sable et à la poussière, ainsi que tout choc
mécanique. Ne laissez jamais l'appareil dans un véhicule garé en plein
· En cas de chute d'un objet ou d'un liquide dans l'appareil, retirez la pile
et faites vérifier l'appareil par une personne qualifiée avant de le
·A l'intérieur des véhicules ou dans les bâtiments, la réception radio peut
s'avérer difficile ou parasitée. Approchez-vous d'une fenêtre pour
· Pour nettoyer le boîtier, employez un chiffon non pelucheux humidifié
à l'aide d'une solution détergente douce.
·Cet appareil n'est pas résistant aux projections d'eau, aussi devez-vous
faire particulièrement attention en cas de pluie, de neige ou dans un
endroit soumis à des projections d'eau.
Remarques à propos des écouteurs stéréo
N'utilisez pas les écouteurs stéréo au volant d'une voiture ou de tout
autre véhicule à moteur ou à vélo. Ceci peut constituer un danger pour la
circulation et est interdit dans certaines régions. Il peut s'avérer aussi
potentiellement dangereux d'utiliser vos écouteurs à volume élevé en
marchant, notamment sur les passages pour piétons. Soyez
particulièrement prudent ou cessez d'utiliser l'appareil dans toutes les
situations potentiellement dangereuses.
Protection du système auditif
Evitez d'utiliser les écouteurs stéréo à un volume élevé. Les experts du
système auditif conseillent de ne pas utiliser l'appareil de façon continue
et à volume très élevé. Si vos oreilles bourdonnent, réduisez le volume ou
cessez d'utiliser l'appareil.
Réglez le volume à un niveau modéré. Ceci vous permettra d'entendre les
sons extérieurs et de respecter les personnes qui vous entourent.
En cas d'orage, lorsque vous utilisez l'appareil, retirez immédiatement les
Si vous avez des questions ou des problèmes à propos de votre appareil,
consultez le revendeur Sony le plus proche.
AM: 526,5 - 1 606,5 kHz (Italie)/530 - 1 605 kHz (autres pays)
Prise \ (écouteurs stéréo) (mini-prise stéréo ø 3,5 mm) impédance de
4 mW + 4 mW (pour une distorsion harmonique de 10 %)
1,5 V cc, une pile R03 (taille AAA)
× 79 × 14,8 mm (l/h/p) (soit env. 1
9
/
16
× 3
1
/
8
×
19
/
32
po)
parties saillantes et commandes exclues
× 79,8 × 15,1 mm (l/h/p) (soit env. 1
3
/
4
× 3
1
/
4
×
5
/
8
po)
parties saillantes et commandes incluses
Env. 54 g (1,9 oz), y compris une pile et les écouteurs stéréo
Pour les utilisateurs en France
En cas de remplacement du casque/écouteurs, référez-vous au modèle de
casques/écouteurs adaptés à votre appareil et indiqué ci-dessous.
La conception et les spécifications sont susceptibles d'être modifiées sans
Lesen Sie vor der Inbetriebnahme diese Anleitung sorgfältig durch, und
bewahren Sie sie zum späteren Nachschlagen gut auf.
Mit dem ,,S-Bass"-System können Sie die Bässe wirkungsvoll anheben.
1
Öffnen Sie das Batteriefach an der Rückseite des Radios.
2
Legen Sie eine R03-Batterie (Größe AAA) (nicht mitgeliefert)
polaritätsrichtig ein, d. h. die Markierungen ) und (
müssen korrekt ausgerichtet sein.
3
Schließen Sie den Batteriefachdeckel.
Betriebsdauer der Batterien (ungefähr Stunden)
Mit einer LR03-Alkalibatterie (Größe AAA)
Mit einer R03-Batterie (Größe AAA) von Sony
*Gemessen nach JEITA-Standards (Japan Electronics and Information
Technology Industries Association). Die Lebensdauer der Batterie kann
je nach Gebrauch des Geräts variieren.
Wann muss die Batterie ausgetauscht werden?
Tauschen Sie die Batterie aus, wenn der Ton leiser wird oder verzerrt ist.
Nehmen Sie die verbrauchte Batterie heraus, und legen Sie eine neue ein.
· Versuchen Sie nicht, Trockenbatterien aufzuladen.
· Wenn Sie Trockenbatterien bei sich tragen, halten Sie sie von Münzen
und anderen Metallgegenständen fern. Andernfalls kann durch einen
Metallgegenstand ein Kontakt zwischen den positiven und negativen
Polen der Batterien/Akkus hergestellt werden, was zu
· Wenn Sie das Gerät längere Zeit nicht benutzen, nehmen Sie die
Batterie heraus, um Schäden durch auslaufende Batterieflüssigkeit oder
eine korrodierende Batterie zu vermeiden.
Wenn sich der Batteriefachdeckel löst (siehe
Der Batteriefachdeckel kann sich lösen, wenn er mit zu viel Kraft geöffnet
wird. Wie Sie ihn wieder anbringen, ist in der Abbildung dargestellt.
1 Setzen Sie die rechte Lasche des Deckels in die rechte Aussparung am
2 Hängen Sie die linke Lasche links ins Batteriefach ein, so dass sich der
3 Schieben Sie die linke Lasche in die linken Aussparung am Gerät.
1
Schließen Sie die mitgelieferten Stereo-Ohrhörer an die
Stereo-Ohrhörerbuchse \ an.
2
Schalten Sie das Radio ein, indem Sie POWER auf ON stellen.
3
Stellen Sie BAND auf FM* oder AM.
4
Drehen Sie TUNING, um einen Sender einzustellen.
5
Stellen Sie mit VOLUME die Lautstärke ein.
* Der Ton ist nur stereo zu hören, wenn das Programm des eingestellten
Senders stereo ausgestrahlt wird.
So schalten Sie das Radio aus
Stellen Sie POWER auf OFF.
So erzielen Sie einen besseren Empfang (siehe
Richten Sie das Stereo-Ohrhörerkabel aus. Es dient als FM-Antenne.
Das Gerät enthält eine Ferritstabantenne. Drehen Sie das Gerät horizontal,
um den Empfang zu verbessern.
Wenn Sie das Radio in die Nähe einer Packung Zigaretten bringen, kann
die Verpackungsfolie beim AM-Signal Interferenzen hervorrufen und
Halten Sie das Radio in diesem Fall von der Zigarettenpackung fern.
So können Sie die Bässe verstärken
Stellen Sie POWER zum Anheben der Bässe auf S-BASS.
Versuchen Sie nicht, das Gerät mit dem Klipp an einem dicken Gürtel
oder anderen dicken Materialien mit Gewalt zu befestigen.
Der Klipp könnte sich verbiegen oder verformen.
·Betreiben Sie das Gerät ausschliesslich mit 1,5 V Gleichstrom mit einer
R03-Batterie (Größe AAA).
·Das Typenschild mit Angaben zur Betriebsspannung usw. befindet sich
außen an der Geräterückseite.
· Setzen Sie das Gerät keinen extremen Temperaturen, direktem
Sonnenlicht, Feuchtigkeit, Sand, Staub oder mechanischen
Erschütterungen aus. Lassen Sie das Gerät nie in einem in der Sonne
· Sollten Fremdkörper oder Flüssigkeiten in das Gerät gelangen, nehmen
Sie die Batterie heraus, und lassen Sie das Gerät von qualifiziertem
Fachpersonal überprüfen, bevor Sie es wieder benutzen.
· In Fahrzeugen oder Gebäuden ist der Radioempfang möglicherweise
nur schwer möglich oder verrauscht. Versuchen Sie es in der Nähe eines
·Verwenden Sie zum Reinigen des Gehäuses ein weiches Tuch, das Sie
mit einem milden Reinigungsmittel angefeuchtet haben.
·Dieses Produkt ist nicht spritzwassergeschützt. Schützen Sie das Gerät
vor Feuchtigkeit, besonders wenn es regnet oder schneit bzw. an Orten,
an denen es Spritzwasser ausgesetzt sein könnte.
Hinweise zu Stereo-Ohrhörern
Sicherheit im Straßenverkehr
Verwenden Sie keine Stereo-Ohrhörer, wenn Sie ein Auto, ein Fahrrad
oder ein anderes Fahrzeug lenken. Dies stellt eine Gefahrenquelle dar und
ist vielerorts gesetzlich verboten. Auch wenn Sie zu Fuß gehen, sollten Sie
das Gerät nicht zu laut einstellen - denken Sie an Ihre Sicherheit zum
Beispiel beim Überqueren einer Straße. In potentiell gefährlichen
Situationen sollten Sie äusserst vorsichtig sein bzw. das Gerät möglichst
Vermeidung von Gehörschäden
Stellen Sie die Lautstärke der Stereo-Ohrhörer nicht zu hoch ein.
Ohrenärzte warnen vor ständigen, lauten Geräuschen. Wenn Sie
Ohrengeräusche wahrnehmen, senken Sie die Lautstärke, oder schalten
Stellen Sie die Lautstärke nicht zu hoch ein. Auf diese Weise können nicht
nur Sie selbst noch hören, was um Sie herum vorgeht, sondern Sie zeigen
auch Rücksicht gegenüber anderen.
Nehmen Sie die Stereo-Ohrhörer bei einem Gewitter sofort ab.
Sollten an Ihrem Gerät Probleme auftreten oder sollten Sie Fragen haben,
wenden Sie sich bitte an Ihren Sony-Händler.
MW (AM): 526,5 - 1 606,5 kHz (Italien)/530 - 1 605 kHz (andere
Stereo-Ohrhörerbuchse \ (Stereominibuchse, ø 3,5 mm)
4 mW + 4 mW (bei 10 % harmonischer Verzerrung)
1,5 V Gleichstrom, eine R03-Batterie (Größe AAA)
× 79 × 14,8 mm (B/H/T) ohne vorstehende Teile und
× 79,8 × 15,1 mm (B/H/T) einschließlich vorstehender Teile
ca. 54 g einschließlich Batterie und Stereo-Ohrhörer
Änderungen, die dem technischen Fortschritt dienen, bleiben
Antes de utilizar la radio, lea detenidamente estas instrucciones y
consérvelas para futuras referencias.
Podrá disfrutar de sonido potente de graves utilizando el sistema "S-BASS"
1
Abra la tapa del compartimento de la pila situado en la parte
2
Inserte una pila (tamaño AAA) (no suministrada) de modo
que los polos ) y ( coincidan con las marcas.
3
Cierre la tapa del compartimento de la pila.
Duración de las pilas (número aproximado de horas)
Pila alcalina LR03 de Sony (de tamaño AAA)
Pila R03 de Sony (de tamaño AAA)
*Medido a partir de los estándares de JEITA (Japan Electronics and
Information Technology Industries Association). La duración real de la
pila puede variar en función del estado de la unidad.
Cuándo se debe reemplazar la pila
Sustituya la pila cuando el sonido pierda intensidad o se distorsione.
Retire la pila agotada e inserte una nueva.
· No cargue una pila seca.
· No deje que una pila seca entre en contacto con monedas u otros objetos
metálicos. Puede generar calor si los terminales positivos y negativos de
la pila entran en contacto accidentalmente con un objeto metálico.
· Si no va a utilizar la unidad durante un largo período de tiempo, retire
la pila para evitar daños por fugas o corrosión de la misma.
Si se desprende la tapa del compartimento de la
pila (consulte la figura B)
La tapa del compartimento de la pila está diseñada para desprenderse si
se ejerce demasiada fuerza sobre la misma al abrirla. Para volver a
colocarla, consulte la ilustración.
1 Inserte el gancho derecho de la tapa en el agujero derecho de la
2 Coloque el gancho izquierdo en el agujero correspondiente que se
encuentra a la izquierda del compartimento.
3 Desplace el gancho izquierdo hacia el agujero izquierdo de la unidad.
Funcionamiento de la radio
1
Conecte los auriculares estéreo suministrados a la toma \
2
Coloque el selector POWER en ON para encender la radio.
3
Coloque el selector BAND en FM* o en AM.
4
Gire TUNING para sintonizar una emisora.
* Sólo se oirá el sonido en estéreo si el programa de la emisora que ha
sintonizado es en estéreo.
Para mejorar la recepción (consulte la figura C)
Extienda el cable de los auriculares estéreo para que funcione como
La antena de barra de ferrita está integrada en la unidad. Haga girar la
unidad en sentido horizontal para obtener una recepción óptima.
Si coloca o sostiene la radio cerca de un paquete de cigarrillos, es posible
que el aluminio del envoltorio interfiera la señal de AM y se produzcan
Si esto ocurre, aleje la radio del paquete de cigarrillos.
Para disfrutar de unos graves potentes
Ajuste POWER en S-BASS para aumentar los graves.
No fuerce la pinza para unir la unidad a una correa gruesa u otros
Si lo hace, podría doblar la pinza y deformarla.
·Utilice la unidad sólo con pilas R03 de 1,5 V cc (de tamaño AAA).
·La placa donde se indica el voltaje de alimentación, etc. se encuentra en
la parte posterior externa.
·Evite exponer la unidad a temperaturas extremas, luz solar directa,
humedad, arena, polvo o golpes mecáncicos. No deje nunca la unidad
dentro de un automóvil estacionado al sol.
· Si se introduce algún objeto sólido o líquido en la unidad, extraiga la
pila y hágala revisar por personal cualificado antes de seguir
·Dentro de vehículos o edificios, la recepción de la radio puede resultar
difícil o pueden oírse ruidos. Intente escuchar la radio cerca de una
·Para limpiar la unidad, utilice un paño suave humedecido con una
solución de detergente poco concentrada.
· Este producto no es resistente al agua, de modo que debe tomar
precauciones a la hora de utilizar la unidad cuando llueva, nieve o en
sitios donde pueda mojarse.
Notas sobre los auriculares estéreo
No utilice auriculares estéreo mientras conduce, va en bicicleta o utiliza
cualquier vehículo motorizado. Puede ocasionar peligros en el tráfico y,
en algunas zonas, es ilegal. Asimismo, puede resultar peligroso
reproducir los auriculares a un volumen alto al andar, sobre todo en
pasos de peatones. Debe tener mucha precaución o dejar de utilizar la
unidad en situaciones potencialmente peligrosas.
Prevención de daños en el oído
Evite utilizar los auriculares estéreo a un volumen alto. Los especialistas
en audición desaconsejan la reproducción continua y prologada a un
volumen alto. Si percibe un pitido en el oído, reduzca el volumen o deje
Mantenga el volumen a un nivel moderado. Esto le permitirá oír sonidos
externos y ser considerado con la gente que le rodea.
En caso de que se produzcan relámpagos mientras utiliza la unidad, deje
de utilizar inmediatamente los auriculares estéreo.
Si tiene problemas o preguntas acerca de esta unidad, consulte al
proveedor Sony más próximo.
AM:526,5 - 1 606,5 kHz (Italia)/530 - 1 605 kHz (otros países)
Toma \ (auriculares estéreo) (minitoma estéreo de ø 3,5 mm)
impedancia de carga de 16
4 mW + 4 mW (a un 10 % de distorsión armónica)
Requisitos de alimentación
una pila R03 de 1,5 V cc, (de tamaño AAA)
× 79 × 14,8 mm (an/al/pr) sin incluir partes salientes y
× 79,8 × 15,1 mm (an/al/pr) partes salientes y controles
Aprox. 54 g con la pila y los auriculares estéreo
El diseño y las especificaciones están sujetos a cambios sin previo aviso.
Si dichiara che il modello CR-LA60 è stato fabbricato in conformità all'art.
2 Comma 1 del D.M. 28.08. 1995 n. 548.
Prima di usare la radio, si prega di leggere per intero queste istruzioni per
l'uso e conservarle per riferimenti futuri.
È possibile ottenere un potente suono dei bassi con il sistema "S-BASS".
1
Aprire il coperchio dello scomparto pile posto nella parte
2
Inserire una pila R03 (modello AAA) (non in dotazione) con i
contrassegni ) e ( allineati correttamente.
3
Chiudere il coperchio dello scomparto pile.
Durata della pila (ore circa)
Pila (modello AAA) LR03 alcalina Sony
Pila (modello AAA) R03 Sony
*Misurazioni effettuate in base agli standard JEITA (Japan Electronics
and Information Technology Industries Association). La durata effettiva
della pila potrebbe variare in base alle condizioni di utilizzo
Quando l'audio diviene debole o distorto, sostituire la pila, rimuovendo
quella scarica ed inserendone una nuova.
· Non caricare le pile a secco.
· Non conservare le pile a secco assieme a monete o altri oggetti metallici
onde evitare un'eventuale formazione di calore generata dal contatto tra
i terminali positivo o negativo della pila e un oggetto metallico.
· Se si prevede di non utilizzare l'apparecchio per un periodo di tempo
prolungato, rimuovere la pila onde evitare danni derivanti da perdite di
elettrolita e corrosione.
Se il coperchio dello scomparto pile si stacca
Il coperchio dello scomparto pile si stacca se viene aperto con eccessiva
forza. Per applicarlo di nuovo, vedere l'illustrazione.
1 Inserire il gancio destro del coperchio nel foro destro dell'apparecchio.
2 Applicare il gancio sinistro alla parte sinistra dello scomparto in
corrispondenza del coperchio.
3 Fare scorrere il gancio sinistro verso il foro sinistro dell'apparecchio.
Funzionamento della radio
1
Collegare gli auricolari stereo in dotazione alla presa \
2
Impostare POWER su ON per accendere la radio.
3
Impostare BAND su FM* o AM.
4
Ruotare TUNING per sintonizzarsi su una stazione.
5
Regolare il volume mediante VOLUME.
* L'audio viene emesso in modalità stereo solo se il programma della
stazione su cui si è sintonizzati è stereo.
Miglioramento della ricezione (vedere la figura
Estendere il cavo degli auricolari stereo che funziona da antenna FM.
L'apparecchio è dotato di un'antenna con barra in ferrite. Ruotare
l'apparecchio in senso orizzontale per ottenere una ricezione ottimale.
Se la radio viene collocata in prossimità di un pacchetto di sigarette, è
possibile che la cartina metallizzata interferisca con il segnale AM,
provocando l'emissione di un disturbo.
In questo caso, allontanare la radio dal pacchetto di sigarette.
Impostare POWER suS-BASS per potenziare il suono dei bassi.
Non forzare il clip per fissare l'apparecchio ad una cinta grossa o altro
In caso contrario, il clip potrebbe piegarsi o deformarsi.
·Utilizzare l'apparecchio unicamente con l'alimentazione CC da 1,5 V di
una pila (modello AAA) R03.
·La targhetta che riporta la tensione operativa e così via si trova nella
parte posteriore esterna.
·Evitare di esporre l'apparecchio a temperature estreme, luce solare
diretta, vapore, sabbia, polvere o vibrazioni meccaniche e non lasciarlo
in un'auto parcheggiata al sole.
·Se un oggetto solido o liquido dovesse penetrare all'interno
dell'apparecchio, rimuovere la pila e fare controllare l'apparecchio da
personale qualificato prima di utilizzarlo nuovamente.
·La ricezione radio potrebbe risultare difficile o disturbata all'interno di
palazzi o veicoli. Effettuare l'ascolto in prossimità di una finestra.
·Per pulire il rivestimento, utilizzare un panno morbido inumidito con
una soluzione detergente neutra.
·Questo prodotto non è a prova d'acqua, pertanto si consiglia di prestare
particolare attenzione durante l'uso in luoghi soggetti a pioggia, neve o
Note sugli auricolari stereo
Non utilizzare gli auricolari stereo durante la guida di un'auto, di una
bicicletta o di un qualsiasi altro veicolo motorizzato. Tale comportamento
potrebbe creare pericolo ed è illegale in alcuni paesi. È inoltre
potenzialmente pericoloso camminare ascoltando le cuffie ad alto volume,
soprattutto in prossimità di incroci. In situazioni potenzialmente rischiose
prestare particolare attenzione o interrompere l'uso.
Prevenzione di danni all'udito
Evitare di utilizzare gli auricolari stereo ad alto volume. Gli specialisti
mettono in guardia contro i rischi implicati da una riproduzione
prolungata e ad alto volume. In caso di disturbi alle orecchie, ridurre il
volume o interrompere l'uso.
Tenere il volume a livello moderato, in modo che sia possibile ascoltare i
suoni esterni e mostrare rispetto per gli altri.
In presenza di fulmini, interrompere immediatamente l'utilizzo degli
In caso di problemi relativi all'apparecchio, contattare il rivenditore Sony
AM: 526,5 - 1 606,5 kHz (Italia)/530 - 1 605 kHz (altri paesi)
Presa \ (auricolari stereo) (minipresa stereo ø 3,5 mm) carico di
4 mW + 4 mW (distorsione armonica al 10 %)
Requisiti di alimentazione
1,5 V CC, una pila R03 (modello AAA)
× 79 × 14,8 mm (l/a/p) esclusi i comandi e le parti sporgenti
× 79,8 × 15,1 mm (l/a/p) inclusi i comandi e le parti
Circa 54 g inclusi gli auricolari stereo e la pila
Il design e le caratteristiche tecniche sono soggetti a modifiche senza
AM: 526,5 kHz - 1 606,5 kHz
Frequenza oscillatore locale superiore a quella del segnale
\ (stereo earphones) jack
Prise \ (écouteurs stéréo)
Presa \ (auricolari stereo)
---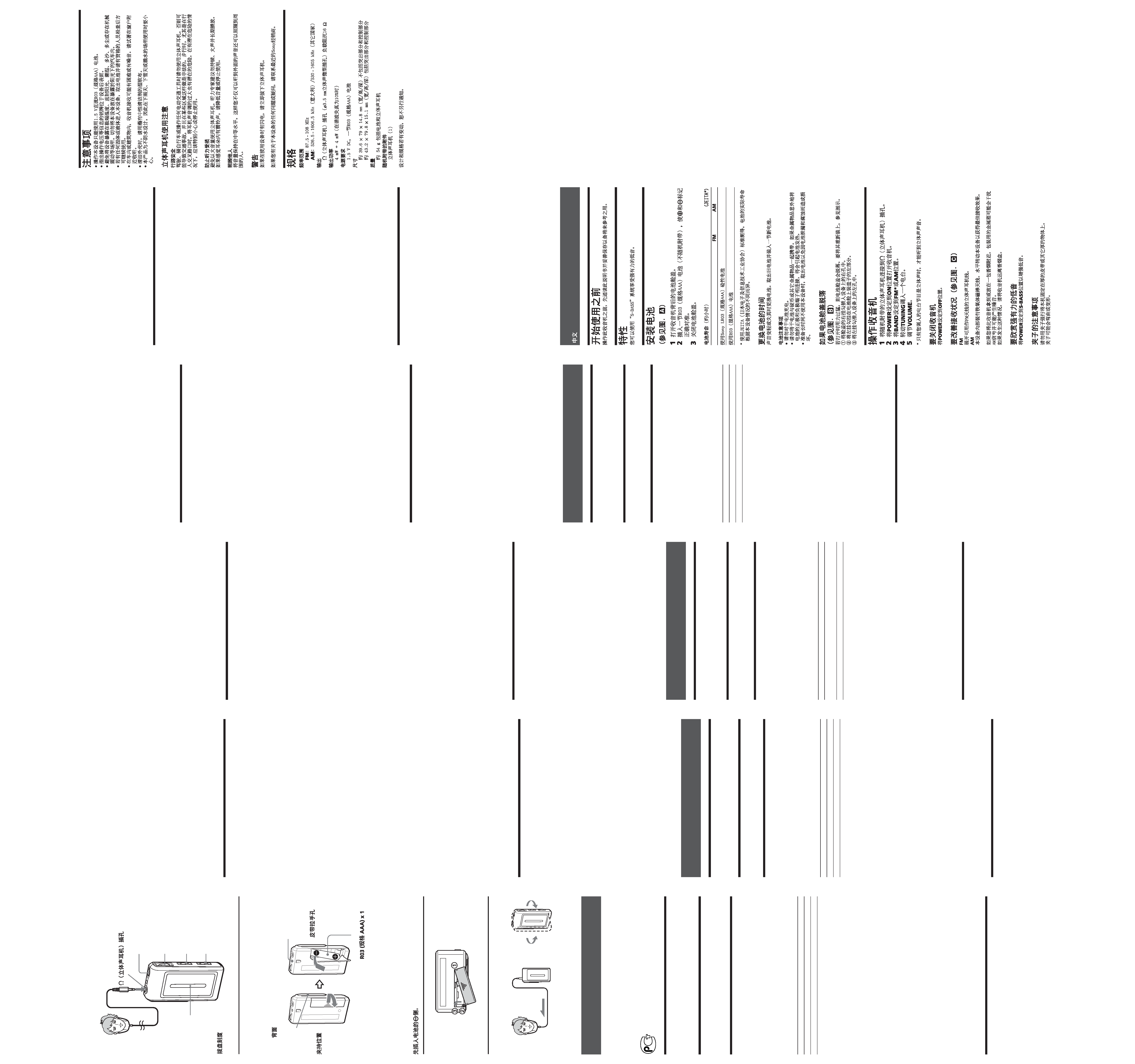 Wló bateri kocem oznaczonym
Elször helyezze be az elem
Vlozte baterii nejdíve pólem
Wymagania dotycz±ce zasilania
Przed rozpoczciem uytkowania
Przed rozpoczciem eksploatacji radia, starannie zapoznaj si z instrukcj i
zachowaj j do póniejszej konsultacji.
System ,,S-BASS" pozwala uzyska mocny dwik basów.
Instalowanie baterii
(Patrz Rys. A)
1
Otwórz pokryw komory baterii na tylnej ciance radia.
2
Wló jedn bateri typu R03 (rozmiar AAA) (nie znajduje si
w wyposaeniu) z prawidlowo ustawionymi oznaczeniami ) i
3
Zamknij pokryw komory baterii.
(w przyblieniu w godzinach)
Przy zastosowaniu baterii alkalicznej Sony LR03 (rozmiar AAA)
Przy zastosowaniu baterii Sony R03 (rozmiar AAA)
* Pomiary wedlug standardów JEITA (Japan Electronics and Information
Technology Industries Association). Rzeczywista ywotno baterii moe
si róni w zalenoci od warunków korzystania z urzdzenia.
Jeli dwik slabnie lub ulega znieksztalceniu, naley wymieni bateri.
Wyjmij star bateri i wló now.
· Nie laduj baterii suchej.
· Nie no baterii suchej z monetami ani innymi metalowymi przedmiotami.
Przypadkowe zwarcie biegunów dodatniego i ujemnego za
porednictwem metalowych przedmiotów moe spowodowa
· Jeli urzdzenie nie bdzie uywane przez dluszy czas, wyjmij bateri,
aby zapobiec uszkodzeniom spowodowanym przez wyciek elektrolitu lub
Jeli pokrywa komory baterii wypadnie
Pokrywa komory baterii zostala zaprojektowana tak, aby wypa
po uyciu wikszej sily. Aby wloy j z powrotem na miejsce,
1 Wló prawy zaczep pokrywy do prawego otworu urzdzenia.
2 Zawie lewy zaczep po lewej stronie komory w miejscu, gdzie
3 Wsu lewy zaczep do lewego otworu urzdzenia.
1
Podlcz znajdujce si w wyposaeniu minisluchawki
stereofoniczne do gniazda \ (minisluchawki
2
Ustaw przelcznik POWER w pozycji ON, aby wlczy
3
Ustaw przelcznik BAND w pozycji FM* lub AM.
4
Uyj pokrtla TUNING, aby dostroi dan stacj.
5
Ustaw glono pokrtlem VOLUME.
*Dwik stereofoniczny bdzie slyszany wylcznie w przypadku nadawania
przez stacj sygnalu stereo.
Ustaw przelcznik POWER w pozycji OFF.
Poprawa jakoci odbioru (Patrz Rys. C)
Rozwi przewód minisluchawek stereofonicznych, który dziala jako antena
Urzdzenie posiada wbudowan prtow anten ferrytow. Obracaj
urzdzenie w plaszczynie poziomej, aby uzyska optymalny odbiór.
Jeli w pobliu radia znajduje si paczka papierosów, folia z opakowania tej
paczki moe powodowa zaklócanie sygnalu AM i wystpowanie szumu.
W takim wypadku naley umieci radio dalej od paczki papierosów.
Wzmacnianie tonów niskich
Ustaw przelcznik POWER w pozycji S-BASS, aby wzmocni odbiór tonów
Nie próbuj mocowa zaczepu urzdzenia na grubym pasku lub innym
Zaczep moe zosta zgity lub uszkodzony.
· Z urzdzenia naley korzysta wylcznie z jedn bateri 1,5 V (prd
staly) typu R03 (rozmiar AAA).
· Tabliczka znamionowa informujca o wysokoci napicia roboczego itp.
znajduje si na tylnej czci obudowy.
· Unikaj wystawiania urzdzenia na dzialanie wysokich temperatur,
bezporedniego wiatla slonecznego, wilgoci, piasku, kurzu lub wstrzsów
mechanicznych. Nigdy nie zostawiaj urzdzenia w samochodzie
zaparkowanym w silnie naslonecznionym miejscu.
· Jeli do wntrza urzdzenia dostanie si przypadkowo jakiekolwiek cialo
obce lub substancja plynna, wyjmij bateri i przed ponownym uyciem
zle sprawdzenie urzdzenia wykwalifikowanemu personelowi.
· Wewntrz samochodu lub budynku odbiór sygnalu radiowego moe by
utrudniony lub zaklócony. Najlepiej wówczas slucha w pobliu okna.
· Do czyszczenia obudowy urzdzenia uywaj mikkiej szmatki zwilonej
roztworem lagodnego rodka czyszczcego.
· W projekcie niniejszego urzdzenia nie zostala przewidziana odporno
na zachlapanie. Ze szczególn ostronoci korzystaj wic z urzdzenia w
czasie deszczu, opadów niegu i w miejscach gdzie rozpryskiwana jest
Uwagi dotyczce minisluchawek
Nie naley korzysta z minisluchawek podczas prowadzenia
samochodu, jazdy na rowerze ani prowadzenia jakiegokolwiek
innego pojazdu mechanicznego. Sluchanie muzyki w trakcie
prowadzenia pojazdu mechanicznego moe stwarza
niebezpieczestwo, a w niektórych regionach jest niedozwolone.
Niebezpieczne moe by take sluchanie w czasie chodzenia,
szczególnie podczas przechodzenia przez przejcie dla pieszych.
W potencjalnie niebezpiecznych sytuacjach naley zachowa szczególn
ostrono lub zaprzesta sluchania.
Zapobieganie uszkodzeniom sluchu
Unikaj korzystania z minisluchawek przy wysokim poziomie glonoci.
Specjalici w dziedzinie sluchu odradzaj cigle, glone i dlugotrwale
sluchanie muzyki. W przypadku wraenia dzwonienia w uszach zmniejsz
poziom glonoci lub zaprzestaj sluchania.
Odtwarzaj dwik na umiarkowanym poziomie. Dziki temu bdzie mona
slysze dwiki z otoczenia, co wiadczy równie o trosce o otaczajcych
Jeli podczas korzystania z urzdzenia bd mialy miejsce wyladowania
atmosferyczne, natychmiast zdejmij minisluchawki.
W przypadku jakichkolwiek pyta lub problemów dotyczcych urzdzenia
naley skontaktowa si z najbliszym punktem sprzeday produktów firmy
AM: 526,5-1 606,5 kHz (Wlochy) / 530 - 1 605 kHz (Inne kraje)
\ gniazdo (minisluchawki stereofoniczne) (gniazdo stereo typu
ø 3,5 mm) impedancja obcienia 16
4 mW + 4 mW (przy znieksztalceniach harmonicznych o wartoci 10%)
Wymagania dotyczce zasilania
1,5 V (prd staly), jedna bateria typu R03 (rozmiar AAA)
× 79 × 14,8 mm (szer./wys./gl.) bez wystajcych elementów i
× 79,8 × 15,1 mm (szer./wys./gl.) z uwzgldnieniem wystajcych
Ok. 54 g razem z bateri i minisluchawkami
Dostarczone elementy wyposaenia
Minisluchawki stereofoniczne (1)
Konstrukcja oraz dane techniczne mog ulec zmianie bez
A rádió használata eltt olvassa el az alábbi utasításokat és tartsa
Erteljes mélyhangzást élvezhet az ,,S-BASS" rendszer segítségével.
1
Nyissa ki az elemtartó fedelét a rádió hátulján.
2
Helyezzen be 1 db R03-a (AAA méret) elemet (nincs
mellékelve) a ) és ( pólusoknak megfelel irányban.
3
Csukja be az elemtartó fedelét.
Sony alkáli LR03 (AAA méret) elem
Sony R03 (AAA méret) elem használatakor
*A JEITA elírásai alapján mérve. Az elem tényleges élettartama változó
lehet a készülék körülményeitl függen.
Mikor kell az elemet kicserélni
Cserélje ki az elemet, amikor a hang elhalkul vagy torzul. Vegye ki a régi
elemet és helyezzen be egy újat.
· Ne töltse újra a száraz elemet.
· Ne tartsa a száraz elemet pénzérmék vagy fémtárgyak közelében. Az
elem ht termelhet, ha a pozitív és negatív pólusa fémtárggyal érintkezik.
· Ha nem fogja használni a készüléket hosszabb ideig, vegye ki az elemet a
szivárgás és korrózió elkerülésére.
Ha az elemtartó fedele leválik (Ld. a B brát)
Az elemtartó fedele leválik, ha erteljesen kinyitják. Visszahelyezését ld. az
1 A fedél jobboldali kampóját akassza be a készülék jobboldali nyílásába.
2 Illessze a baloldali kampót az elemtartó baloldalára, ahova a fedél
3 Csúsztassa el a baloldali kampót a készülék baloldali nyílása felé.
1
Csatlakoztassa a mellékelt sztereó fülhallgatót a \ (sztereó
2
Állítsa a POWER-t ON állásba a rádión.
3
Állítsa a BAND-et FM*-re vagy AM-re a rádión.
4
Fordítsa el a TUNING-ot egy állomás kikeresésére.
5
Szabályozza a VOLUME-ot (hanger).
* Csak akkor hallható a hang sztereóban, ha a behangolt állomás
Állítsa a POWER-t OFF állásba.
\ (minisluchawki stereofoniczne)
\ (sztereó fülhallgató) dugasz
A vétel javítása (Ld. a C ábrát)
Húzza ki a sztereó fülhallgató zsinórját, mely FM antennaként mködik.
A ferrit rúdantenna be van építve a készülékbe. Forgassa a készüléket
vízszintesen az optimális vétel elérésére.
Ha a rádiót cigarettadoboz közelében tartja, a csomagolófólia zavarhatja az
AM jelet, és zaj keletkezhet.
Ha ez elfordul, tartsa a rádiót távol a cigarettadoboztól.
Az erteljes mélyhangzás elérése
Állítsa a POWER-t S-BASS állásba a mélyhang kiemelésére.
Ne erltesse rá a készülék csíptetjét vastag övre vagy vastag anyagra.
A csíptet elgörbülhet vagy deformálódhat.
· Csak 1,5 V egyenáramon üzemeltesse a készüléket 1 db R03-as (AAA
· Az üzemeltetési feszültséget, stb. feltüntet lap a küls burkolat hátulján
· Ne tegye ki a készüléket szélsséges hmérséklet, közvetlen napfény,
nedvesség, homok, por vagy mechanikus rázkódás behatásának. Ne
hagyja a készüléket napos helyen parkolt autóban.
· Ha szilárd test vagy folyadék kerülne a készülék belsejébe, távolítsa el az
elemet és bízza szakképzett szerelre, mieltt újból használja.
· Elfordulhat, hogy a rádióvétel nem tiszta jármben vagy épületben.
Próbálja meg ablak közelében hallgatni.
· A küls burkolatot enyhén mosószeres oldattal átitatott puha ronggyal
· Ez a készülék nem vízálló, ezért óvja estl, hótól vagy ráfröccsent víztl.
Megjegyzések a sztereó fülhallgatóról
Ne használja a sztereó fülhallgatót vezetés, kerékpározás vagy bármely
motoros járm üzemeltetése közben. Ez veszélyes lehet a közlekedésre, és
bizonyos területeken tiltott. Potenciálisan veszélyes lehet a fejhallgató
használata nagy hangervel gyalogos közlekedéskor, fként
gyalogátkelhelyeken. Járjon el rendkívüli körültekintéssel, vagy ne
használja a készüléket potenciálisan veszélyes helyzetekben.
A halláskárosodás elkerülésére
Ne használja a sztereó fülhallgatót nagy hangervel. Halláskárosodással
foglalkozó szakértk nem javasolják a folyamatosan hangos és huzamos
használatot. Ha cseng a füle, vegye le a hangert vagy szüneteltesse a
Tartsa a hangert elfogadható szinten. Így hallhatja a küls hangokat, és
tekintettel van másokra is.
Ha villámlik, amikor használja a készüléket, azonnal vegye le a sztereó
Ha bármilyen kérdése vagy problémája van a készülékkel kapcsolatban,
forduljon a legközelebbi Sony kereskedhöz.
AM: 526,5-1 606,5 kHz (Olaszország)/530-1 605 kHz (Egyéb országok)
\ (sztereó fülhallgató) dugasz (ø 3,5 mm-es átmérj minidugasz)
4 mW + 4 mW (10%-os harmonikus torzítással)
1,5 V DC, 1 db R03-a (AAA méret) elem
× 79 × 14,8 mm (szé/m/mé), kivéve a kihúzható részeket és
× 79,8 × 15,1 mm (szé/m/mé), belefoglalva a kihúzható
részeket és alkatrészeket
Kb. 54 g, belefoglalva egy elemet és a sztereó fülhallgatót
A kivitel és a mszaki adatok változhatnak értesítés nélkül.
Ped pouzitím radiopijímace si pecliv pectte tyto pokyny a uschovejte
Pomocí systému ,,S-BASS" mzete zvýraznit basové tóny.
1
Otevete kryt bateriového prostoru na zadní stran
2
Vlozte jednu baterii R03 (velikost AAA) (není soucástí
dodávky) tak, aby póly odpovídaly symbolm ) a (.
3
Zavete kryt bateriového prostoru.
Pouzití alkalické baterie Sony LR03 (velikost AAA)
Pouzití baterie Sony R03 (velikost AAA)
*Meno podle standard asociace JEITA (Japan Electronics and
Information Technology Industries Association). Skutecná
zivotnost baterie se mze lisit v závislosti na okolnostech
Kdy je teba baterii vymnit
Baterii vymte, jakmile se snízí hlasitost nebo kvalita zvuku.
Vyjmte starou baterii a vlozte novou.
Poznámky týkající se baterie
· Nikdy se nepokousejte nabíjet suchý clánek.
· Nenoste suchý clánek spolu s mincemi a jinými kovovými
pedmty. Pi náhodném spojení kladného a záporného pólu
baterie kovovým pedmtem by mohlo dojít k pehátí.
· Pokud pístroj delsí dobu nepouzíváte, vyjmte baterii. Zabráníte
tak pípadnému poskození pístroje zpsobenému vytecením
Pokud dojde k vypadnutí krytu bateriového
Pokud je kryt bateriového prostoru otevírán pílisnou silou,
vypadne. Pi nasazování krytu postupujte podle obrázku.
1 Vlozte pravý závs krytu do pravého otvoru na pístroji.
2 Umístte levý závs do levé cásti bateriového prostoru tak, aby
3 Posute levý závs smrem k levému otvoru v pístroji.
1
Pipojte dodávaná stereofonní sluchátka do zdíky \ (pro
2
Zapnte pijímac nastavením pepínace POWER do polohy
3
Nastavte pepínac pásma BAND do polohy FM* nebo AM.
4
Otácením volice TUNING nalate stanici.
5
Volicem VOLUME nastavte hlasitost.
* Stereofonní zvuk uslysíte pouze tehdy, je-li program naladné stanice
Nastavte pepínac POWER do polohy OFF.
Zlepsení píjmu (viz obr. C)
Rozvite kabel stereofonních sluchátek, který funguje jako anténa v pásmu
Pístroj obsahuje vestavnou feritovou tycovou anténu. Zlepsete podmínky
píjmu pootocením pístroje ve vodorovném smru.
Pokud se v blízkosti pijímace nachází balícek cigaret, mze dojít k
interferenci obalové fólie se signálem AM a píjem bude rusen sumem.
Jestlize dojde k této situaci, umístte pijímac do vtsí vzdálenosti od
Vychutnání zvýraznných bas
Chcete-li zvýraznit basy, nastavte pepínac POWER do polohy S-BASS.
Poznámka týkající se spony
Nepipevujte pístroj násilím k silnému pásku nebo jinému silnému
Spona se mze ohnout nebo zdeformovat.
· Pístroj provozujte pouze pi stejnosmrném naptí 1,5 V s jednou baterií
· Typový stítek udávající provozní naptí a dalsí údaje je umístn na zadní
· Nevystavujte pístroj extrémním teplotám, pímému slunci, vlhkosti,
psobení písku nebo prachu ani mechanickým otesm. Nikdy jej
neponechávejte v automobilu zaparkovaném na slunci.
· Vnikne-li do pístroje jakýkoliv pevný pedmt nebo kapalina, vyjmte
baterii a ped dalsím pouzitím nechte pístroj zkontrolovat odborníkem.
· Ve vozidlech nebo budovách mze být píjem rozhlasu zhorsený a
nekvalitní. Umístte pístroj blízko okna.
· Kryt pístroje ocistíte mkkým hadíkem mírn navlhceným ve slabém
roztoku cisticího prostedku.
· Tento výrobek není vodovzdorný, mli byste jej tedy chránit ped
destm, snhem a na místech se zvýsenou vlhkostí.
Poznámky týkající se stereofonních sluchátek
Bezpecnost silnicního provozu
Nepouzívejte stereofonní sluchátka pi ízení auta, jízd na kole nebo pi
obsluze motorových vozidel. Mohlo by to vést k dopravní nehod a v
nkterých zemích je to dokonce v rozporu s pedpisy. Nebezpecné je
rovnz pouzívání sluchátek s nastavenou vysokou hlasitostí pi chzi,
obzvlást na pechodech pro chodce. V nebezpecných situacích byste mli
být mimoádn pozorní nebo byste mli poslech perusit.
Ochrana ped poskozením sluchu
Nepouzívejte stereofonní sluchátka s nastavenou pílis vysokou
hlasitostí. Odborníci varují ped opakovaným a dlouhotrvajícím
hlasitým poslechem. Pokud vám zacne zvonit v usích, snizte
hlasitost nebo pehrávání peruste.
Ponechte hlasitost na stední úrovni. Budete tak moci zaznamenat
i vnjsí zvuky a nebudete rusit okolí.
Nastane-li pi pouzití pístroje bouka s blesky, okamzit sejmte
S veskerými problémy a dotazy týkajícími se tohoto pístroje se obracejte
na nejblizsí zastoupení spolecnosti Sony.
AM: 526,5 - 1 606,5 kHz (Itálie)/530 - 1 605 kHz (Ostatní zem)
Zdíka \ (pro stereofonní sluchátka) (ø 3,5 mm stereo mini konektor),
4 mW + 4 mW (pi 10 % harmonickém zkreslení)
Stejnosmrné naptí 1,5 V, jedna baterie R03 (velikost AAA)
× 79 × 14,8 mm (s/v/d) bez vycnívajících cástí a ovládacích
× 79,8 × 15,1 mm (s/v/d) vcetn vycnívajících cástí a
Pibl. 54 g vcetn baterie a stereofonních sluchátek
Stereofonní sluchátka (1)
Vzhled a technické parametry mohou být zmnny bez pedchozího
---